Shares of Monster Beverage (NASDAQ:MNST) were one of the best performing stocks of the last 20 years. In fact, since the company went public in 1995, shares are up an astonishing 55,488%! If only I had bought shares of the energy drink company instead of worthless candy and video games. Despite the company's strong return, I see a couple of things stopping the company from its strong growth and see shares overvalued.
Competition
Sine Monster energy drinks have been around, they have faced competition. The drink, which originally took coffee head on, was part of the energy drink craze that allowed multiple companies to cash in on the growing market.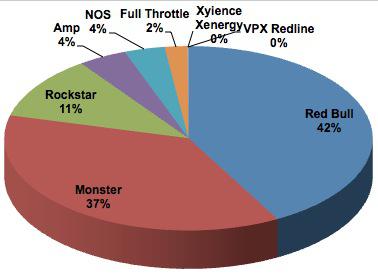 According to Energy Fiend, Monster comes in second place in the world with a 37% market share. Rival Red Bull, a privately held company, remains number one in the world with a share of 42%. A Wall Street Journal article lists Monster as the number one energy drink brand in the United States. Two new products I think could take away some share from Monster.
Pepsi, who owns AMP and distributes Rockstar, has a strong presence in the energy drink sector. The company is utilizing its Mountain Dew brand to launch a new, unique energy drink. Kickstart is the company's "fresh alternative to the age-old morning question of coffee or juice." The drink contains a percentage of real fruit juice, along with vitamins and caffeine. The drink, available in orange or fruit punch, contains 90 milligrams of caffeine in a 16oz can. This places the caffeine level of Kickstart between Mountain Dew soda and Monster energy drink.
Red Bull, which is Monster's main competitor, introduced three new flavors nationwide recently. The company, which has mainly sold its flagship brand and a low sugar version, is now attempting to expand further in the United States. The three new flavors are cranberry, lime, and blueberry. Each flavor has an associated color and social media hashtag.
Litigation
Monster recently was the subject of a lawsuit from parents of Anais Fournier. The parents of the 14 year old claim that Monster beverages caused her death. The family accused Monster of inflicting "caffeine toxicity". Monster's group of doctors recently proved there was no evidence that the drinks caused her death. An apparent error on the family not getting a blood test will likely prevent further problems for the energy drink maker.
This is one of six deaths that have specifically mentioned Monster energy drinks on the death reports. Even if Monster had nothing to do with the deaths, the fact that there are six coincidences doesn't bode well for the reputation of this strong caffeinated drink.
They say there's no such thing as bad publicity, but when death is involved that seems to be proven false. Monster could be hit with lawsuits for years to come from family's looking for scapegoats.
Ban on Energy Drinks
While it is still in its infancy, there is a strong movement across several large cities to get energy drinks banned completely or restricted to adults. Two cases of this center around the cities of Cleveland and Chicago.
A councilman in Cleveland wants to prohibit the sale of energy drinks to anyone under the age of 18. Providing energy drinks to minors would turn into a fourth degree misdemeanor in the city. Energy drinks, including Monster continue to be marketed to teens through sponsorships and commercials. If a ban like this could ever go through, it could impact sales of Monster in the United States.
In Chicago, councilman Ed Burke is going one step further and attempting to ban all energy drinks in the city. The ban would be on all energy drinks that have 180 mg of caffeine or more. The city's attempt to become the first city to ban energy drinks is on hold right now, but the city has agreed to look into the legislation in the future. Burke said a federal study linked 20,000 emergency room visits to energy drinks in 2011.
A ban on energy drinks in any city would obviously hurt Monster. One in Chicago could be huge for a decline in sales, as there are so many people that call Chicago home, along with millions of tourists. If a ban is passed in any big city, count on others to attempt to follow suit.
Buyout Hopes Fading
Back in April, shares of Monster shot up as rumors began to swirl about a potential buyout. Coca-Cola (NYSE:KO), who distributes the energy drink in some parts of the United States, was the rumored acquirer. Reports went back and forth on whether Coke had talks with Monster, but in the end no deal happened. Shares were in the $60s in April and too high for a buyout to happen in my opinion. Coca-Cola is constantly looking for new acquisitions in the non-carbonated beverage industry, evidenced by its recent deal to buy UK based Innocent Smoothies.
Monster has a market capitalization of $7.8 billion at today's share price. Coke paid $4.2 billion for Vitaminwater in one of its largest purchases ever. In my opinion, Coke won't be purchasing Monster. Coke owns Full Throttle and Nos and also helps distribute Monster. The company has a good footing in every drink market and doesn't need the Monster brand to increase energy drink sales.
High Valuation
Shares of Monster trade at a high valuation, due to their growing revenue. In fiscal 2012, gross sales grew 21.7% to $2.37 billion. In the fourth quarter, sales increased 16.6%. Analysts on Yahoo Finance expect the company's sales to increase 13% in both 2013 and 2014. This is a sharp decline from the 20% increases the company and shareholders were accustomed to.
In fiscal 2013, earnings per share are expected to hit $2.26. The following year, analysts see earnings hitting $2.68. This puts the price to earnings multiple at 21x and 18x respectively. That of course is if, Monster can hit the numbers predicted by analysts. The company missed estimates in each of the last three quarters.
Conclusion
Monster energy drinks are good, as I am a customer of their brand. However, shares are just too risky with all of these possibilities before them. The energy drink segment is still growing, but returns have seen less dramatic results. Monster has a couple of rough years ahead and I would stay away.
Disclosure: I have no positions in any stocks mentioned, and no plans to initiate any positions within the next 72 hours. I wrote this article myself, and it expresses my own opinions. I am not receiving compensation for it (other than from Seeking Alpha). I have no business relationship with any company whose stock is mentioned in this article.