I recently read an article which suggested that Philip Morris International (NYSE:PM) is currently too expensive. With all due respect to the other author, I could not disagree more. Philip Morris is a near perfect dividend and dividend growth stock, with its juicy 3.7% yield and large yearly dividend increases. Philip Morris also has a massive share buyback program in place. Few companies are as generous to its shareholders as Philip Morris.
While Philip Morris has risen 9% YTD, it has actually underperformed the broader market. In the past year, Philip Morris has only increased 7.63%, compared with 13.11% for the Dow and 13.56% for the S&P.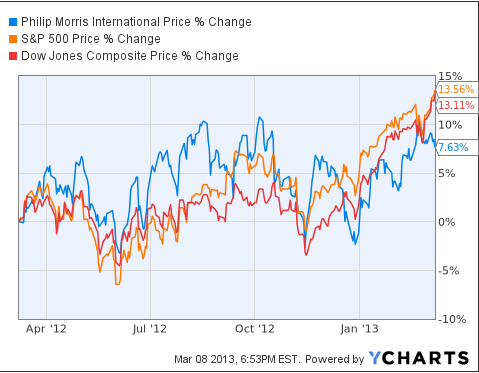 In the other article, the author was comparing Philip Morris to other tobacco stocks, such as: Altria (NYSE:MO), Reynolds (NYSE:RAI) and Lorillard (NYSE:LO). However, each of these individual stocks has a different story to tell. While Philip Morris is a pure play international tobacco stock, the other companies are mainly focused on the US tobacco market. In addition, Altria has other assets (such as its wine business and stake in SABMiller). Lorillard, the largest maker of menthol cigarettes, has recently declined due to a proposed FDA ban on adding menthol to cigarettes. Also note that I am generally bullish on all these stocks, and consider tobacco stocks one of the best places to find yield in this market. Keep this in mind when looking at the following few charts below.
While Philip Morris' share price has risen more than Reynolds' and Lorillard's, it has actually been outperformed by its former parent Altria.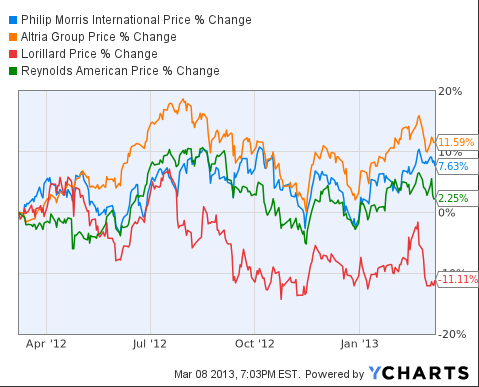 In terms of current dividend yield, Philip Morris currently offers the lowest yield of the bunch, with only a 3.7% yield. Altria, Lorillard and Reynolds all sport yields of over 5%.
| | |
| --- | --- |
| Name | Yield |
| Philip Morris | 3.7% |
| Altria | 5.2% |
| Lorillard | 5.7% |
| Reynolds | 5.5% |
However, what good is a high yield if it is not growing? Since 2008, Philip Morris has been able to grow its dividend by 84%. In that same period, Altria has only raised its dividend by 52%, Lorillard by 77% and Reynolds by 37%.
| | |
| --- | --- |
| Name | % Increase in Dividend Since 2008 |
| Philip Morris | 84% |
| Altria | 52% |
| Lorillard | 77% |
| Reynolds | 37% |
However, where Philip Morris really stands out is in terms of its share buyback program. Since 2008, Philip Morris has spent an aggregate of $28B to repurchase 489M shares of its stock. Philip Morris has reduced its share count by an incredible 20.7% since its spin off from Altria.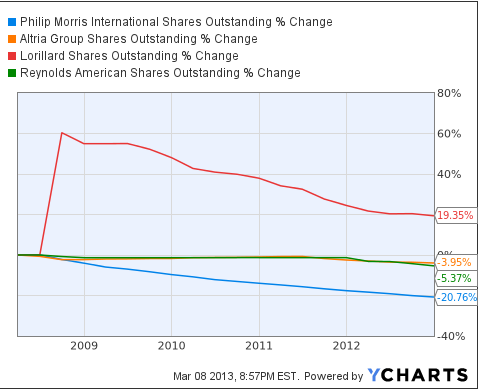 Philip Morris has also seen its fair share of EPS growth. Since mid-2008, Philip Morris has increased its TTM EPS by 60%. Meanwhile, Lorillard has been able to grow its TTM EPS 75%. Altria and Reynolds have actually seen their TTM EPS decline during this period. Please note, that EPS is not a perfect measure of profitability, especially in Altria's case.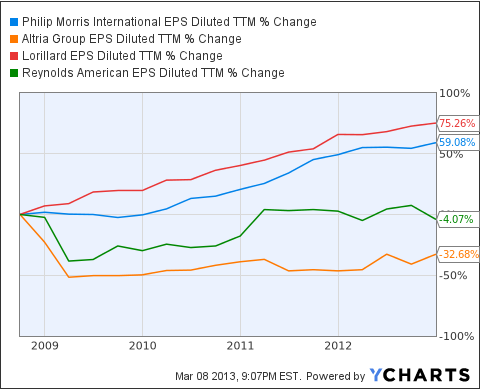 Lastly, Philip Morris is hardly expensive in terms of its TTM PE ratio. Considering that it has massive international growth potential, the current TTM PE of 17.62 seems fairly valued.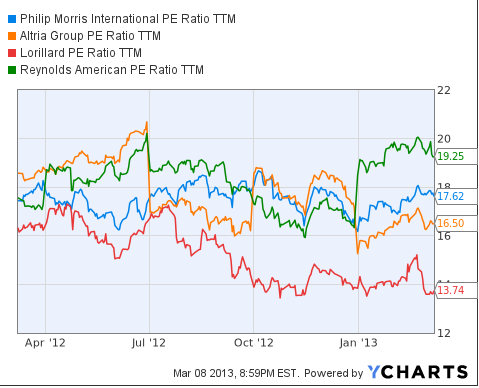 Conclusion
Few stocks have the dividend-growth potential that Philip Morris offers. I cannot figure out why anyone would consider Philip Morris at current prices overvalued. I do not mean to suggest that Philip Morris' stock could not suffer a short-term correction, however the stock has been lagging the S&P. I believe that if there is a general market decline, that Philip Morris will be seen as a more defensive name, and will not decline as much as other stocks.
Disclosure: I am long PM. I wrote this article myself, and it expresses my own opinions. I am not receiving compensation for it (other than from Seeking Alpha). I have no business relationship with any company whose stock is mentioned in this article.