We wrote an article last month about Blackberry's (BBRY) possible rising from the ashes by using its last breakthrough product-Z10. In Table 1 in that article, we compared the smartphones from Blackberry, Apple (NASDAQ:AAPL), Samsung (OTC:SSNLF), Nokia (NYSE:NOK), and HTC. We concluded that, from a purely technical standpoint, Blackberry Z10 is superior to other models in many regards and that the company has a legitimate shot of turning around this year.
Similar to Blackberry, Nokia seems to be making a statement to its competitors that it is coming back this year by using its latest flagship product-Lumia 920. While Blackberry's loss and Apple's and Android's gains in their shares of the cell phone market were interesting and amazing stories, Nokia's fall from heaven to hell in just three years was probably the most shocking story in the world of mobile communications and textbook material for how soon a dominant company can lose all its advantages after a couple mistakes in business strategies or implementations.
According to IDC, as recently as early 2010, Nokia still controlled a whopping and enviable 40% market share of the worldwide smartphone market! In just 18 months, the company lost almost two-thirds of its market share. Its market share fell to the unwatchable 3% at the end of 2012. Graph 1 extracted from Nokia's quarterly data provides a vivid illustration of Nokia's sales volume over the past four years.
Graph 1: Nokia Smartphone Sales Volume Since 2009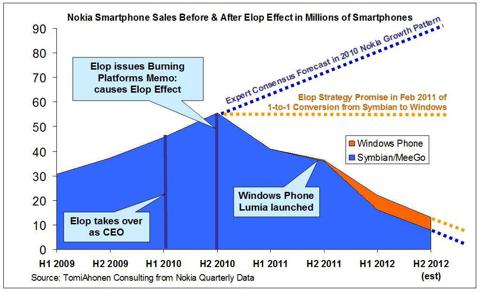 Source: "Communities Dominate Brands," January 24, 2013 article.
So what's Nokia's chance of coming back to be a major player in the cell phone market anytime soon? Here are two reasons that Nokia might be able to do it:
1. Reviewing the information shown in Table 1 from our article about Blackberry, we found that Nokia's Lumia 920 is one of the best smartphones on market now because its CPU is faster than those of iPhone5 and Samsung Galaxy S3, it has a 4.5-inch screen, and its camera has an 8.7 megapixel resolution. Most importantly, it features the mobile version of Microsoft's (NASDAQ:MSFT) Windows 8 operating system (OS), which is the new OS that the biggest OS maker on planet has been touting to be the "next big thing" for mobile communications that could derail Apple's and Android's market leading positions.
Many critics and consumers love many of the new and proprietary features in Window 8 phones. RockTheDeadline and VentureBeat websites have good articles about some of the features. In our opinion, the best features are the capability of storing personal applications and data online for use everywhere (Windows to Go and SkyDrive), reloading the original system files without losing personal data (Refresh and Reset), and compressing webpage data while the user is browsing to save data usage (Data Sense). Some people also love the user interface Metro UI that is distinctively different from iPhones' and Android phones' user interfaces. Last, but not least, as always Windows' phones offer the best integration with popular Microsoft applications such as Outlook, Office, OneNote, and Xbox. This is an important advantage to people who prefer to use same applications at home, work, and outside.
2. Nokia may have a good shot at quickly expanding its share in the low-end cell phone segment through its uniquely branded Asha line. The company has been turning up its efforts on this front lately. Last quarter, Nokia actually sold more Asha phones (9.3 million units) than smartphones (6.6 million units). Last week, Nokia officially announced its cheapest Windows device yet-the Lumia 610-and three new Asha S40 phones. Lower-priced phones command the majority of the cell phone sales in emerging markets, including China. Xu Hong, a columnist on China Economic Net, insisted that "to become an industry leader, a mobile phone vendor must gain a stronghold in the huge low-end market." According to TechWeb's report, Nokia still provided 22% of all cell phone sales in China as of last September. According to a research report published by ZOL last December, Nokia is ranked at No. 3 on the list of most consumers' attention (8.7% of consumers' attention). So, unlike in the U.S., Nokia is still one of the top brands and still has some power for strategic maneuvers in China.
On the other hand, here are some reasons that suggest it will be difficult for Nokia to quickly regain substantial market shares:
1. Nokia has been focusing on Windows-based phones and putting its turnaround hopes on them since the beginning of 2008. Morgan Stanley estimated earlier in 2012 that Nokia would ship 37 million Windows-based phones in 2012 and 64 million Windows-based phones in 2013. Unfortunately, Nokia's actual sales numbers fell short of this optimistic prediction by a wide margin. The phone maker only sold about 13 million units of these Windows phones in all of 2012. Granted, Nokia did demonstrate a sizable bump in its Windows phones sold from 2.9 million units in Q3 to 4.4 million units in Q4 2012, but the company needs to make a couple quarters of further increases to make this a trend.
2. Nokia is not the only one selling Windows phones. Nokia's two major competitors, Samsung and HTC, make Windows 8-based phones. HTC, in particular, has put heavy efforts in producing Windows 8 phones. HTC One, 8X, and 8S are the major Windows 8-based phones made by HTC. To Nokia's credit, it is commanding a 70% market share of Windows 8 phones. However, competitors may start eating into its market share in the future. Like Blackberry phones, Windows 8 phones have a disadvantage in the number of applications that run on them. So, Nokia might want to adopt some unique strategies to make more applications available on its Windows 8 phones. This can set it apart from other Windows 8 phone makers.
3. For investors, another concern is the cost of the royalty Nokia needs to pay to Microsoft for selling Windows-based phones. Because Microsoft is trying to promote its mobile Windows 8 now, it is giving phone makers like Nokia sizable rebates to offset royalty charges. However, we can easily imagine Microsoft starting to raise royalties for Windows 8 quickly when its market share expands, a standard strategy in the past that Microsoft repeatedly used to reap lofty profits from its major products. Nokia says that it expects to start incurring net payments to Microsoft next year. This is a cost disadvantage that manufacturers of Windows phones bear compared to Apple and manufacturers of Android phones (sure Google charges some royalty per phone, too, but the amount is expected to be much less than the amount Microsoft will charge). In other words, even if Nokia does have great success in expanding the sales of its Windows phones, the amount of revenue that flows to the company's bottom line remains a question.
In conclusion, while there is a chance that Nokia can seize the opportunity to hype the Windows 8 phones and turn around, it still has to overcome quite a few challenges. As shown in Table 1, Nokia turned the corner of its financial results in the last quarter. Revenue reversed the decline trend to rise again quarter over quarter, and the company turned from a net loss to a net profit. Moreover, gross margin rose substantially from 27.5% to 35.5%. This is the first time in more than a year that Nokia delivered a gross margin of more than 30%. The company's reining in of cost of sales and operating expenses will give it more of a cushion in slow quarters and a greater ability to lower the average sales prices of its products to seize more market share in the fast-growing mid- to low-end smartphone segments.
For now, we are staying on the sidelines and watching the company's performance closely and may decide to initiate a position in the stock if we see more evidence of the company's ability to further run up its sales and market share.
Table 1: Nokia's Key Financials

Q4 2011

Q1 2012

Q2 2012

Q3 2012

Q4 2012

Revenue

10,005

7,354

7,542

7,239

8,041

Gross Profit

2,904

2,034

1,781

1,991

2,584

Gross Margin

29.0%

27.7%

23.6%

27.5%

35.5%

Operating Profit

-954

-1,340

-826

-576

439

Net Income

-1,076

-1,572

-1,529

-969

255

Note: All numbers are in $millions, except gross margin.
Disclosure: I am long BBRY. I wrote this article myself, and it expresses my own opinions. I am not receiving compensation for it (other than from Seeking Alpha). I have no business relationship with any company whose stock is mentioned in this article.
Additional disclosure: MaxSoar is a professional financial analysis firm. We research and analyze a broad spectrum of financial assets including stocks, bonds, mutual funds, real estate properties, and private companies. This article was written by one of our analyst. Maxsoar did not receive compensation for this article (other than from Seeking Alpha), and we have no business relationship with any company whose stock is mentioned in this article. Use of MaxSoar Financial and Investments LLC's research is at your own risk. In no event should MaxSoar Financial and Investments LLC or any affiliated party be liable for any direct or indirect trading losses caused by any information in this report or on its website MaxSoar.com.