It's rather shocking to even be considering the airlines as potential investments. After a year of strong profits in 2012, the industry did something surprising: Instead of starting up a new, money-losing airline that competes on price, it actually shrunk via the merger of US Airways Group (LCC) and AMR Corp. (AAMRQ.PK).
In addition, US Airways did the unthinkable by lowering capacity in February while growing the revenue passenger miles (RPMs). This is almost unheard of in the airline industry, which has a tradition of quickly adding capacity at the hint of growth or adding competition even in money-losing years. Not to mention, the unions typically want a cut of current profits after decades of losses. The question is whether the double benefits of more traffic and less capacity will last.
Mega Merger
The merger adds more consolidation to an industry that has historically struggled to generate profits. The combined entity will be a force with a major hub system, including Charlotte, Chicago, Dallas/Fort Worth, Los Angeles, Miami, New York, Philadelphia, and Phoenix. While the company estimates roughly $1 billion in synergies mostly from revenue increases, the main benefits will be felt industry-wide.
The bankruptcy finally got American Airlines into a competitive structure with the other major airlines, while the merger reduces competition and allows for fare increases. Consumer advocates don't like the merger, but it seems unreal that anybody can complain about an industry that has historically lost billions each year. Those same advocates aren't calling for labor unions to take concessions in order to reduce the costs structures instead.
The company provided the following highlights for the merger:
Expected 2015 annual synergies of more than $1 billion.
Implied equity value of approximately $11 billion.
Firm orders for more than 600 new mainline aircraft.
Combined airline will offer more than 6,700 daily flights to 336 destinations.
Combined airline to have approximately $40 billion in revenue based on 2013 projected numbers.
Significantly accretive to earnings per share in 2014.
While the transaction is pushed as more choices, increased service, and an enhanced travel experience for customers, the ultimate benefit is the reduced competition.
January/February Highlights
US Airways reported record load factors for January and February, even with the impact over President's Day holiday travel from Hurricane Sandy.
February Report
Mainline RPMs for the month were 4.4 billion, up 2.2% vs. February 2012.
Mainline capacity was 5.5 billion available seat miles (ASMs), down 1.2% vs. February 2012.
Consolidated passenger revenue per ASM increased by 1% vs. the same period last year.
Mainline passenger load factor was a record 81.0% for the month of February, up 2.7 points vs. February 2012.
Preliminary on-time performance was 82.0%.
January Report
Mainline RPMs for the month were 4.9 billion, up 4.8% vs. January 2012.
Mainline capacity was 6.0 billion ASMs, up 1.8% vs. January 2012.
Consolidated passenger revenue per ASM increased approximately 3% vs. the same period last.
Mainline passenger load factor was a record 81.1% for the month of January, up 2.3 points vs. January 2012.
Preliminary on-time performance was 83.0%.
Strong Earnings Estimates
It is almost unbelievable to see airlines forecasting profits for at least the next couple of years after a solid 2012. Analysts expect big profits for both Delta Air Lines (NYSE:DAL) and United Continental Holdings (NYSE:UAL) as well, so disciplined management with the new-found profits will be key.
For US Airways, the 2014 estimates should jump with this accretive deal adding to the $3.03 estimate, which would provide solid upside for a stock trading around $15. See the current estimates below:
Click to enlarge images.

Stock
If the stock can break above resistance at $15.50, it could soar to new heights with the valuation multiples being supportive of higher prices. See the chart below: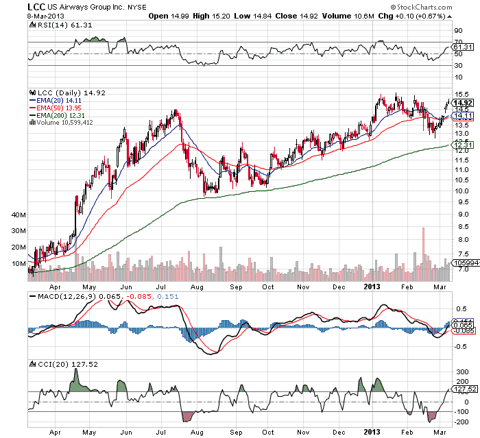 Conclusion
Even with the gains in US Airways' stock, the valuation appears compelling based on typical sales and earnings multiples. If the industry has finally become disciplined after decades of irrational competition, the stock could be a home run. It currently trades at only 0.27x combined revenue estimates, providing for plenty of ability to increase efficiency and profitability.
Investors should look into entering positions in the major airlines as long as the sector remains disciplined. If anybody announces the desire to start a new airline, that would be the signal to abort this thesis. The new American Airlines offers a compelling valuation, though the stock could be very volatile as the merger and integration with US Airways will be complex.
Disclosure: I have no positions in any stocks mentioned, and no plans to initiate any positions within the next 72 hours. I wrote this article myself, and it expresses my own opinions. I am not receiving compensation for it (other than from Seeking Alpha). I have no business relationship with any company whose stock is mentioned in this article.
Disclaimer: The information contained herein is for informational purposes only. Nothing in this article should be taken as a solicitation to purchase or sell securities. Before buying or selling any stock you should do your own research and reach your own conclusion or consult a financial advisor. Investing includes risks, including loss of principal.