Although prone to cyclicality, Crocs' (NASDAQ:CROX) current earnings stream and growth potential appear undervalued by the market. Over the past few years, Crocs has transformed itself from a single-product company focused on injection molded clog style shoes sold primarily in the U.S. to a multi-product company with a large variety of styles sold around the world. This transformation has allowed the company to grow from $722 million of revenue in 2008 to $1.1 billion in 2012, while funds from operations have grown from $17 million to $196 million over the same period. Crocs has been able to achieve this growth while maintaining a low-double-digit corporate IRR, implying that future growth can be accomplished while creating value for shareholders. Finally, while some challenges and risks exist, Crocs current market price seems to reflect these to an adequate degree and I believe the shares represent good long-term value.
Description
Crocs operates as a designer, manufacturer, distributor and retailer of footwear. The company is famous for a relatively simple injection molded clog style shoe, now known as the Crocs Classic, but has taken its injection molding technology and applied it to other styles as well. Some of those styles are derivative on the clog concept, while others include various slip-on flats for women and enclosed shoes favored for the workplace. The company has also branched out in recent years to shoes constructed of different materials; for example, one of the most popular shoes at Crocs is the Santa Cruz canvas loafer.
In total, about 97% of sales are footwear while the remainder are accessory items primarily from the company's Jibbitz line of decorative clog attachments aimed at children. Clogs for children are a very important piece of Crocs business. While about 75% of sales are for adults, the remainder are for children. The company has tie-ins with a number of children-oriented brands including Lego, Mickey Mouse, Hello Kitty and Barbie.
The major styles Crocs produces generally have good reviews on the websites of major online retailers with most styles having between four and five out of five stars - comparable to the popular styles of competitors. Meanwhile, the company's shoes are typically priced for value versus those of other major brands while only being marginally more expensive compared to knock-offs.
Crocs sells shoes through three distinct channels: wholesale, retail and internet. Wholesale refers to the company's sales of goods to all third parties, whether they be off- or on-line retailers or distributors. Wholesale accounted for about 58% of total sales in 2012. Retail refers to Crocs's own retail locations, of which there were 537 at the end of 2012 and comprise 33% of all sales. Internet sales are those conducted on through Crocs's various website properties throughout the world such as crocs.com and crocs.co.jp.
Crocs's shoes are widely distributed throughout the world with 44% of sales coming from the Americas, 41% from Asia and 15% from Europe. Of the company's 537 stores, 241 are in Asia (South Korea, Japan and Taiwan primarily), 170 are in the Americas (U.S. and Canada only) and 97 are in Europe (Russia is the largest single market with one-third of stores).
With respect to production, the company manufactures about 21% of the shoes it sells internally, primarily in Mexico with some capacity in Italy as well. The balance of production is outsourced to third parties in Vietnam, China and Eastern Europe. Distribution is handled through 1 million square feet of leased spaced and through contracts with third parties representing another 0.3 million square feet of space.
Competitors
The main competition to Crocs classic clog style shoes comes from lower priced, potentially unbranded "knock-offs." These competitors will vary in price in relation to their quality, with the lowest being as little as half the price of Crocs and the best being at a 10-20% discount. Those at the bottom in terms of price are visibly inferior in terms of construction and aesthetic detail.
A smaller brand, Sloggers has emerged as a competitor at a similar price point to Crocs, although the shoes are targeted at a slightly different market (gardening), a number of the styles are very similar to Crocs while the most popular are more enclosed - still, the shoes seem quite popular among a portion of the demographic that purchases Crocs.
Most of the company's branded competition is of higher quality and more expensive, but is also geared to be somewhat more formal. Companies such as Merrell, which is owned by Wolverine Worldwide (NYSE:WWW), Birki's, FitFlop have similar casual shoes at higher price points targeted at the adult market.
The canvas Santa Cruz Crocs produces has a major competitor, at least in the U.S., in the form of Sanuk; however, that company's shoes are more expensive although they have more variety of colors and designs.
Operating and Financial Trends
The following table reports revenue by channel and geography over the past five years at Crocs: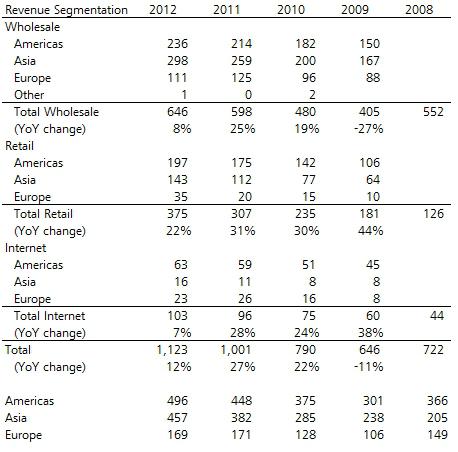 Overall revenue grew to $1.1 billion in 2012 from $722 million in 2008, although the trend has not been straight up. Revenue declined 11% in 2009 from the year-earlier period due to the economy, and over expansion by the company while relying on a narrow line of products.
Crocs's retail and internet channels have been the strongest growing with cumulative growth from 2008 to 2012 of 198% and 135%, respectively. Meanwhile, wholesale has been de-emphasized by the company and only grew 17% over the period. The main reason Crocs has moved to a self-distribution model is to achieve higher selling prices and have better control of product exposure. During the recession, excess inventories at third party retailers caused intense pricing pressure on the product as retailers eliminated stock. Crocs having an inventory problem itself made the problem worse, nevertheless the company has been focusing on having better relationships with fewer retailers rather than flooding the market.
The star geography for the company has been Asia where overall revenue growth was 123% from 2008 to 2012 driven by gains in wholesale, retail and internet. The Americas have performed at a more moderate pace, up 36% over the same period, while Europe has lagged with only 14% cumulative growth. The flat result in 2012 from 2011 shows the economic difficulties in Europe, the impact it can have on sales and should be cautionary note as to other geographies.
The following table shows the number of units sold and average selling prices (ASPs) from 2008 to 2012:

As the table shows, both units and selling prices have increased overall since 2008. Over the entire period, the company managed to grow units but during 2009, ASPs suffered considerably dropping 10% from the prior year. The main reason for the drop was Crocs holding significant amounts of excess inventory in a limited number of styles and in entering the recession moving units by heavy discounting. However, ASPs did recover and are now 17% higher than in 2008. A good portion of the increase is attributable to shifting mix as the company has added new higher-priced styles and selling through the company's own channels.
The following tables shows the company's retail store footprint from 2008 to 2012:

Crocs grew its store base from 279 in 2008 to 537 in 2012 through the expansion of full-size retail stores and outlets while kiosks declined. The store growth has been relatively small in the Americas, while Asia and Europe grew stores counts at very high rates.
As the following table shows, backlogs as of year-end have increased continually over the past five years:

Crocs typically takes orders four to six months in advance of the company's selling season which is spring and summer so that backlogs reported at year-end are indicative of sales during the peak season. The company's backlog grew 15% in 2012 over the prior year.
The table below shows the company's cash flow performance over the past five years:

The standout item in the table is the very poor cash flow performance in 2008 and 2009. Although the economy was a major factor in the poor performance, company-specific issues also existed. First, the company had become highly reliant on one type of shoe - the Classic clog and highly derivative variations of it. Compounding the problem was a large ramp up in capacity and inventory as the company believed demand would continue to grow. Crocs was then forced to move this inventory into a weak market which hurt ASPs and dented cash flow.
In recent years, cash flow performance has been much better with the highpoint coming in 2011 when the company generated $92 million of free cash after removing the cash flow impact of stock options. In 2012, performance worsened due to working capital investments and capital expenditures, but the company was able to grow funds from operations by $48 million or 32%; therefore, the investment is generating growth in gross cash flow.
Returns on Capital
The following table shows returns on capital as calculated using an IRR-based methodology: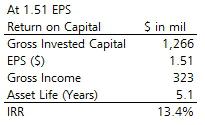 Gross invested capital at Crocs comprises a number of asset categories, some of which are adjustments made to the company's reported financials. The largest piece of invested capital is in operating leases which have been capitalized for the purposes of this analysis. The company is highly reliant on operating leases both for its distribution facilities and its retail presence. The capitalization of these leases accounts for $467 million of gross capital employed. Other important elements of invested capital are capitalized advertising, property, plant and equipment and internally generated intangibles.
The calculation assumes an ongoing earnings per share of $1.51 leading to gross income of $323 million, which includes items such as current spending on capitalized expenses and depreciation and amortization. Due to the somewhat cyclical nature of the company's earnings, it is probable that the cycle adjusted earnings per share on the current assets base are lower than $1.51. If the company could have one year in five where earnings were halved, the long-term EPS on the current asset base (i.e. excluding growth) would be $1.36. Using a figure of $1.51, the return on capital would be 13.4%, while using $1.36, it would be 12%. In either case, the return is about twice the cost of capital and therefore the company is creating value with its investments.
Industry Structure
The footwear industry's two main threats are new entrants to the industry and the level of rivalry among existing competitors. Just as Crocs was able to displace sales of other casual shoes, a new competitor could do the same to Crocs. There is little in the way of barriers-to-entry in the shoe business. To be a cost leader, it is necessary to have a certain scale, but often a new company can sell at a higher price to early adopters to generate capital to expand. Advertising and brand awareness is a significant hurdle, but with the viral nature of the internet, new products can gain immense followings by word of mouth and advertising spend can come later. For example, some quite small companies such as Sloggers have upwards of 300 review for their main shoe line on Amazon.
Meanwhile, existing competitors in the industry can copy, while perhaps improving, designs created by others. Companies with similar designs can also respond to competition by lowering prices. If Crocs tries to move too far a field from its current market niche, other companies could retaliate by producing a clog or other trademark Crocs style of their own or they could retaliate by lowering prices or increasing marketing expenditures in the category Crocs is trying to enter.
On the other hand, as shoes are a staple product Crocs does not need to worry about substitutes or customers buying less of the category as a whole. If Crocs can stay on top of changing tastes, it should have a stable market to sell into.
Expected Equity Returns
The expected returns to holders of shares of Crocs are most influenced by the cycle-adjusted earnings power of the company and the rate of growth. In the first scenario, where $1.51 of earnings per share is the normalized earnings power of the company, returns on capital stay stable and no growth occurs, expected returns with a $15.73 entry point should be 6.7% per year in real terms. Adding inflation, the nominal return would be 9%. Adding 3% growth for 12 years (43% cumulative growth), would add 1% of return per year for a 10% nominal return.
In the second scenario, taking $1.36 as a long-term normalized earnings to account for the cyclicality of the company, the expected return for no-growth is 6.1% real (8.4% nominal). With the same growth profile as outlined above, the expected return increases 0.8% to 6.9% real (9.2% nominal).
Under either scenario, the company's shares are a little undervalued because the real cost of capital for the company is likely under 6% and indeed, the company may well grow faster than above projection implying a greater undervaluation.
Additional Considerations
Given strong overall market conditions and the relatively low Crocs share price, why are investors avoiding Crocs? A few potential reasons stand out: 1) During the last recession, Crocs performed very poorly; and 2) tax policy may change impacting the company's tax rate.
Regarding the first possible reason, it is likely that many investors see the very steep fall off of profit in 2008-09 and rightfully believe the same could happen again. However, Crocs has taken a lot of steps in the past several years to create a less volatile business, including expanding the number of styles it offers, extending its geographic reach and opening more of its own stores. For these reasons, it is likely the company's profit will not fall to the same extent in the next recession as it did in the last. Additionally, the company learned an important lesson in its first major recession as an organization and will be more cautious in expansion in the future. Furthermore, given the company's large cash balance, it will not need to worry about a liquidity crunch, which for a time in 2009 was a real concern. The cash can also be used to buy shares if they become cheap which should ameliorate a drop in the share price.
The tax policy issue is more concerning from a profit perspective and is probably weighing on the shares for good reason. Crocs has a tax rate of less than 10% and with budget difficulties in the U.S. and much talk of corporate tax reform, it is likely that any changes to the tax code will be a negative for the large number of U.S. corporations with very low tax rates. However, even a doubling of tax rates for Crocs, a likely worst case scenario, would only imply expected equity returns of a little over 0.5% less than they are currently.
Lastly, there are many positive surprises that could occur for Crocs as well. The company could certainly grow revenue and profit at a faster rate than referenced above without moving too far out its comfort zone. In addition, some of the larger brand owners in the industry have recently shown a penchant for shoe companies, such as V.F. Corp's (NYSE:VFC) purchase of Timberland. Given Crocs's strong brand and global reach, it may be a good target for one of the larger apparel holding companies.
Disclosure: I am long CROX, VFC. I wrote this article myself, and it expresses my own opinions. I am not receiving compensation for it (other than from Seeking Alpha). I have no business relationship with any company whose stock is mentioned in this article.