With a record-setting bull market and consumer confidence soaring, this list is made up of the top three stocks to watch for the week of March 11, 2013. Each stock mentioned will be announcing its quarterly earnings this week and have certain positive fundamentals that make them appetizing to the value investor. The usual caveats apply, but these equities have positive analyst estimates, solid earnings, and growth initiatives that make them a solid option for investors looking for value stocks.
1. AEP Industries (NASDAQ:AEPI)
Earnings Date: March 13, 2013
Company Profile
AEP Industries Inc. is a manufacturer of plastic packaging films in North America. The company markets a diverse line of polyethylene and polyvinyl chloride flexible packaging products, with consumer, industrial and agricultural applications. Its plastic packaging films are used in the packaging, transportation, beverage, food, automotive, pharmaceutical, chemical, electronics, and construction, agriculture and textile industries. On Oct. 14, 2011, it acquired all of the assets of Webster Industries -- a national manufacturer and distributor of retail and institutional private label food and trash bags -- and in November 2012, purchased the machinery, equipment and related assets to manufacture the performance films, specialty bags and industrial films of Transco Plastics Industries Ltd.
The Fundamentals
With a company like AEP, a plastic manufacture that has already begun its marketing efforts, it's really important to look at some of the numbers that the company is producing. The company had a very impressive 2012, and showed signs of continued growth for years to come.
With a quick ratio of 1.01x, debt-to-equity ratio of 2.95x and current ratio of 1.95x, AEP ranks in the top 90% of its peers in the containing and packaging industry. Company revenue has increased nearly every year, including an 18% increase from 2011-12.
Click to enlarge images.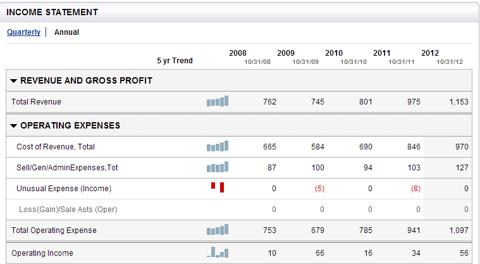 AEPI has a return on equity of nearly 38%, and receivable turnover of 10.53%, putting it in the 98th percentile in its industry for the respective categories. Raw materials inventory was the fastest-growing segment -- up 26.5%. On a quarter basis, finished goods inventory was the fastest-growing segment -- up 4.2%. AEP Industries seems to be handling inventory well enough, but the individual segments don't provide a clear signal. AEP Industries may display positive inventory divergence, suggesting that management sees increased demand on the horizon.
Analyst Ratings and Estimates
The rating bureaus are indicating that AEPI is a strong buy, given its current position. This is likely due to the aforementioned fundamentals: strong earnings, positive growth and at the top of its industry in numerous categories. The fourth-quarter earnings surprised analyst estimates by 26%, and show potential growth for the rest of the 2013 fiscal year. Thomson Reuters, MarketEdge, and Smart Consensus all indicate that AEPI is a good choice to go long on.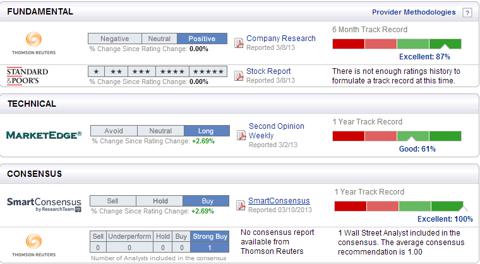 Conclusion
Overall, AEPI shows positive signs of growth, leads various categories in its respective industry, and has positive analyst estimates, making it an appetizing stock to watch. With the next earnings date on Wednesday, March 13, I would definitely keep my eye on this potential steal.
2. CVR Energy, Inc. (NYSE:CVI)
Earnings Date: March 11, 2013
Company Profile
CVR Energy, Inc., through its wholly owned subsidiaries, acts as an independent petroleum refiner and marketer of transportation fuels in the mid-continental United States. In addition, the company, through its majority-owned subsidiaries, acts as an independent producer and marketer of nitrogen fertilizer products in North America
The Fundamentals
CVR will announce earnings Monday after market close. Analysts expect a 162% spike in earnings per share to 89 cents, on a 68% rise in revenue to $1.78 billion. Although the stock has traded mostly flat in early 2012, it took off on Nov. 2, crossing above its 50-day average; share price has since soared 96% and continued to trade above 50-day and 200-day averages. On Friday, shares fell .04%, but in subsequent after-hours, have increased by .61%.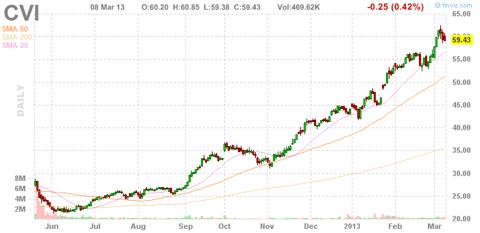 Despite the recessionary setback, CVR has showed revenue growth every year since 2009 -- increasing 23.5% alone from 2010-11. A return on equity percentage of 31.48% is higher than 93% of the industry. Moreover, CVR is trading a book value of only 3.28x -- one of the lowest in the industry.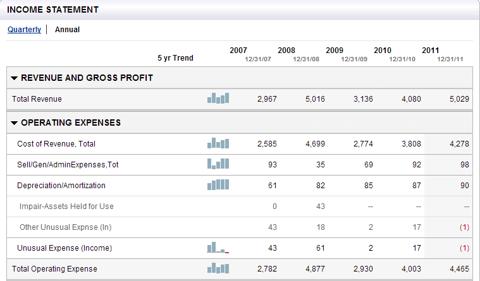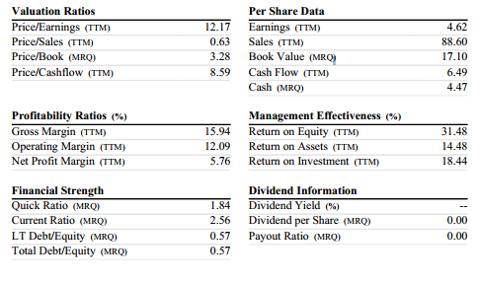 Analyst Ratings and Estimates
As mentioned above, analysts expect a 162% increase in earnings per share. Furthermore, Thomson Reuters, MarketEdge, and Smart Consensus all indicate a buy signal for CVR. Earnings per share have consistently surprised analyst expectations and are set up to do the same in the current quarter.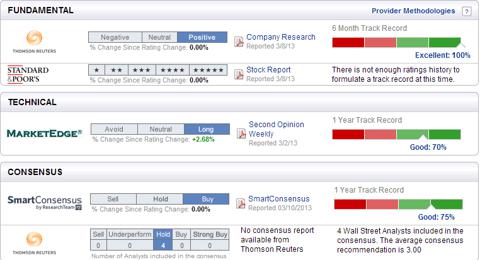 Conclusion
Shares of CVR are already up by nearly 14% since the start of the year. Oil companies are using hydraulic fracturing to extract oil from the rich Bakken formation underlying parts of Montana, North Dakota and southern Canada, and from other shale fields, which will only continue to grow throughout 2013. Keep an eye out of this potential break-out stock
3. Dicks Sporting Goods (NYSE:DKS)
Earnings Date: March 11, 2013
Company Profile
Dick's Sporting Goods, Inc. is a sporting goods retailer offering an assortment of brand name sporting goods equipment, apparel and footwear. The Company offers a range of sporting goods and active apparel at each price point in order to appeal to the beginner, intermediate and enthusiast sports consumer. The Company also owns and operates Golf Galaxy, LLC, a golf specialty retailer (Golf Galaxy), and maintains e-commerce operations for both Dick's and Golf Galaxy. Dick's has 519 stores in 42 states, primarily in the eastern half of the United States, and an additional 81 stores of Golf Galaxy in 30 states.
The Fundamentals
Dick's has showed consistent revenue growth, even during the recessionary period of 2007-2009. Additionally, the sports empire hardly has any debt, with a total debt-to-equity ratio of .01%. The return on equity (16.65%), return on assets (9.00%) and return on invested capital (13.74%) are all at the top of the sporting goods retail industry. The company has a P/E ratio of 23.4, above the S&P 500 P/E ratio of 17.7.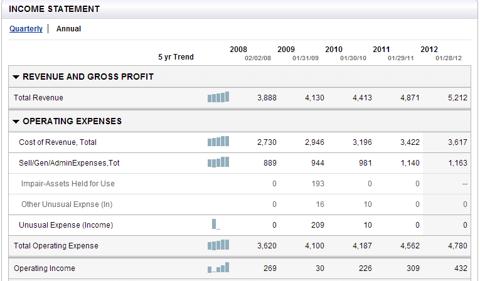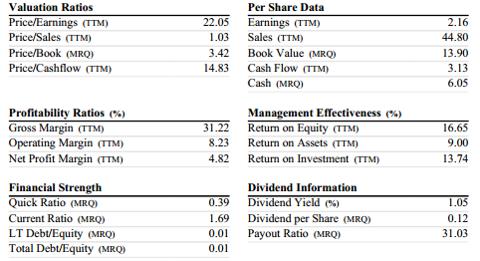 Analyst Ratings and Estimates
Analysts surveyed by Thomson Reuters expect earnings to climb 39.5% to $1.06 a share. Revenue is seen coming in 15.6% higher at $1.86 billion, which would be the best annual gain in several years. After-tax margin has also climbed for the past four quarters, representing a continual increase in operational effectiveness. Thomson Reuters and MarketEdge rate Dick's a good buy with current conditions and expect a strong fourth quarter earnings report.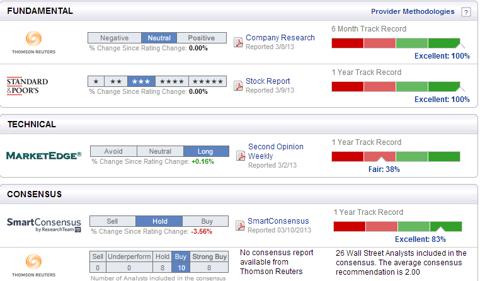 Conclusion
Dick's shares plummeted at the open Friday, reversed, and managed a 0.5% gain. That said, shares are up 10.7% year to date as of the close of trading on Friday, and continued to increase into after-hours by 1.28%. With increasing operational effectiveness, strong earnings year after year, and admirable analyst estimates, Dicks Sporting goods is a must-watch this week.
Disclosure: I have no positions in any stocks mentioned, but may initiate a long position in DKS over the next 72 hours. I wrote this article myself, and it expresses my own opinions. I am not receiving compensation for it (other than from Seeking Alpha). I have no business relationship with any company whose stock is mentioned in this article.