Plains All American Pipelines LP (NYSE:PAA) is a large cap MLP stock that should be on the radar - if not in the portfolio - of every income investor. As one of the handful of large-cap MLPs, Plains All American has carved out its spot in the energy midstream space with plenty of growth potential for the foreseeable future.
Note: MLP companies such as Calumet Specialty Products have units and pay distributions. The words stock, shares and dividends may be used here with the understanding that the rules of MLP units apply including the tax consequences of investing in MLP units.
Business Overview
The primary business of Plains All American is the transport and storage of crude oil on its way from the oil drilling plays to the refineries. Additional businesses include transport and processing of natural gas liquids and the storage of refined petroleum products and natural gas. Plains All American is the general partner and 62 percent shareholder of PAA Natural Gas Storage (NYSE:PNG), but the natural gas storage business of PNG only contributes about 6% of total EBITDA.
The transport business consists of 18,000 miles of pipeline, 5,400 rail cars, 23 rail facilities, 1,475 truck trailers, 800 truck tractors, 100 barges and 50 tug boats. Plains All American can move crude oil and has its pipeline, trucks or rail cars in all the major plays from south Texas into Canada. Storage assets include 115 million barrels of liquids storage and 93 billion cubic feet of natural gas storage.
70% of the company's cash flow is fee based, which with a little math, leaves 30% from margin based contracts. A majority of the margin based business has the stability of fee based revenues, but there are opportunities to profit from pricing imbalances. For example, at the beginning of 2012, Plains All American put out guidance of up to $1.725 billion of EBITDA for the year. The company actually earned over $2 billion, picking up over $400 million of additional "market related performance."
Distribution Growth and Coverage
Since 2001, Plains All American has increased distributions every year, with an average 7.7% growth rate. For 2013, the company is projecting dividend growth of 9 to 10% and usually increases the payout every quarter. More impressive, the dividend rate coverage by distribution cash flow is forecast at 125%. In a recent presentation, management noted that Plains All American typically pays out 75% of distributable cash flow and has retained $1.8 billion over the last 9 years, using that money to provide organic funding for growth projects.
Speaking of growth, 2013 projections are for $1.1 billion of capital spending in 2013. The PAA growth program involves a combination of expanding its existing transport and storage network along with mostly bolt-on acquisitions. I noticed that the current $18 billion market cap shows significant growth from the $14 billion value when I last took a close look at Plains All American in June 2012.
Conclusions
As a crude oil transport company, Plains All American is in a different sector of the midstream business compared to the other large cap MLPs. The company has plenty of growth opportunities and a current 4% yield coupled with 10% distribution growth indicates 15% or so total return for this year and years to come. The PAA share price has been moving steadily upward since the 2008-2009 bear market. It is tempting to wait for a share price pull back, but that seems to not happen with Plains All American unless the entire market makes a correction.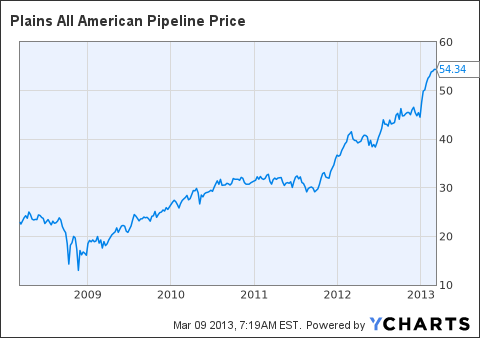 Disclosure: I have no positions in any stocks mentioned, and no plans to initiate any positions within the next 72 hours. I wrote this article myself, and it expresses my own opinions. I am not receiving compensation for it (other than from Seeking Alpha). I have no business relationship with any company whose stock is mentioned in this article.