After tanking from its IPO price of $20 per share all the way down to $5 after its most recent earnings report, Skullcandy (NASDAQ:SKUL) needs a doctor. Dr. Dre could be that doctor. Dr. Dre might have given Skullcandy just the boost it needs with the large success of Beats by Dre, giving new life to a high-end headphone market. The overall headphones market increased from $1.8 billion to $2.4 billion from 2011 to 2012. Beats by Dre had 40% of the total U.S. headphones market in 2012 and almost 70% of the premium headphones market during the holiday season according to NPD. One thing is certain in the premium headphones market, which is anything over $100, consumers will pay for sound quality and for the brand.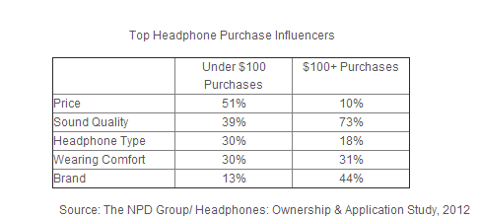 Skullcandy headphones were very popular because they offered the consumer a cheap but stylish brand for the mass amounts of iPhones and iPods that were being sold. When I say very popular I mean that they were second in market share only to Sony in 2010, 23% and 14% respectively. Skullcandy also obtained the top spot in earbud sales in 2010. They priced their IPO at $20 per share which would have given them a $500 million market cap at the time. Skullcandy built their brand on being the headphones for athletes and musicians which worked very well at the time. There was one problem - they primarily sold inexpensive headphones and when the premium market emerged they were nowhere to be found.
Skullcandy has changed course and started making those high-end headphones and adding promotions from celebrities to match what Beats by Dre and other artists are doing. They have tapped the premium headphones targeted specifically at the gaming market to go along with the rest of its premium headphones. They purchased Astro Gaming and are expanding internationally, recently increasing revenue by 90% in the international market. In addition, in 2012 they have used their manufacturing and supply chain expertise to increase Astro's margins by 15% since the date of acquisition. Skullcandy is in the process of transforming from a small grass roots campaign to playing with the big boys in the music industry. Even though Skullcandy is using the Sports Illustrated swimsuit cover girl Kate Upton along with Kevin Durant and Derrick Rose, they need to do more. Skullcandy lacks the funds to allow expansion and really take advantage of what they have built. This is where Sony (NYSE:SNE) comes in. They need something or someone to help take back market share from Beats by Dre.
There are a few things that need to be covered in order to see if Skullcandy would be a good takeover target for Sony:
1. Company size: As stated previously, Skullcandy has dropped from an over $500 million market cap down to recently sitting at under $150 million. Sony has a long list of acquisitions like any company that has been around for as long as they have should. More recently, Gaikai and Famous Music for $380 million and $370 million respectively. It seems that Skullcandy is in the perfect range.
2. Enterprise value: Enterprise value is typically seen as a better valuation than market cap because it takes into account the debt and cash on hand. Skullcandy is currently sitting at $125 million.
3. Insider ownership: Insiders own 40% of the company which could be positive or a negative for a takeover target because they have a large say in what happens to the company
4. Consumer base: Skullcandy's main customers are in their late teens to early twenties. These customers have grown up on devices such as the MP3 player and iPod. If Sony intends to market devices and music, this is the exact place they want to be.
With the acquisition of Skullcandy, Sony could bring that brand loyalty over to Sony products. Sony could promote their new devices and the PlayStation 4 with newly acquired Skullcandy headsets. These Headsets would work seamlessly across all of Sony's products to help combine the PlayStation Network with Sony Music Entertainment. Using the cloud Sony could potentially have customers listening to music via their smartphone or tablet and then using the same headphones link to their PlayStation 4 without any complications. Not to mention these headphones would cost as much as the other devices individually. There is a ton of room to take what Skullcandy built and run with it. Is Sony up for the challenge?
Disclosure: I have no positions in any stocks mentioned, but may initiate a long position in SKUL over the next 72 hours. I wrote this article myself, and it expresses my own opinions. I am not receiving compensation for it (other than from Seeking Alpha). I have no business relationship with any company whose stock is mentioned in this article.