In a recent article I wrote about what I believe to be the ARM Holdings (NASDAQ:ARMH) "bubble," I got the following comment from SA member, Kafkaesque2 regarding trying to short a stock on valuation:

Now, I don't generally follow Salesforce.com (NYSE:CRM), but I know people have been margin called trying to short this secular growth story for quite a while. That being said, as I have explored this analogy, it has become increasingly clear to me just how cheap Salesforce.com is compared to ARM Holdings. Let me explain.
Use Free Cash Flow For Hyper Growth, Not Earnings Per Share
High growth stories often need to reinvest heavily in their businesses, which means that during the growth spurt, EPS is not the right metric to use; free cash flow is. Free cash flow allows investors to get a solid handle on the financial health of a company in a way that goes beyond the GAAP EPS measure. Eventually, GAAP profits need to come in, but until then as long as free cash flow is healthy, then investors are likely to swallow a really strong top-line growth story.
Revenue Growth: A Comparison
Salesforce.com's Y/Y quarterly revenue growth has been and continues to be >30%, thanks to a pretty secular cloud SaaS play, although it seems that revenue growth (naturally) has been slowing: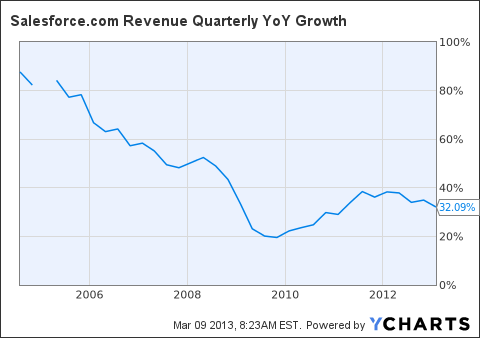 CRM Revenue Quarterly YoY Growth data by YCharts
ARM Holdings' sales growth has also been slowing, and current sell-side analysts expect FY2013 to see revenue growth come in at ~15%, which is a slowdown from FY2012's 19% growth.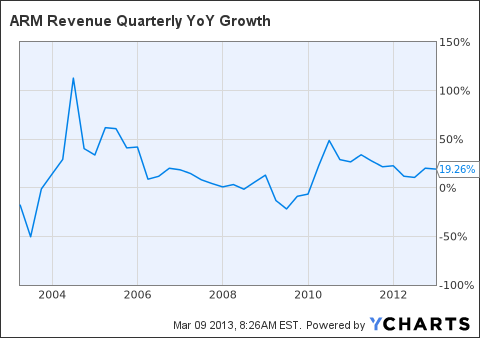 ARMH Revenue Quarterly YoY Growth data by YCharts
Valuations: Price/Free Cash Flow
The core of my argument is that while Salesforce trades at a forward P/E of 75, the company generated $470M in FCF over the last 12 months, meaning that it trades at 57x FCF. Quite expensive, but did you know that ARM Holdings, at a $19.5B market cap (compared to Salesforce.com's $27B market cap), generated only $83M in FCF in the last twelve months? This means that ARM trades at an astoundingly expensive 234x FCF. Just looking at cash flow, we see ARM gets a lot cheaper at "only" 77x cash flow.
Conclusion
Salesforce.com is growing faster, generates significantly more free cash flow, and is quite obviously cheaper than ARM Holdings. Just some food for thought.
Disclosure: I am short ARMH. I wrote this article myself, and it expresses my own opinions. I am not receiving compensation for it (other than from Seeking Alpha). I have no business relationship with any company whose stock is mentioned in this article.