I have a passion for shopping centers. Maybe it's because that is where my wife and kids drag me every weekend. Or maybe it's because I spent the early part of my career developing them. Regardless, the shopping center business is not dead and, although certain retailers are struggling with the "big bad bully" we call Amazon (NASDAQ:AMZN), there is strong evidence that the retail category remains strong and healthy.
A few months back, I wrote a Forbes.com article (Retail Survival of the Fittest: Adapt or Die, and Fight for Tax Equality) in which I explained the essential element for retailing success, known as multi-modal shopping. As I wrote:
Successful retailers are offering multiple channels for consumers to research and purchase their merchandise. While catalogs are still an important marketing tool - think Victoria's Secret and L.L. Bean - nearly all successful retailers also offer the ability to shop online.

Most national retailers welcome in-store returns for items purchased through their e-commerce channels, because it leads to additional sales opportunities when shoppers are in the store. In addition, retailers have embraced social media such as Facebook (NASDAQ:FB) and Twitter as indispensable to getting the word out about these promotions.
Retailers Must Innovate or Die
Recently I have been reporting on several retail chains that are continuing to struggle with pressures caused by Amazon, among others. Barnes & Noble (NYSE:BKS), the leading book store chain in the nation, is feeling the heat, as I explained in a previous Forbes.com article (Barnes & Noble Should Start Thinking Outside of the Big Box):
It's clear to see that the Barnes & Noble storefront is under attack and in addition to downsizing its larger "big box" stores the company must continue thinking "outside of the box". Amazon and Apple will continue to serve their customers more efficiently and Barnes & Noble must find a stronger model that delivers more than a comfy couch, a great book, and a grande vanilla latte. The answer lies in the adaptability of the digital storefront as well as the more efficient retail storefront. Perhaps Barnes & Noble can successfully navigate both worlds but in the words of Bill Gates, Barnes & Noble must "innovate or die.
I think that Barnes & Noble's brick and mortar model will survive. Why? Because I think that Microsoft's (NASDAQ:MSFT) strategic partnership that closed last year ($300 million for a 16.8 percent stake in the Nook) could eventually be the spark to get the book chain's balance sheet in order. More importantly, by owning over 600 books stores and another 678 college campus stores, Barnes & Noble could become a dominating multi-modal global player. Time will tell, but clearly there is value to the Barnes & Noble "brick and mortar" model.
Other retailers feeling pressure as a result of online competition are Office Depot (NYSE:ODP) and OfficeMax (NYSE:OMX). Recently, the two big box chains announced a merger that is proposed to strengthen their competitive positioning by increasing the scale and efficiencies of the combined companies. As I wrote a recent Forbes.com article (Are REITs Overexposed To The Big Box Office Supply Chains?):
It is plain to see that the brick and mortar model is under significant pressure due to online shopping. Even more, the office supply sector is worse off with Staples (NASDAQ:SPLS) and these two companies going head-to-head not only with online retailers, but with each other. Simply said, the field for office supply retail is currently significantly saturated.
Weingarten Realty Investors - A Shopping Center REIT Worth Considering
Weingarten Realty Investors (NYSE:WRI) was founded in 1948 by Harris Weingarten. The company, originally known as Weingarten Markets Realty, commenced operations by building the family's grocery stores and later expanded into developing shopping centers. Around 1980, the Weingarten family exited the supermarket industry and the realty company, headed by Stanford Alexander, one of Harris' grandsons, and began to focus on relationships with retailers, drug stores, and others.
Weingarten became a publicly-held company in August 1985 and was listed as "WRI" on the New York Stock Exchange. Over the past six decades, the company has focused on investing in shopping centers and today the Houston-based REIT owns around 292 properties with over 53 million square feet.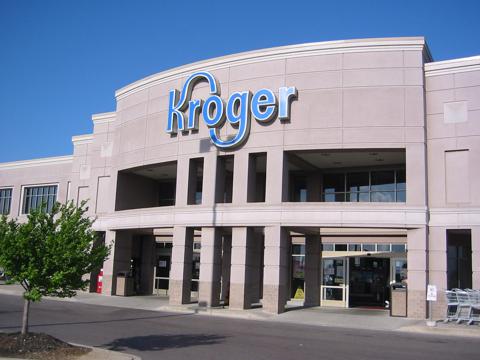 Over the years, Weingarten has been successful at growing its "circle of competence" and last year the company sold off most if its industrial assets (9.6 million square feet to DRA for $382 million) to focus on its strategic initiatives of being a dominant shopping center landlord in major metropolitan markets. Weingarten's geographic footprint is positioned to capture a disproportionate share of new job growth. Almost 50 percent of all the jobs created in the U.S. over the last 12 months have occurred within the states that Weingarten operates its portfolio.
The well-positioned properties are located in Texas, Florida, and California - that make up over 55 percent of the Weingarten portfolio - as well as eighteen other states from coast to coast.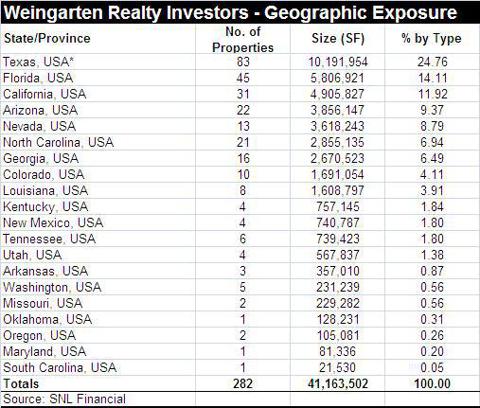 Weingarten has focused its retail leasing platform on tenants that provide necessities, services and discount clothing. Accordingly, Weingarten's retailers have found growth opportunities serving budget constrained consumers who still must buy necessities that are focused on value offered by many retailers like TJX (NYSE:TJX) and Ross (NASDAQ:ROST).
Weingarten's top ten tenants include The Kroger Co. (NYSE:KR), TJX Companies, Ross Stores, Safeway Inc. (NYSE:SWY), PetSmart (NASDAQ:PETM), HE Butt Grocery, The Sports Authority, Bed Bath & Beyond (NASDAQ:BBBY), Best Buy (NYSE:BBY), and Harris Teeter. Barnes & Noble dropped off Weingarten's Top 25 list, so the company has muted exposure to the struggling book chain.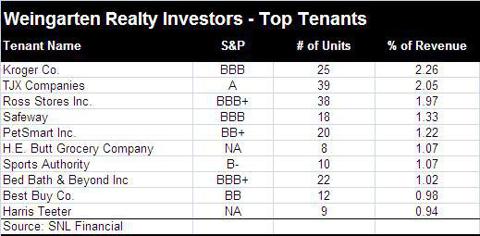 In addition, Weingarten has 23 Office Depot leases and 11 OfficeMax stores. Combined, the revenue for these two chains represents just around 1.5 percent of total revenues and it is likely that there will not be significant closures that will impact Weingarten's revenues.

Fundamentals Looking Better
With a newly focused retail platform, Weingarten is charging forward by focusing on continued dispositions of non-core assets and by concentrating on its core supermarket and necessity-based retail anchored platform. The roots of the retail model date back over sixty years and the strategy of investing in shopping centers located in high-barrier to entry markets has never changed.
Although the retail environment has been challenging for many REITs, Weingarten has been able to achieve exceptional occupancy levels. Currently, the overall retail portfolio is 93.7% (was 93% at Q4-11) consisting of 97.1% for the anchored portfolio (10,000 sf or higher) and 88.2% for non-anchored spaces.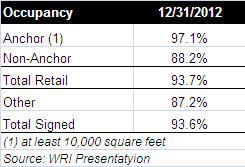 Strong lease commencement activity contributed to Weingarten's strongest quarterly increase in same-property NOI experienced in seven years. In addition, Weingarten has had a very strong quarter of disposition activity, closing on over $113 million in sales. During Weingarten's latest earnings call, Andrew "Drew" M. Alexander, President and CEO, explained:
After the full year, we equaled or exceeded every goal in our business plan. Our acquisitions during the year totaled $235 million, adding some truly outstanding assets in gateway markets like West Hollywood, California and the Washington DC area. Our dispositions totaled over $700 million and included our exit from the industrial business. While capital recycling is currently a very common theme in our sector, we've made tremendous progress on the portfolio of repositioning plan we laid out at our Investor Day in April of 2011.
Weingarten sold over $700 million of non-core assets during the year and with these proceeds the company paid down the $500 million revolving credit facility and redeemed its 3.95% convertible bond as well as its 6.95% Series E preferred shares. This additional liquidity will allow Weingarten to take advantage of growth opportunities as they arise, maintain its strong overall credit metrics and better position the company for future debt maturities.

As Johnny Hendrix, EVP and COO for Weingarten, explains (during the company's latest earnings call):
Weingarten shopping centers, primarily anchored by supermarkets and discount-oriented merchants, continues to be attractive to retailers and service tenants. Our geographic footprint remains in very productive growth markets, which are experiencing the best increases in job growth. Over 1.5 million jobs were created in our top 10 markets during 2012. That accounted for a job growth more than three times the national average. Combine this job growth, our anchored properties and our best-in-class operating platform and you can see the great results.
Now with just under $500 million in dry powder ($467 million unused on credit facility), Weingarten has an enviable capital composition.

As explained by Drew Alexander during the company's most recent earnings call:
We've successfully de-levered our balance sheet, providing us with the flexibility to pursue growth opportunities. Most importantly, our capital recycling efforts were highly effective and that effect of adding outstanding properties to our acquisition efforts with the proceeds from the sale of lower tier assets resulting in improvements in nearly every operational metric we track.
Weingarten's capital stack consists of $2.204 billion in debt, $425 million in preferred shares, $4.353 billion in common shares, and $41.7 million in OP units.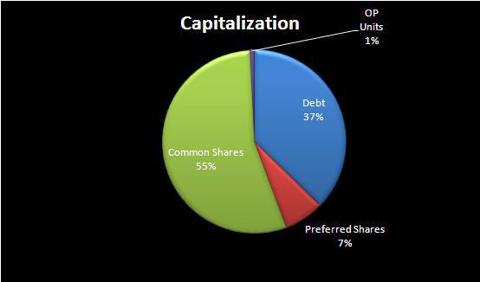 In addition Weingarten enjoys strong credit ratings with S&P (BBB Stable) and Moody's (Baa2 Stable).

One other key metric to consider is the fact that Weingarten's average supermarket sales have risen to $516 a square foot, one of the highest in its peer group.
Weingarten is a Buy
Weingarten common shares are currently traded at $30.60 (WRI hit a 52 week high of $30.90 on February 28).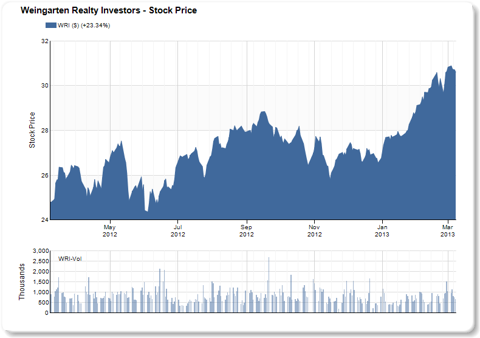 As the FAST Graph illustrates below, Weingarten (like most REITs) was forced to cut its dividend as the company's funds from operations (or FFO) fell 35% (in 2009). Prior to the Great Recession, Weingarten was able to generate strong cash flow and FFO and since the Great Recession, the company has increased its dividend, and both the dividend and funds from operations have grown rapidly since - as depicted on the graph below. (Chart provided by FAST Graphs™):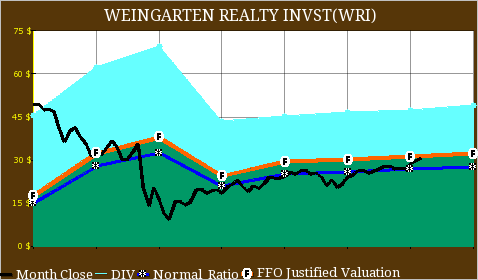 Moreover, it is clear from the price (the black line) and FFO (orange line marked with an F) correlated FAST Graph that the price has closely tracked FFO. The blue shaded area represents Weingarten's dividends distributed to shareholders. This consistent level of growing income is an important aspect of the investment merit of Weingarten's stable "necessity branded" model.
Weingarten represents an attractively valued REIT (P/FFO is 14.7) at today's levels. It may not be dirt cheap, but the 3.99% current yield, in today's low interest rate environment, should not be ignored (WRI also recently announced it was increasing its common dividend by 5.2%).

Weingarten's management team has done an excellent job in transforming the company into a profitable "pure-play" REIT with reduced leverage. It is also one of the best performing REITs in the shopping center sector (WRI's annualized total return is 27.4%).

In a recent telephone call with Drew Alexander, Weingarten's president and CEO, he summarized the Houston-based REIT's enduring "core of competence":
Over the 65 years that WRI has operated shopping centers, we have always focused on supermarkets and other retailers who focus on items the consumer needs. This strategy had worked well for us in all economic cycles and we feel our strong portfolio and great operating platform can continue to produce strong results.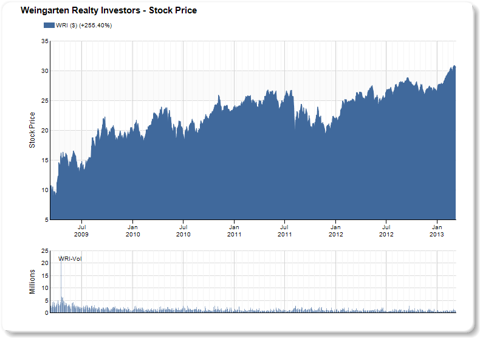 Here is a link to an interview with Jim Cramer (Mad Money) and Drew Alexander (CEO of Weingarten) in December 2012.
Disclosure: I have no positions in any stocks mentioned, and no plans to initiate any positions within the next 72 hours. I wrote this article myself, and it expresses my own opinions. I am not receiving compensation for it (other than from Seeking Alpha). I have no business relationship with any company whose stock is mentioned in this article.