Since publishing my last article about HomeStreet (NASDAQ:HMST) on 25 February 2013, the stock has risen 3.6% against the S&P 500's (NYSEARCA:SPY) 2.3% gain. The 3.6% rise in HMST took place in the midst of an analyst downgrade that took place on 28 February 2013, the stock took a tumble of 2.7% on that day, but has reacted very nicely since then. In the chart below, I pit HMST against a couple of other interesting regional banks, KeyCorp (NYSE:KEY) and SunTrust (NYSE:STI) because each of these banks have significant footprints in growing areas of the country. As you can see, KEY and HMST are each beating the S&P 500 by about 1.3% while STI is beating everybody with demonstrative 2.8% gain on 08 March 2013, which can be attributed to a piece that Jim Cramer did about STI the night before. Regional banks are thriving in the economy by picking up lots of business in their respective areas of the country as opposed to the big money center banks which many people are still scarred by from the Great Recession nightmare. In this article, I'll examine why I believe HMST is still the bank to beat despite the analyst downgrade.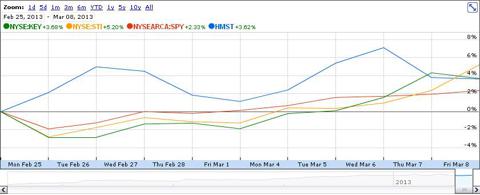 Valuations
HMST has a trailing twelve month P/E ratio of 4.18 and a 1-yr forward P/E ratio of 4.68, two very impressive values indicating that the stock is what I would like to call as ridiculously cheap. When pitting HMST against KEY and STI on a valuation basis, it's easy to see that these regional banks are all inexpensive, but very easy to spot that HMST is the least expensive of them all. It's very important to look at the P/E ratios because it is a very good read of how much you are paying for the stock with respect to future earnings or past earnings. All information is accurate as of 08 March 2013.
| | | | |
| --- | --- | --- | --- |
| Ticker | Market Cap | P/E | Fwd P/E |
| HMST | 365.54 M | 4.18 | 4.68 |
| STI | 15.82 B | 8.18 | 9.92 |
| KEY | 9.11 B | 11.2 | 10.38 |
Financials
With a return on equity value of 46.91%, HMST pounces on both STI and KEY by almost a multiple of 5! The return on equity is an important financial metric for purposes of comparing the profitability which is generated with the money shareholders have invested in the company to that of other companies in the same industry. All information is accurate as of 08 March 2013.
| | |
| --- | --- |
| Ticker | ROE (%) |
| HMST | 46.91 |
| STI | 9.64 |
| KEY | 8.5 |
Technicals
HMST is currently trading below both its 50 and 20-day simple moving averages as seen in the chart below. Both the 20 and 50-day SMAs are leveling off while the stock isn't moving anywhere with any conviction. The relative strength index is showing that the stock is trading right in the middle of overbought and oversold conditions while the moving average convergence divergence chart is not showing anything either. The stock is actually looking like dead money right here, I'd look for the 20 and 50-day SMAs to act as resistance for now and see what happens in the next couple of days. If it cannot break those barriers I'd look for a drop to about $22.81 as the first floor of support.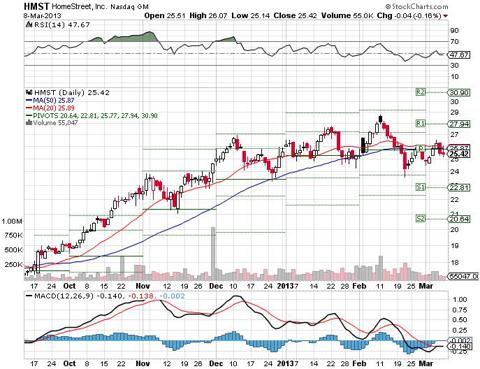 Recent News
HMST is about 11.5% from its 52-week high which makes it in a bit of a self correction. Personally I'm going to wait and see what happens with the stock before I make any moves.
Seattle Seahawks and Sounders FC announce HMST as their new banking partner which will mean advertising all over the stadium which will help the bank gain a little airtime during nationally televised games.
In February, Zacks downgraded HMST from "outperform" to "neutral" but raised their target from $28.50 in January to $29.90 in February. This move does not make any sense to me whatsoever.
HMST expanded mortgage business into the Southern California region by setting up an office in Pasadena. Pasadena is an affluent neighborhood in the LA area and by setting up the office here the company can use it as a great anchor to expand further in the LA area which will attract several customers. HMST has done a great job by expanding into Southern California for the long term and diversifying outside of the Pacific Northwest and Hawaii regions.
Conclusion
I don't see any immediate reason to jump into the stock right now due to technical reasons, but if the stock can surpass its simple moving averages as I mentioned above, I would begin to build my position on top of what I already have. One definitely cannot ignore the inexpensive valuations of the stock at this particular time, but if I can get a market pullback which can take the stock with it I would much rather buy it at cheaper levels. The company is definitely setting itself up for phenomenal future growth, but at the present, I'm going to wait a few days.
Disclosure: I am long HMST. I wrote this article myself, and it expresses my own opinions. I am not receiving compensation for it (other than from Seeking Alpha). I have no business relationship with any company whose stock is mentioned in this article.