In Friday's (March 8, 2013) session, a number of events led to a narrowing of the WTI-Brent gap. Here's a look at what happened and what it could mean for the US refining and marketing industry.
Brent Drop
Brent dropped to its lowest level this year after reopening a North Sea pipeline. Brent crude futures on the ICE exchange for April delivery finished Friday at 110.85. According to the Abu Dhabi National Energy Company, or Taqa, the Brent Pipeline System is "approaching" its targeted flow rate of 80,000 barrels per day.
West Texas Intermediate Up
Light, sweet crude for April delivery finished Friday March 8 up 0.4%, at $91.95 a barrel on the New York Mercantile Exchange. Positive unemployment figures released by the US Labor Department lifted WTI on higher demand expectations. The market was surprised by new jobs numbers that were much higher than the 160,000 forecasted. An addition of 236,000 jobs lowered US unemployment by 0.2% to 7.7%. That's the lowest national unemployment figure reported since late 2008.
Canadian Crude Up
Heavy Western Canada Select rallied up $3.75, and is now just $20 per barrel below WTI. It is now trading at the lowest discount to WTI since late October 2012. In mid December 2012, WCS was trading at a whopping discount to WTI of $42.50. Less tar sands extraction over the long cold winter has helped reduce stockpiles. At the same time, pipeline constraints have eased somewhat.
Gasoline and Diesel Prices
As of March 4, 2013 both WTI and Brent continued to diverge from overall US retail gasoline prices. US based refining and marketing companies, Tesoro Corporation (NYSE:TSO), Valero Energy (NYSE:VLO), Marathon Petroleum (NYSE:MPC), Phillips 66 (NYSE:PSX) and HollyFrontier (NYSE:HFC) have taken off during the past year. Those gains are largely attributed to a wide margin between the price of heavy Canadian crude, WTI crude and the refined products that they market, mainly gasoline and diesel.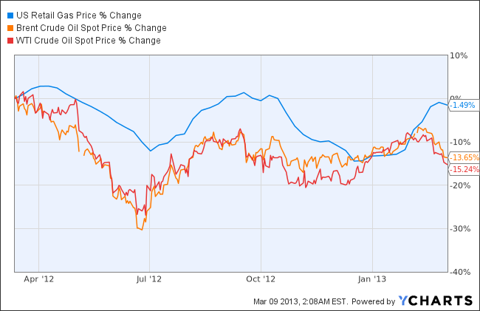 2012 was a banner year for US based refiners, and I wouldn't be surprised if they post incredible margins for the first quarter of this year. Previously, I wrote about HollyFrontier and its advantage of having refineries with direct pipeline access to both the WTI hub in Cushing, Oklahoma, and the extremely cheap heavy crude from Western Canada.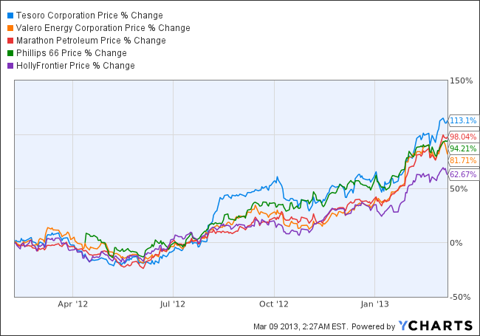 In an industry with margins that are typically razor thin, these refining and marketing companies have been enjoying quarter after quarter of net income gains for a couple of years now.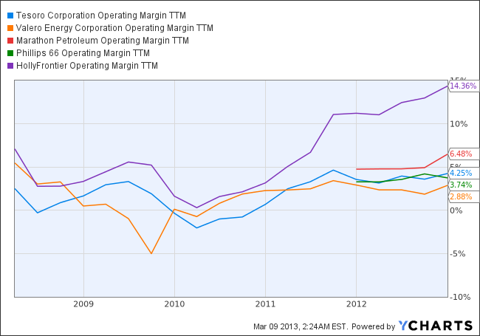 Still plenty of cheap WTI in America's future
US producers are getting more efficient at getting oil out of tight formations. By using a single rig on a pad to drill up to ten horizontal wells that lie underground parallel to each other, Chesapeake Energy Corp. (NYSE:CHK), Pioneer Natural Resources (NYSE:PXD), and Devon Energy (NYSE:DVN) all reported efficiency gains during Q4 2012. During Chesapeake's latest earnings call, COO Steve Dixon noted an incredible 30% reduction in spud cycle times that corresponded with a 30% decrease in per-well completion costs.
Chesapeake isn't the only company drilling more wells faster and cheaper. In the Eagle Ford shale play, Pioneer Natural Resources mentioned that it expects to drill the same number of wells this year as it did last, all while using 10 rigs instead of the 12 it had operating there last year. In the Cana Woodford Shale, Devon Energy reduced its average drilling days per well by more than 20%. The pad drilling technique is so effective because the drilling rig doesn't need to be disassembled, loaded on a truck, transported, then reassembled in between wells. After finishing one well, the rig is basically nudged over several yards to begin a new well.
I think the strong margins the industry has been enjoying will narrow somewhat, but will not disappear entirely. Overall, natural gas rigs in operation continue to decline, as oil-directed rig counts are on the rise. Widespread pad drilling adoption makes drilling, and later stimulating, new wells less expensive. Those efficiency boosts should lead to years of relatively cheap feedstocks for the US based petroleum refining and marketing industry.
Disclosure: I am long HFC. I wrote this article myself, and it expresses my own opinions. I am not receiving compensation for it (other than from Seeking Alpha). I have no business relationship with any company whose stock is mentioned in this article.