MLPs have an outstanding record of growth which very few industries can match or exceed. The Alerian MLP Index is at a record 437, the beginning value was 100 at the start of 1996. In addition, MLPs pay distributions with substantial tax advantaged yields. Most of their businesses are in gas and oil, a sector which has a very bright future, because new technology allows energy to be extracted from old formations that were considered marginal in the past (such as shale). Demand for more infrastructure to deliver oil and gas is virtually unlimited, creating a boom in the US.
The International Energy Agency forecasts that the US will become the world's largest oil producer and exporter of natural gas by 2020, and could attain energy self-sufficiency by 2035. MLPs will help make this happen, and Enbridge Energy Partners (NYSE:EEP) provides energy infrastructure for this growth.
EEP operates crude oil and natural gas transportation systems in the US. The main crude oil system is the largest transporter of growing oil production from Western Canada. Deliveries to refining centers and carriers in the US account for roughly 15% of US oil imports, while deliveries to Ontario, Canada, satisfy approximately 70% of refinery demand in that region. The natural gas transmission assets, largely located onshore in the Mid-Continent and Gulf Coast area, deliver approximately 2.5 billion cubic feet of natural gas daily.
Enbridge Inc (NYSE:ENB) of Calgary, Alberta, with a market cap of $36 billion, is the general partner of the partnership and holds a 26% interest in the partnership.
Enbridge Energy Partners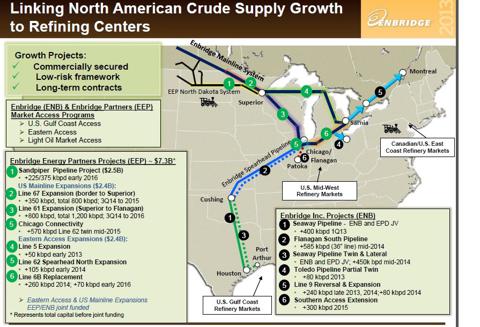 Production from the Bakken formation in the Williston Basin has grown from 200,000 bpd (barrels per day) to over 700,000 bpd in the last 5 years with potential to expand to at least 1.2 million bpd in the next 6 years. The Enbridge Bakken Expansion Program was completed last week and is in service. It reversed and expanded the existing pipeline, running from Berthold, North Dakota, to Steelman, Saskatchewan, and constructed a 16-inch pipeline from a new terminal near Steelman to a mainline terminal near Cromer, Manitoba. The project provides 145,000 bpd of capacity for growing production from the Bakken and Three Forks, starting with 25,000 bpd in Q1-2012. Firm commitments totaling 100,000 bpd have already been received from anchor shippers.
The long-term outlook for EEP is excellent. The $8.5 billion growth program is proceeding on schedule, transforming EEP towards an even lower risk business model. Cash flows are secured by long-term, low-risk contracts. Distributable cash flow growth (used for paying distributions to unit-holders) will accelerate when accretive growth projects enter service. Management's long-term projection is 2-5% annual increases for distributions. They have risen from $1.18 in 1993 (first full year) to $2.17 presently, with no reductions.
Liquids (petroleum) division adjusted operating income for Q4-2012 decreased $28.5 million to $133 million. Higher revenue from increased transportation rates and storage revenue at Cushing, Oklahoma, was more than offset by lower volume on the pipeline systems and higher integrity costs, depreciation and workforce costs. Natural Gas division Q4 adjusted operating income was $42.9 million, $8.5 million lower than in 2011, from lower natural gas and natural gas liquids prices, lower volumes on the East Texas system and higher expenses. Last year, about 80% of $900 million in revenue at EEP came from Liquids with the balance from Natural Gas. Liquids volume in 2013 is forecasted to grow 10% to 2.4 million bpd while gas volume will be flat.
EBITDA in 2013 is guided to increase to $1.25-$1.35 billion vs $1.14 billion in 2012 and $1.18 billion in 2011. This year capital expenditures will be $2.3 billion and nearly $2 billion annually going forward. Finances are strong. The company has about $2 billion in available lines of credit and maintains an investment grade credit rating (BBB/Baa2). In February, EEQ had a successful offering of more than 10 million shares and last September, EEP had a successful offering of 16 million units. EEP investments build more infrastructure to supply energy projects in the US and demand is very strong.
Enbridge Energy -- 2013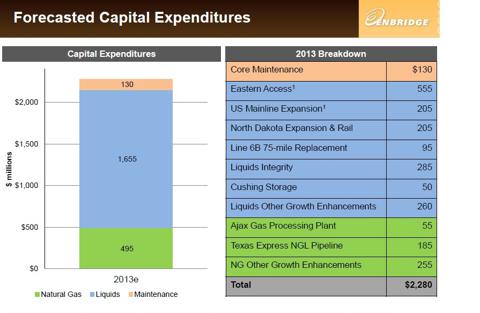 The two Enbridge Energy companies give investors a choice. EEP is the partnership and EEQ is the corporation that manages the business. The units of EEP are attractive for investors who want distributions paid with money and are willing to accept hassle associated with favorable tax treatment. The shares of EEQ are attractive for investors who want stock dividends that will increase shares over time. EEQ tracks price movements of EEP and stock dividends do not generate 1099s. Its shares are welcome in IRAs and other similar accounts.
Enbridge Energy Management (NYSE:EEQ) -- 10 years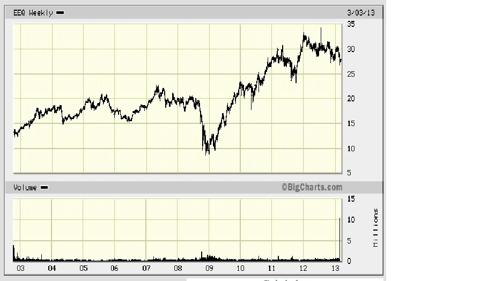 The EEQ stock chart parallels the EEP chart. Both prices had modest increases in the last 2 years, and have underperformed the index, while distributions have risen. The unit/stock prices are around $28.70 with tax efficient yields above 7½%. Patient investors will be rewarded while waiting for the stock market to appreciate the Enbridge story.
enbridgepartners.com
Disclosure: I am long EEQ. I wrote this article myself, and it expresses my own opinions. I am not receiving compensation for it (other than from Seeking Alpha). I have no business relationship with any company whose stock is mentioned in this article.