So far in this series we have taken a look at hybrid mREITs Apollo Residential (NYSE:AMTG) in Part I and AG Mortgage Investment Trust (NYSE:MITT) in Part III, as well as Agency mREIT Annaly Capital Management (NYSE:NLY) in Part II. It only seems right to continue flip-flopping back and forth between hybrid and Agency mREITs - therefore in Part IV we will take a look at American Capital Agency Corp's (NASDAQ:AGNC) 8.00% Series A fixed rate cumulative preferred stock (ticker: AGNCP).
Snapshot
American Capital Agency issued its only preferred stock at the end of March 2012. It pays quarterly dividends on the 15th of January, April, July, and October, and is callable in April 2017. AGNCP will begin trading Ex-Div at the end of March.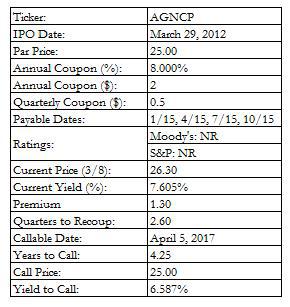 Closing Price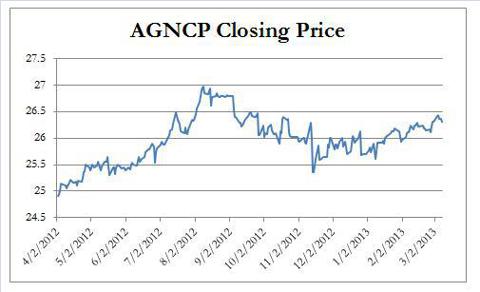 After beginning to trade on the Nasdaq at the beginning of April 2012, AGNCP gradually climbed up towards $27, then slowly back down to $25.50 and it has now traded back up towards $26.50 (it closed on Friday, March 8 at $26.30).
Current Yield and Yield to Call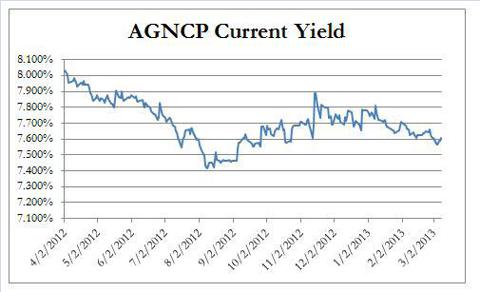 AGNCP has traded with a current yield between 7.40% and 8%. As of Friday's close, AGNCP has a current yield of 7.605% and a yield to call of 6.587%.
Premium
AGNCP is trading at a $1.30 premium to par and with a $0.50 quarterly dividend it will take three quarters to fully recapture any premium paid. This is a larger premium than any of the previous positions mentioned in this series has had (AMTG-A had a one quarter premium, NLY-D was very close to par, and both MITT-A and MITT-B were trading within a one quarter recapture). Since AGNCP will trade Ex-Div at the end of March, investors who purchase AGNCP at this point will receive April's $0.50 dividend, which will quickly reduce the outstanding premium.
American Capital Agency Corp
American Capital Agency is a mREIT that invests only in Agency mortgage products and opened its doors in 2008. Since its inception, AGNC has almost become a household name and has certainly become the standard for Agency mREITs. The company has consistently returned value to investors with a $1.25 per share quarterly dividend for the past four quarters (as well as for the upcoming April 26th dividend).
Portfolio Composition
AGNC's portfolio consists primarily of 30 Yr Fixed Rate and 15 Yr Fixed Rate products. As of Q4 2012, 30 Yr Fixed made up 61.0% of the portfolio while 15 Yr Fixed is 35.2%. The remaining 3.8% of the portfolio falls into 20 Yr Fixed (1.9%), Hybrid ARM (1.1%), and CMO (0.8%).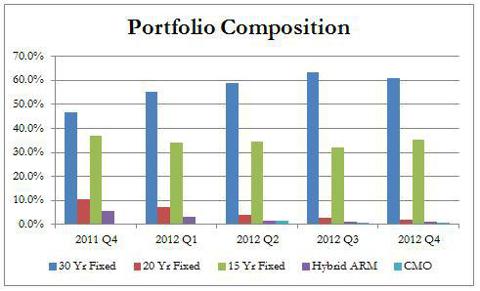 Peer Group
American Capital Agency's closest peer is Annaly Capital Management, the largest Agency REIT with $127 billion assets under management as of December 2012. Both AGNC and Annaly invest primarily in fixed rate mortgages. ARMOUR Residential REIT (NYSE:ARR) is another Agency mREIT (they did amend their charter in December 2011 to allow for investing in non-agency securities, though this has not happened to date). Two distinct differences with ARMOUR are that it pays a monthly dividend (instead of quarterly) and invests primarily in floating rate securities.
Leverage
Between the three peers, American Capital Agency falls in the middle in terms of leverage. ARMOUR has a target of 9.0x and, as a result, have maintained a higher amount of leverage then their peers. Annaly has the lowest amount of leverage but slowly increased their use of leverage as 2012 progressed.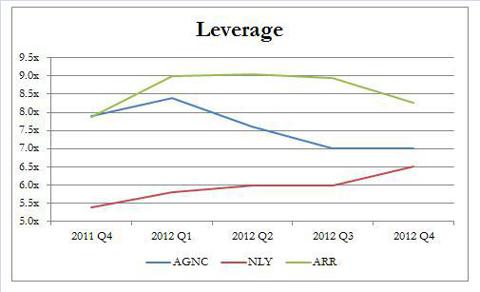 Asset Yield
The Agency space has continued to see yields compress and this has accelerated since summer 2012 with the implementation of QE3. From Q3 to Q4, American Capital Agency was able to see an increase in yield to 2.82% while Annaly and ARMOUR both saw the yield of their portfolios fall below 2.50%.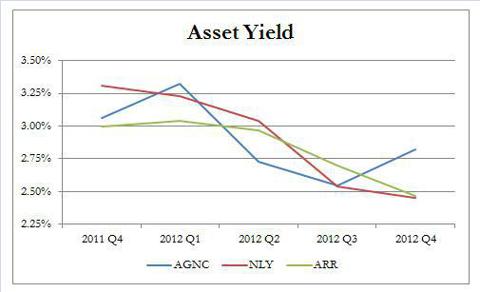 Net Interest Margin
Taking the cost of leverage out of the asset yield gives us the Net Interest Margin. While American Capital Agency still has the best NIM at 1.63%, ARMOUR is not far behind at 1.55%. From Q3 to Q4, Annaly saw its NIM fall below 1.0% from 1.02% to 0.95%.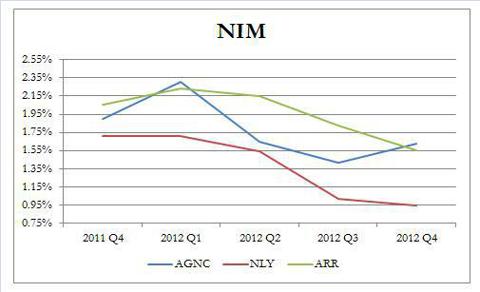 Net Book Value
American Capital Agency grew their Net Book Value from $27.71 per share in Q4 2011 to $31.64 in Q4 2012. While there was a slight decrease in the fourth quarter in NBV, this was the trend with the overall market.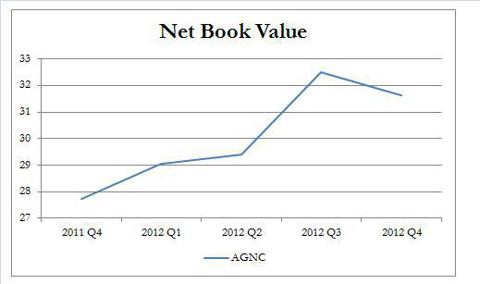 As noted above, American Capital Agency saw their NBV decrease from Q3 to Q4 2012. The decrease of 2.62% was the smallest decrease of their peer group as Annaly's and ARMOUR's Net Book Values fell by 4.52% and 6.18%, respectively.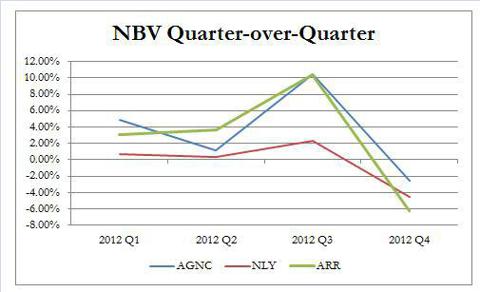 Using the fourth quarter of 2011 as a base, it's easy to see the impact of the Q4 2012 declines. From Q4 2011 to Q4 2012, American Capital Agency's NBV is up 14.2% and ARMOUR's is up 10.6%, while Annaly saw its NBV decrease by 1.3%.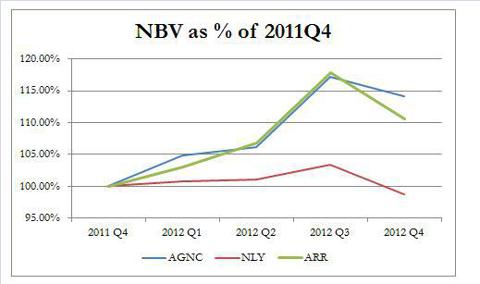 Final Thoughts
American Capital Agency is a top notch Agency mREIT with success that others strive for. Their fundamentals are strong and management has proven that they can successfully navigate a difficult market. While the premium may initially be a little steep on AGNCP, one quarter's worth will be paid in the next month (and it will trade ex-div at the end of the month). Another way to look at it is that the premium will take seven months to recover (instead of a full three quarters).
If you are comfortable with the risks associated with the mREIT industry but want the certainty of knowing exactly what your quarterly dividend payments will be, the cumulative AGNCP is a position worth investing in. Alternatively, if you believe in the American Capital management team and are already long the common stocks of AGNC and MTGE, adding AGNCP with a 7.605% current yield is another great option.
Ticker Reference Table: To help find preferred stocks on your trading platform, please see the Preferred Ticker Reference Table that I have posted.
Disclosure: I am long AGNC, NLY, ARR, AMTG, MITT, MTGE. I wrote this article myself, and it expresses my own opinions. I am not receiving compensation for it (other than from Seeking Alpha). I have no business relationship with any company whose stock is mentioned in this article.
Additional disclosure: This article is for informational purposes only, it is not a recommendation to buy or sell any security and is strictly the opinion of the author. Investors are strongly encouraged to do their own research and discuss potential investments with an investment professional.