Introduction
Apple (NASDAQ:AAPL) has shed $238 billion in market capitalization over the past 5 months. International Business Machines (NYSE:IBM) is unleashing "Watson" left right and center, while Hewlett-Packard (NYSE:HPQ) is having its quarterly results beat forecasts after being hit by the fast eroding personal computer and laptop markets. In a liquid market of change, competition and fight for survival, there have been a few companies which deserve a standing ovation from investors. The three pioneers are vastly dissimilar in their organizational structure, product offering and market positioning, but all that matters today is the profitability of their stock market performances.
Tracking Financials
Over the past year, IBM is the only stock, which has grown consistently over time. AAPL and HPQ have witnessed high volatility, with the former hitting a new low with its 52-week range as it crashed down to $419.0 from $705.07, while HPQ witnessed contrasting fortunes as it approached the top end of its 52 week range. Holistic comparisons can also be made with market averages and economic performances by comparing performances with the S&P 500 and the Dow Jones Industrial Average.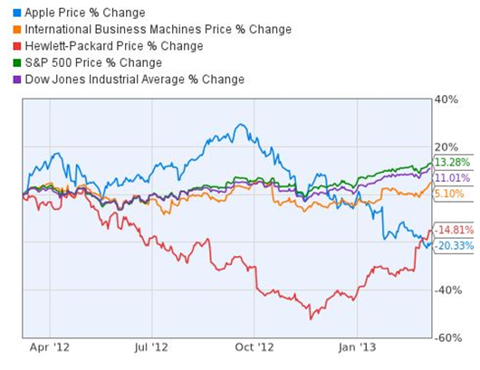 Apple's share price has been in a continuous slide for the past 5 months, but when is the right opportunity to dive in and buy stocks of the world's most successful smartphone maker? In fact, do you even need to put your money in such a combative, competitive and risky company when Samsung (OTC:SSNLF) is willing to fight tooth and nail over each product it launches? People always consider Google (NASDAQ:GOOG), Microsoft (NASDAQ:MSFT) and Nokia (NYSE:NOK) to be alternatives to the AAPL stock, but I believe IBM has gradually expanded to the point that it should not be ignored anymore.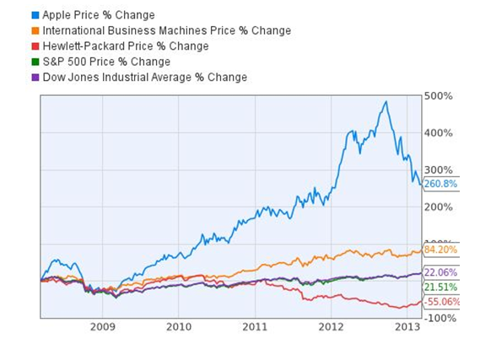 Over the past five years, while AAPL has peaked, IBM has been consistently gaining pace and increasing its profits. The stock has grown 84.20% over the course of 5 years. Slow growth is beneficial in the long term, as it is not generally followed by steep declines in prices as is being witnessed by AAPL. For HPQ, however, now might be the right opportunity to invest in an upturn. However, we shall arrive at a conclusion shortly, after assessing the company's current heading and financials.
Financial Highlights
| | | | |
| --- | --- | --- | --- |
| Indicator | | | |
| Price/Earnings ttm | 9.8 | 14.6 | -3.3 |
| Price/Book | 3.2 | 12.4 | 1.8 |
| EPS Growth (3 Yr Avg) | 69.4 | 2.3 | 0.0 |
| Dividend Yield, % | 1.85 | 1.62 | 2.46 |
| Debt/Equity | 0.0 | 1.3 | 1.0 |
| Return on Equity | 38.4 | 85.2 | -41.4 |
| Current Price | 431.74 | 210.39 | 21.00 |
| | $954-$1089 | $255-$272 | N/A |
| Stock Valuation | Undervalued | Undervalued | N/A |
| Upside Potential to Reach Fair Value | 121% | 21% | N/A |
Data from Morningstar and Financial Visualizations on March 11, 2013
The discounted earnings plus equity model, developed by EFS Investment Partners and applied to the three competitors, suggests that currently all stocks (except of HPQ) are undervalued. In addition, EFS' fair stock price valuation indicates that currently Apple is trading at the most attractive discount. At a price of about $432, AAPL is trading at a significant discount. Its stock has 121% upside potential to reach its fair value.
From the outset, HPQ's price advantage stands out as it is significantly cheaper than AAPL and IBM. However, HPQ also has the unfortunate highlight of having a negative ROE after consecutive quarterly performances, which signaled signs of a sinking ship. Furthermore, Apple's zero debt is not mirrored in the metrics for IBM and HPQ. Just how much advantage is AAPL getting from its locked up $140 billion offshore accounts? The question remains to be answered.
Apple's P/E ratio of 9.8 makes it look undervalued when compared to the P/E average of computing systems industry, which is 14.6. The hunch is underlined by a similar showing in the P/B metric as well. Strangely enough, Apple's revenues, market share and product penetration continue to be mighty strong, and yet its stock performance dives away. The company's iPhone and iPad products now hold a majority market among business users despite the availability of cheaper Android devices. This fact alone allows the company to fuel its ever-blazing EPS to very encouraging levels.
IBM, on the other hand, is looking at expanding and finding new possibilities to increase its revenue stream. The board is showing inclination towards investing in Africa, where it sees potential for swift growth. The company operates directly or via indirect channels to operate across the world, which has allowed it the capacity to generate formidable profit margins from revenue and also to have a high ROE. IBM's operations have been working with debt for the past decade and the long term and short term debt levels have not shrunk over the past 3 years, which accounts for a high debt/equity ratio. Perhaps an annual increasing Free Cash Flow per share metric will appease investors of IBM. The value stands at $15.504 billion. Earnings have been positive over the past 3 years, but they do not match Apple's unprecedented EPS over the same period.
Hewlett-Packard is experiencing falling PC sales and slowing corporate IT spending. With the arrival of the latest CEO, Meg Whitman, and her cost-cutting plan, the company managed to post better than expected quarterly results. HPQ has been through a lot of turmoil, but the lynchpin question is where it is going in the future? The answer lies in what the company calls "Slate 7", a $169 priced tablet to decrease dependency on the personal computer. Market - wise, but perhaps a little too late. The comment extends to the company's venture into cloud computing as well. These decisions should have been made a year ago. HPQ is losing money, as is represented by the negative P/E, zero value for EPS and a negative ROE. Financially, HPQ is not situated for the short, medium or long term future, which should keep investors well away from the stock. Reports of discontent in investors and desires to replace the board paint a stormy picture for the future.
Make or Break for Investors
In the case of HPQ, the last quarter has been a positive surprise and perhaps a needed result. It bodes well for the investors who are still holding this stock, but, in my opinion, it is too soon to make any positive statement regarding HPQ because of the multitude of problems that surround it. In the case of IBM, my concern lies with the negative net tangible assets on the company's balance sheets, which are fueled by the huge amount of debt for the tech giant. However, unlike HPQ, IBM has sound management and investments for the future, which are already a long way up in the pipeline and which will ensure renewed revenue generation and long term growth potential for the future.
Lastly, let's look at AAPL. The question of when exactly does one buy a stock, which is fueled to the brim with rocket fuel, is worth a million dollars. I like IBM, its assured nature and the year-after-year, proven, tested products that are a testament to the company's vision, but AAPL has something more. Innovation and a never ending production line are the company's greatest assets as it accumulated even more cash with time. AAPL needs to find ways to invest its $140 billion into productive ventures or it risks losing investors to more rewarding stocks.
Morningstar provides the following rating for these three stock options: HPQ - 2/16 buy, 10/16 hold, 2/16 underperform, 2/16 sell. IBM - 2/16 buy, 14/16 hold. AAPL - 18/26 buy, 4/26 outperform, 4/26 hold.
Bottom Line
Apple has peaked, but the company's innovative production line, increasing revenues and zero debt are perfect conditions for the trend-setter to start heading north again. Hewlett-Packard and IBM do not have such firepower in their production or research labs.
Disclosure: I have no positions in any stocks mentioned, and no plans to initiate any positions within the next 72 hours. I wrote this article myself, and it expresses my own opinions. I am not receiving compensation for it (other than from Seeking Alpha). I have no business relationship with any company whose stock is mentioned in this article.