It might be interesting to read a similar opinion by several noted markets analyst and economist at a time when equity markets are trading at an all time high. Unfortunately, the opinion relates to a bad ending to the current rally in equities. This article discussed the probability of such a scenario and the investment approach to prevent capital erosion.
Below are views from Nouriel Roubini, Marc Faber and Stanley Druckenmiller.
It's positive because of the direct wealth effect and a signal that things might be improving but of course sometimes the stock market gives the wrong signal and I think the markets will be surprised by how much the U.S. will slow down even compared to last year and the second half of the year. The U.S. stock market could correct somehow. - Nouriel Roubini

With blue-chip stocks near all-time highs, the party in the market can continue for a while longer, but it could end very badly... Maybe we're in the 7th or 8th innings of the stock market rally and it could end in one of two ways, Druckenmiller. With a mal-investment bust like in 2007 and 2008. … Or it could end in monetizing the debt and off we go in inflation. - Stanley Druckenmiller

Druckenmiller is a very thoughtful person, and I share his views. It will end badly. But unlike Stan, I believe it will end badly this year," - Marc Faber
Before I discuss the investment strategy in the current scenario, I would like to add my opinion and discuss the current market valuation. I do share the opinions stated above, and I do believe that if markets continue to trend higher over the next few months, the second half of the year might be harsh. If I had to assign a number to my expectation, it is very likely that markets will correct by 20-25% in the second half of the year (assuming that the current rally sustains).
The first and most important point for this conclusion relates to real economic activity and its impact on asset markets. Readers might immediately point out the improvement in the real economy as indicated by a drop in unemployment rate to 7.7%. The picture looks as bleak as it was when I look at other real indicators of employment and real economic activity. The U6 rate is still at 14.4%, the number of people not in the labor force has surged to a record high of 89.3 million and the money velocity (M2V) is at record lows.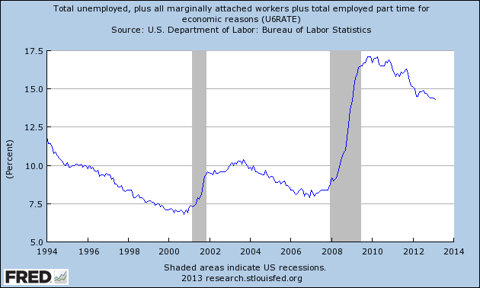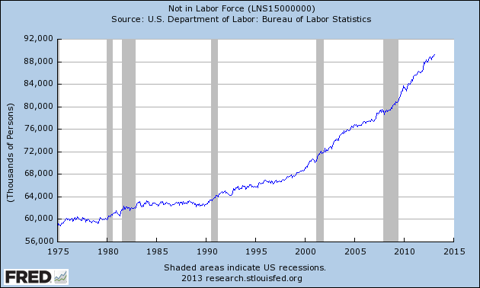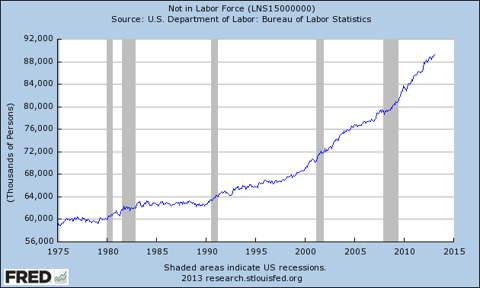 Very clearly, real economic activity remains sluggish while the equity markets continue to trend higher. Investors might also argue that markets are a discounting mechanism. However, there is no robust growth, which markets are discounting. On the contrary, the budget cut and tax uncertainties will result in relative muted growth compared to last year. There is little doubt in my mind that it is purely a liquidity driven rally, which will end with market participants resorting to do a reality check.
Moving on from economic fundamentals to corporate performance, the scenario does seem to be relatively gloomy. With markets trending higher, it is certainly a reason to be worried. The data below underscores my point.
For the fourth quarter of 2012, the number of S&P 500 companies that missed earnings estimates were at 24.75%. This was higher than the third quarter when 23.73% of S&P 500 companies missed their earnings estimates. It is a sign that corporate earnings are getting relatively muted due to the global slowdown and earnings might disappoint increasingly in the foreseeable future. This trend is not in sync with the markets, which is trending higher amidst a relatively weaker corporate performance. Again, this underscores my point of a liquidity driven rally and a possible snap in the rally going forward.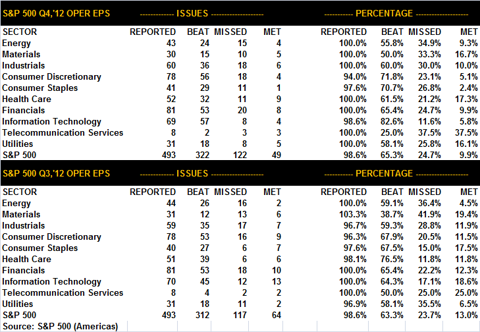 I would also like to mention here that the ongoing currency war (discussed in one of my recent articles), can result in a stronger dollar as several other countries and regions pursue very aggressive monetary policies. A stronger dollar does generally lead to weaker asset markets and vice verse. Therefore, an uptrend in the dollar can also lead to a relatively sharp market correction. A weak real economy and weakness in corporate earnings also support the case for a stronger dollar as market participants seek refuge in risk free asset classes resulting in tightening liquidity.
In terms of market valuation, the S&P is currently trading at nearly 18 times FY12 earnings and at nearly the same for FY13 earnings. This looks expensive and I should remind investors that equity markets were trading at similar valuations before the crash of 2007. As mentioned earlier, if markets continue to trend higher, the correction might be very sharp. I do expect markets to be trading in a PE band of 18-24, before the correction.
In conclusion, investors need to tread with a lot of caution and it is advisable to lighten up on the equity portfolio on any further rally. Also, investors can seek refuge in relatively defensive sectors. It is impossible to discuss the timing of the correction or a 20-25% crash. However, fresh exposure to equities at these levels would be suicidal for the capital invested. Investors need to be more in cash as a bear market for risky asset classes would imply a bull market for cash.
The following investment suggestions can be considered -
Vanguard Health Care ETF (NYSEARCA:VHT) - The ETF seeks to track the performance of a benchmark index that measures the investment return of stocks in the healthcare sector. The ETF has an expense ratio of 0.19%. In terms of sub sector exposure within the healthcare sector, the ETF has 41.7% exposure to the pharmaceuticals segment, a 16.1% exposure to the biotechnology segment, a 17.7% exposure to the healthcare equipment segment, and a 7.1% exposure to managed healthcare.
Vanguard Consumer Staples ETF (NYSEARCA:VDC) - The ETF seeks to track the performance of a benchmark index that measures the investment return of stocks in the consumer staples sector. The ETF has an expense ratio of 0.14%. In terms of sub sector, the ETF has highest exposure to the household produce segment (20.1%), followed by the soft drinks segment (17.4%) and packaged food and meat segment (17.1%).
Vanguard Long-Term Corporate Bond ETF (NASDAQ:VCLT) - I am suggesting the VCLT as I believe that quality corporate bonds are a relatively better risk free investment compared to government bonds (especially long-term). The ETF seeks to provide a high and sustainable level of current income through investment in high-quality (investment-grade) corporate bonds.
Vanguard Short-Term Government Bond ETF (NASDAQ:VGSH) - The ETF might be attractive in the near to medium-term when risky asset classes have a high probability of witnessing a meaningful correction. The ETF seeks to provide current income with modest price fluctuation with investments in high-quality (investment-grade) U.S. government bonds (maintains a dollar-weighted average maturity of 1 to 3 years).
Disclosure: I have no positions in any stocks mentioned, and no plans to initiate any positions within the next 72 hours. I wrote this article myself, and it expresses my own opinions. I am not receiving compensation for it (other than from Seeking Alpha). I have no business relationship with any company whose stock is mentioned in this article.