As soon as the S&P 500 (NYSEARCA:SPY), dipped below the 1500 mark, it came back up as fast as it fell. Improvement in some risk-on factors and better economic data caused a quick recovery.
Key recent positives for the market:
Ben Bernanke defended the Federal Reserve's low-interest rate policies in an economic conference sponsored by the San Francisco Federal Reserve Bank on March 2.
Unemployment percentage fell from 7.9% to 7.7% in February and cyclicals (NYSEARCA:XLY) outperformed consumer staples (NYSEARCA:XLP), which may have shown a bullish and resilient consumer spending.
The bond yield curve steepened fast during the week and the weekly leading index improved.
Key recent negatives for the market:
The U.S. dollar (NYSEARCA:UUP) is still in an uptrend while the euro (NYSEARCA:FXE) is in a mirror-imaging downtrend.
Industrial metals (NYSEARCA:JJM) and commodities in general (NYSEARCA:DJP-OLD) are still behaving weakly and did not participate in the recent rally.
While economic fundamentals and bullish sentiment in the U.S. bond market have been improving recently, I remain cautious on the short term given the negatives mentioned and other trends included in a previous article (3 Powerful Trends That Have Been Giving Us A Warning).
Something to watch in the coming weeks
History does not repeat itself, but it does rhyme

Mark Twain
If 2013 offers us enough similarities to 2012, a consolidation period might not be too far away. Only time will tell. The image below shows the S&P 500, SMA20, SMA10, RSI(14) and the Aroon.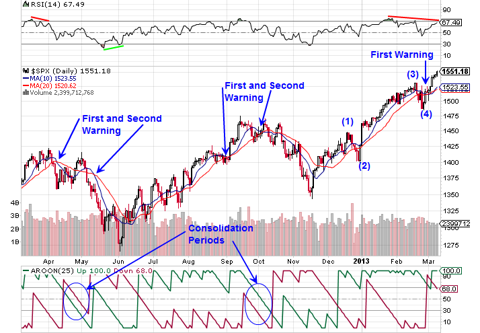 Image created at stockcharts.com
Some bearish observations about the chart:
The SMA10 crossed the SMA20 in the most recent market drop into the sub 1500 zone. This didn't happen in the late December drop.
Volume decreased while the market went up during last week.
Up to this point, the RSI seems to be forming a bearish divergence that started in late January.
It's possible that we may be riding the 5th impulsive wave of an Elliott wave set that started on November 2012.
It will be interesting to keep watching the market and see how the next weeks unfold.
Economic Reports for Next Week
MONDAY, March 11
None scheduled
TUESDAY, March 12
7:30 am
NFIB small business index
2 pm
Federal budget
WEDNESDAY, March 13
8:30 am
Retail sales
8:30 am
Retail sales ex-autos
8:30 am
Import price index
10 am
Inventories
THURSDAY, March 14
8:30 am
Weekly jobless claims
8:30 am
Producer price index
8:30 am
Core PPI
8:30 am
Current account deficit
FRIDAY, March 15
8:30 am
Consumer price index
8:30 am
Core CPI
8:30 am
Empire state index
9:15 am
Industrial production
9:55 am
Consumer sentiment
Disclosure: I have no positions in any stocks mentioned, and no plans to initiate any positions within the next 72 hours. I wrote this article myself, and it expresses my own opinions. I am not receiving compensation for it (other than from Seeking Alpha). I have no business relationship with any company whose stock is mentioned in this article.
Additional disclosure: Suggestions or tips are for information purposes only and there is no guarantee on stock returns or market performance. All readers must use their prudence and consult their financial advisors before acting on any of the securities or suggestions mentioned. I do not hold any responsibility and can not be held liable for any losses incurred (if any) by acting on the information provided.