Commodities are mixed this morning, but so too are world markets. Asia was mixed with red and green, and Europe right now seems pretty red. We will have to wait until Wednesday of this week to get any real economic data, and until then we are at the mercy of world news and anything that Europe decides to throw our way.
Many of our oil and natural gas plays, which we like, were near recent highs. Some of our favorites actually hit either new 52-week highs or all-time highs. Notice oil in our daily price updates showing futures action; it has been trending lower and has bounced a bit higher off of the $90/barrel level. If the bounce continues, that could provide added fuel to this fire.
Commodity prices this morning are as follows:
Gold: $1577.80/ounce, up by $0.90/ounce
Silver: $28.89/ounce, down by $0.058/ounce
Oil: $91.67/barrel, down by $0.28/barrel
RBOB Gas: $3.264/gallon, up by $0.0605/gallon
Natural Gas: $3.637/MMbtu, up by $0.008/MMbtu
Oil and Natural Gas
Gulfport Energy (NASDAQ:GPOR), a name many of our readers should be familiar with even if they are not holders of the shares, hit another new 52-week and all-time high on Friday. The shares closed at $42.71/share after having risen $0.35 (0.83%) on the session. Volume is still strong here as the company has been trading over 1 million shares quite often since the Utica acquisitions.
It is still our opinion that those purchases were good deals, and those who say they were highly dilutive are really overstating the magnitude of the financings -- which saw most of their proceeds utilized for the land acquisitions and future drilling costs. We have been through some of the company's latest materials and it seems as if everything is coming together to make 2013 a successful year. It's just our hope that the midstream assets do not get tied up on their way to the wells.
Click to enlarge images.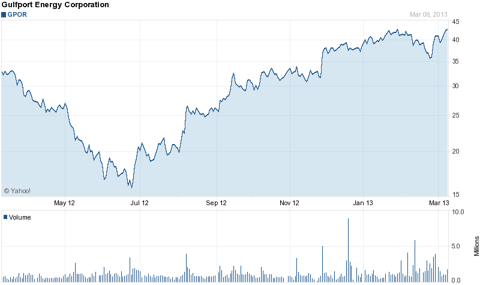 Source: Yahoo Finance.
One name that we have said is a target is Halcon Resources (NYSE:HK), and it certainly has not worked with us to allow a purchase on a pullback. The shares have moved opposite of our desire, which is great for current investors, and now find themselves above $7/share after the almost 5% gain on Friday. We could see this being one of the big winners down the road as they sell out in a few years, and as such we are watching the story closely. The management team here is top notch, so watching them for ideas in other plays or current plays is also prudent.
Precious Metals
Iamgold (NYSE:IAG) saw shares catch a bid on Friday after the company announced that they would be cutting $100 million in costs for 2013 (the press release can be found here). The gold sector has been hit hard by falling gold prices, so this should help margins and profitability. But with the world economy also beginning to show signs of life, we could see higher input costs in the future and this move seems to be preemptive in nature. We like the move and think that it will help in both the short and long term, and also recognize that this could be good news for the macro environment, which we find exciting. The data could be interpreted both positively and negatively, but based off of the data we're looking at big picture-wise and this individual move, it certainly appears bullish to us.
We have not been able to pull the trigger on Silver Wheaton (SLW) as we had indicated was our intention if the shares remained weak. Instead, we have had another name come to our attention trading at a much lower multiple and sporting a yield that is a good bit healthier, so we have been sidetracked researching that play in hopes that it will turn out to be a better investment for ourselves and our readers. We had a couple of emails concerning this that we got to this weekend, and decided it best to address in this morning's article. (If you ever have any questions about a move not being triggered or whatnot, please feel free to drop us a message or email.)
Transportation
There is a lot of talk about how to transport all of this new-found oil in North America, as we are finding it in places where the infrastructure was either never built or is inadequate to service the new levels of production from the shale revolution. Sending the production via rail to market has become common, and with the recent articles and newsletters we have read on Canada's pipeline issues to export markets, we think that Canadian Pacific Railway (NYSE:CP) could very well be a good play on the commodities boom up North.
Until pipelines are put in place this is the cheapest way to transport over long distances, so it should be an interesting story watch develop. The key will be how much Canada can export to the U.S. and how much they have to export to overseas markets. Shares hit a new 52-week high on Friday before finishing lower by $1.12 (0.88%), closing at $126.09/share.
Disclosure: I am long GPOR. I wrote this article myself, and it expresses my own opinions. I am not receiving compensation for it (other than from Seeking Alpha). I have no business relationship with any company whose stock is mentioned in this article.