Academics and healthcare providers generally agree that despite the risks, a single centralized electronic health records (Pending:EHR) system would be a great boon to the health of both the nation's patients and the system that attempts to treat them. Yet currently, only a miniscule number of America's physicians and specialists are connected to a broader platform that would allow for efficient data collection and real-time analysis of trends in disease and drug usage.
From the corporate side too, there's agreement that such data could be invaluable in determining which treatments are working and which still need improving - thereby facilitating the search for and development of new cures.
One System is Desirable
No such national system currently exists, and according to a report by Price Waterhouse Coopers, most of the larger institutional players are still having trouble sharing information within their own fiefdoms, let alone trying to connect to a wider net of players.
The problem of differing formats and terminologies obviously adds to the already complex "political" issue of mustering the collective will to push the broad project forward.
Yet there are companies currently operating in this space that hope to advance the cause and profit from their efforts. The above mentioned PWC report says that the market for these businesses is currently anywhere between $4 and $12 billion annually and is expected to grow to a whopping $100 billion by 2015.
Both healthcare and technology companies inhabit the domain. Below, I've highlighted a few that are publicly traded.
Teaming Up To Build the Platform
Cerner Corporation (NASDAQ:CERN) is a $15.6 billion operation by market cap that licenses its medical software to over 9300 healthcare facilities around the world. The company's stock is up nearly 320% in the last five years, and just hit a new all time high at the beginning of March.
A recent initiative between Cerner and McKesson Corporation (NYSE:MCK), another leader in the medical software solutions field, aims to create a private sector platform that would allow interoperability between all major EHR vendors. They've named their initiative the "CommonWell Health Alliance" and reportedly invited the entire industry to join them in their efforts.
Other companies that have signed on to the Cerner/McKesson initiative include Allscripts Healthcare Solutions (NASDAQ:MDRX), Greenway Medical Technologies (NYSE:GWAY) and athenahealth (NASDAQ:ATHN), a potentially formidable grouping that collectively comprises over 40% of the electronic health records market.
Should they succeed, these companies will certainly command a central space in the EHR game going forward.
It's a long shot, but according to an executive at Epic Systems, a private company that today controls almost half the country s medical health records, the initiative is more talk than walk. Interoperability already exists, says Carl Dvorak, COO at Epic, both at the government level and within Epic's own system. Even Cerner's system, he claims, is compatible with Epic's.
For its part, Epic plans to support government sponsored efforts to unite EHR, which are already developed well beyond Cerner's newly unveiled plans.
No doubt a great deal of competitive leverage will accrue to whoever ultimately designs and operates the system.
Data Charity Begins at Home
Capital Group Holdings (OTCPK:CGHC) is a company that's using EHR in an entirely different manner, specifically as a means of developing its growing network of urgent care centers in the Phoenix area.
The company currently operates way below the radar, with a market cap of barely $4 million and a stock that's often illiquid, trading on the OTCBB.
Yet they're showing signs of growth. For the quarter ended December 31st, the company's revenue jumped over 240% from the previous quarter, while gross profits increased by better than 300%.
Two of the company's seven urgent care centers are still in their infancy, and management expects additional imminent growth as earnings from these two operations stabilize and savings from the greater scale of operations begin shortly to work their way through the system.
As far as EHR goes, Capital Group is playing that side of the business from a completely different angle.
Capital Group operates an online medical membership program called OneHealthPass, a business that offers cardholders access to certified doctors online and over the phone 24 hours a day and permits them to receive prescriptions for allergies, cold, flu, sinus problems and other such non-emergency ailments.
While generating monthly membership revenues, the initiative also aims 1) to obviate the need for superfluous visits to their clinics, thereby freeing up the clinic's physicians to deal with the genuinely urgent (and more profitable) cases, and 2) to build brand loyalty and thereby steer members to the company's own urgent care centers when the need arises, rather than to hospital emergency wards or competing clinics.
The company also plans shortly to replicate the model in other states.
Taking a Shine to Doctors
Institutional data, however, is not the only important element in the EHR chain. Individual doctors in private practice also comprise an essential link.
There are currently 780,000 registered physicians in America, of which some 39%, or just over 300,000, are operating out of their own offices. And one company plays a dominant role in servicing their technological and medical supply needs.
Henry Schein, Inc. (NASDAQ:HSIC) is an 80 year old company with a market cap of nearly $8 billion that's focused on supplying all the needs of office-based medical practitioners. That includes some 775,000 customers globally, of whom 70,000 already use the firm's software to track, among other things, patient histories, progress and product consumption.
As the leader in the field, Henry Schein's database will ultimately be integral to any national effort to study emerging trends and patterns in disease and their treatments.
And it looks only to get bigger.
Henry Schein has grown at a tremendous rate, both organically and via a ravenous acquisitions program that has integrated over 50 companies in just eight years. The company's growth strategy going forward is to maintain its current rate of acquisitions, expand its already potent sales force to further penetrate the private practice market globally and to expand its customer loyalty program to cross sell additional products and services.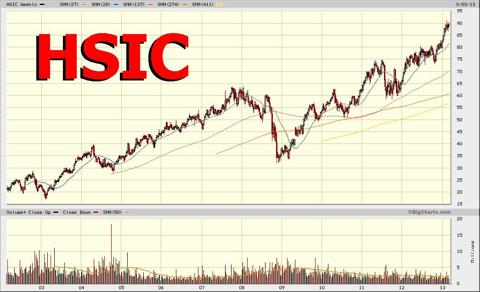 Since the turn of the century, HSIC stock has climbed consistently from $6.65 to its current $89.30, an average annual rate of 103% per year. Rather astounding, but not the complete story.
For what it's worth, Henry Schein has been voted one of Fortune Magazine's Most Admired Companies for 12 consecutive years.
Disclosure: I have no positions in any stocks mentioned, and no plans to initiate any positions within the next 72 hours. I wrote this article myself, and it expresses my own opinions. I am not receiving compensation for it. I have no business relationship with any company whose stock is mentioned in this article.