JPMorgan Chase (NYSE:JPM) has a well-deserved reputation as one of the strongest banking franchises in the country. On a few occasions, I have expressed a bullish bias towards JPM shares as a long-term holding. In fact, JPM has the capacity to grow earnings even more rapidly than I originally thought. We will use the bank's efficiency ratio as a way to look at historical revenues versus operating expenses in order to determine what trends may exist.
Note that these data were pulled from JPM's 10-Ks filed with the SEC.
The first graph is a depiction of JPM's net revenues and operating expenses from 2001 through the present. What we see is that prior to the financial crisis, revenue was growing much more quickly than expenses. However, once the crisis hit, JPM, like pretty much all other banks, saw negative revenue growth.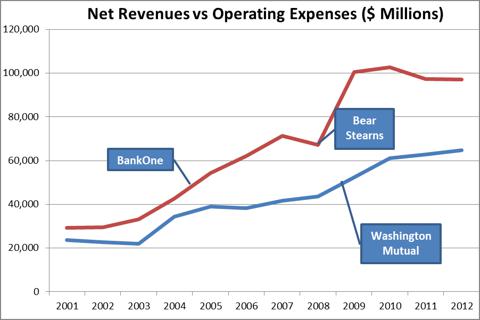 Since JPM absorbed Bear Stearns and Washington Mutual in 2008, we have seen expenses rise relatively quickly. Additionally, after an initial spike in revenue following the acquisitions, the trend has been flat to down. I believe this is a result of JPM divesting and winding down problematic, unprofitable and non-core business lines, particularly from Bear Stearns. As a result, expenses have continued to rise while revenue has been stagnant. Keep in mind also that Bear Stearns in particular has been subject to significant litigation expense for JPM for sins committed before JPM acquired the failing broker. While JPMorgan was not at fault for these offenses, it is now responsible for paying the damages. This will stop at some point but we can see some of the effects from these in the expense line above.
Below, we can see the same data but depicted as the company's efficiency ratio. Basically, this is just the company's noninterest expenses divided by revenue, net of interest expenses. The efficiency ratio is a way to determine a company's operating leverage, or the amount of its revenue that is being used to cover fixed costs before being allocated to variable expenses and, eventually, profit.
Please note, there are several variations of the efficiency ratio and this is my take on it. I am fully aware it can be computed different ways but this is the way I find it to be most effective and useful.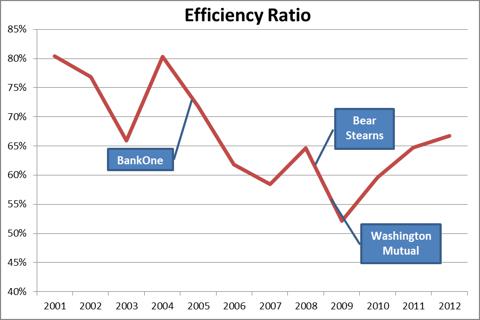 We see a very clear downtrend in the ratio, which is good, until 2009 when it begins to spike. In fact, the ratio is up something like 1500 bps from the trough to the 2012 value. This is an enormous hike in expenses in comparison to revenue. Again, I believe this to be a result of JPM right-sizing its businesses after absorbing two massive institutions in the space of six months during the financial crisis.
Regardless, the bright side of this is that JPM has managed to produce record profits for three consecutive years on the back of expenses increasing as a percentage of revenue. This is astounding and should be quite encouraging for shareholders. These data imply that JPM's operating leverage suggests outsized gains in the future on increases in revenues. The fact that JPM has been able to produce record profits with an increasing efficiency ratio means that when revenue does start to pick up, more and more of it should find its way to net income. By way of inference we can also assume that when revenue begins to pick up for JPM, expenses should stay stagnant or increase at a slower rate than revenues, producing a lower efficiency ratio and seeing more of each revenue dollar trickle down to net income.
For instance, if JPM can see its efficiency ratio, as I've defined it, fall back to 60% from the current 67%, that would mean an additional $6.5 billion available to cover variable expenses and profit based on last year's revenue number of $97 billion. An efficiency ratio of 60% is well within the range of historical norms for JPM and I wouldn't be the least bit surprised to see it happen again, particularly after the litigation headaches of Bear Stearns are fully expensed. Regardless of the ratio that JPM does hit, the point is to notice the trend in the data. Following the two massive acquisitions of 2008, JPM has been in damage control mode with Bear Stearns and WaMu. When that ends and JPM is increasing revenues again, expenses should stay in line or increase at a slower rate, offering up significant operating leverage for JPM. As a result, when JPM begins to increase revenue, we should see more and more of it fall to the bottom line.
JPMorgan shares have moved up over 60% since the "London Whale" lows seen last year and have perhaps gotten ahead of themselves. Following the release of the Federal Reserve's CCAR results last week, JPM shares traded down a fraction to close within 2% of their 52-week high. As a result, I would wait for a pullback into the $47 to $48 area before accumulating more JPM shares. The franchise is perhaps the best in banking and JPM enjoys the services of the best banking CEO in the world, Jamie Dimon. JPM will continue to make record profits in the future and at the current price, there is still money to be made on the long side. However, I think bank shares in general are extending currently and that applies to JPM as well. Once we see a 4 or 5 percent pullback that will provide a terrific margin of safety and shares should be bought aggressively. The efficiency ratio data we just examined is only one reason to buy JPM shares but there are many others. You can do much worse in the banking space than JPM.
Disclosure: I have no positions in any stocks mentioned, and no plans to initiate any positions within the next 72 hours. I wrote this article myself, and it expresses my own opinions. I am not receiving compensation for it (other than from Seeking Alpha). I have no business relationship with any company whose stock is mentioned in this article.