Celldex Therapeutics (NASDAQ:CLDX) stock has lately been on a tear. The stock began an uptrend at the beginning of 2012, and since December the climb has been even sharper getting currently (as of March 8) to price levels at double the December lows.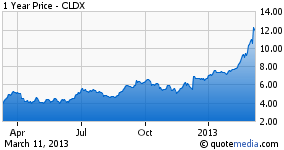 The company reported 2012 fourth quarter results on March 7. The price took a 20% dive that morning. The financials at this point are interesting only to the point of seeing what the current burn rate is and how much cash is left, since CLDX is still in development stage. A 0.02 miss of analysts' estimate of earnings [loss] is unlikely to have been the real cause behind the sharp dip that morning, although it could have been due to traders selling on the event. It is more likely that the dip was owing to another announcement that coincided with the 4Q financials' release. Northwest Biotherapeutics (NASDAQ:NWBO) reported before that morning's open that it was ahead of competitors in regard to enrollment in Phase III trials for Glioblastoma multiforma brain cancer treatment. CLDX has significant commitment in that area. However, CLDX went to recover most of the morning's loss by the end of the trading day and rallied to a new high the following day.
According the most recent update, its quarterly cash burn is $16.8M. CLDX had cash (or equivalent) on hand of $68M at the of 2012. A secondary issue reported in February raised additional capital leaving them currently with $189M in cash, which the company expects will see them through 2015. The secondary offering increased the number of outstanding shares to 80.6M giving the company a market cap at present of just under a billion ($993M as of March 8, 2013).
CLDX had passed an emerging biotech screen of mine at the turn of the year and I had taken profits on an initial position as the price approached 10. But the continuing ascent and momentum has been intriguing and this is an attempt to explain the current investor interest in the company.
Celldex' focus is immunotherapy, through the use of monoclonal anti-bodies, the stimulation of the body's immune system and in a different approach, antibody-linked chemotherapy. It has five different products in clinical trials. Its leading product is Rindopepimut an antibody directed at EGFRvIII, which is, as the company's site describes it, " an activated mutation of the epidermal growth factor receptor (EGFR), a protein that has been well validated as a target for cancer therapy. " Rindopepimut is the product in Phase III trial for treatment against newly diagnosed, resected malignant Glioblastoma, a brain tumor with very poor prognosis. It is being tried in combination with the current standard therapy in a double blind study. This is the one about which NWBO put out a news release about trial enrollment. Although CLDX Phase III trial is based on encouraging results from prior clinical trials, there is deserved cautious optimism, if not skepticism, about the success of immunotherapy against cancer, since binding to cancer cells does not always translate to therapeutic success.
In my opinion, the current investor excitement about CLDX is owing to its anticipated Phase III trial related to breast cancer. Its product, CDX-011, is an antibody drug conjugate made using technology licensed from Seattle Genetics (NASDAQ:SGEN), a leader in this area. CDX-011 has been in a completed Phase II trial against metastatic breast cancer. Based on those results CLDX "will be initiating a pivotal accelerated approval study in patients with triple negative breast cancer that also overexpress GPNMB, in the second half of 2013." The company is aiming for BLAs for both of these in 2015, if not 2015-16 for CDX-011.
CLDX' additional trials include diseases which are candidates for orphan or ultra-orphan status, which permit very high pricing for approved products. Even for Glioblastoma and breast cancer, if the trials lead to BLA approval, the potential revenues are huge.
Disclosure: I am long SGEN. I wrote this article myself, and it expresses my own opinions. I am not receiving compensation for it (other than from Seeking Alpha). I have no business relationship with any company whose stock is mentioned in this article. I also am long call options on CLDX.