With so many investments out there it is important to have a strategy that helps screen for potential bargains in order to save time and help one focus for a deeper analysis. One great strategy is to check out investor 13F-Hr. This document is required each quarter by the SEC and provides a great tool to peak into the portfolio of some of the world's greatest investing minds. By doing so, one can observe portfolio strategy as well as potential buying and selling signals. Either way, getting even the smallest advantage you can is essential for long-term profits and learning from the best, for free, is one of the easiest ways to do this.
I call the portfolio below the "anti-Buffett" portfolio not because it has anything to do with being against Buffett but because it has been built on fundamentals and a philosophy polar opposite to the one Buffett has used to build up Berkshire. Where Buffett is famously known for avoiding popular high tech companies in favor of well established brick and mortar type businesses, the portfolio of Valiant Capital is comprised of 66% of the worlds most largest tech giants, some of which started as seed money even before the they were household names. Famous for being an early backer in Facebook, amongst other things, Hansen has been in the news as of late for his most recent attempt to buy a team for his home town of Seattle. Started in 2008, Valiant Capital has amassed a portfolio of over $1 billion. Presented below is Valiant's holdings as of year end 2012: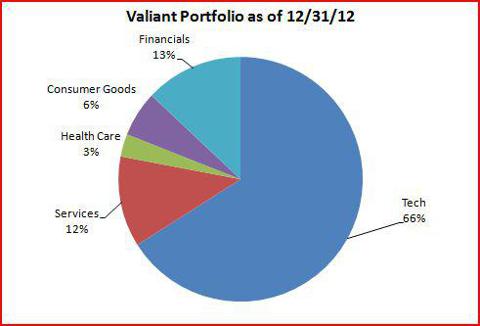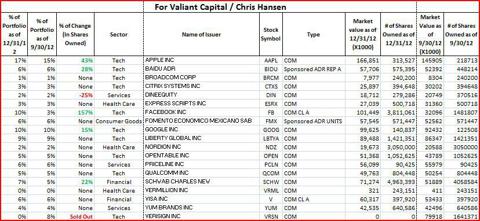 Increases:
Valiant's stake in Facebook (NASDAQ:FB) was increased by 157% (in shares) in period ending 12/31/12. Facebook shares closed on Friday at $27.96 which is up from September lows by approximately 59%. It is currently valued at $66 billion and represents 10% of Valiant's portfolio, up from its previous 3%.
Holdings in Apple (NASDAQ:AAPL) were increased by 43% (in shares) in the period ending 12/31/12. Apple currently trades at $431.72 down close to 40% from its October high of $700 per share. Apple pays a 2.5% dividend, has a low P/E of 9.78, and is Valiant's largest holding at 17% of the portfolio.
Shares in BAIDU (NASDAQ:BIDU) increased by 28% (in shares) this last quarter to keep its portfolio percentage unchanged at 6%. BAIDU is a Hong Kong based internet search and service provider that has a market cap of $31.2 billion. It trades at a P/E of 18.76 or $89.22 per share which is also down from its April highs of $150 per share.
Google's (NASDAQ:GOOG) position in the portfolio was unchanged at 10% but to accomplish this Valiant had to buy 15% more shares. Google currently trades at $831.52 which is up from November lows of $647, indicating a profitable buy. Google has a market cap of $274 billion and has a P/E of 25.81.
The only other increase was in Schwab (NYSE:SCHW). Number of held shares increases by 22% amounting to a 2% increase in its share of the portfolio. Schwab currently trades at $17.66 which is up from its June low of $11.64 per share.
Decrease:
December revealed that Valiant had decreased its position in DineEquity (NYSE:DIN) by 25% of its held shares. Due to its steady rise in price (close to 100% this year) DineEquity's percentage of the portfolio stayed at only 2% despite the sale. DIN has a market cap of only $137 million and trades with a P/E of 10.81.
Sell Out:
Verisign Inc. (NASDAQ:VRSN): Valiant's selling of Verisign really highlights the title of this article because at the time it was sold, Buffett's Berkshire (NYSE:BRK.A)(NYSE:BRK.B) was buying it. Headquartered in Virginia, Verisign is a $7.1 billion company that trades currently at $46.78 per share. In the period it was sold, the stock moved from $50 to $34 at the end of 2012.
Other Holdings (in alphabetical order)
Broadcom (BRCM) is a $19 billion company that trades at $33 per share, down from its April high of $39 per share. It pays a 1.3% dividend and has a P/E of 26.8.
Citrix Systems (NASDAQ:CTXS) is a technology solutions company that has a market cap of $13.87 billion and trades with a P/E of 40.02. It pays no dividend and trades at $74.43, in between its 52 week high and low of $85-57 per share.
Express Scripts (NASDAQ:ESRX) represents Valiant's largest stake in the health care industry. It is a $48 billion company that trades at $58.81 and has a P/E of 33.55. Since November, it is up approximately 16% but still trades lower than its 52 week high of $66 per share.
Fomento Economico Mexicano (NYSE:FMX) is a South American company that bottles Coca-Cola and operates convenience stores amongst other related services. It has a market cap of $39 billion and trades at $109 per share which is up from its 52 week lows of 73.85.
Liberty Global (NASDAQ:LBTYA) is a $18.4 billion company that provides internet and related services in Europe and Chile. It trades at $71.74 per share which is up from June lows of $44.87.
Nordion Inc. (NYSE:NDZ) is a Canadian headquartered company that takes up 2% of Valiant's portfolio. It has a market cap of $429 million and trades at $6.94. From revenue of $244 million last year, Nordion registered a loss of $0.47 per share.
Opentable (NASDAQ:OPEN) offers reservation solutions to restaurants. It has a market cap of $1.44 billion, and trades at a high P/E of 61.04. Shares trade at $62.87 which is up from August lows of $33.53.
Priceline (PCLN) has a market cap of $35.95 billion and trades with a P/E of 26. Up from October lows of $553 per share, Priceline currently trades at $720.92 per share.
Qualcomm (NASDAQ:QCOM) has a market cap of $114 billion and pays a 1.5% dividend. It trades for $66.63 per share, up approximately 20% from its July lows and represents 5% of Valiant's portfolio.
Vermillion Inc. (NASDAQ:VRML) is headquartered in Austin, Texas, and previously operated under the name of Ciphergen Biosystems, which it changed in 2007. It is a very small $17.4 million company that had $2 million in revenue last year which came in for a loss of $0.48 per share.
Visa (NYSE:V) currently trades for $160.67 per share which is near its 52 week highs and up close to 50% from its low of $111.94 per share. Visa has a market cap of $106.27 billion and pays a small 0.8% dividend. It represents 6% of Valiant's portfolio.
YUM Brands (NYSE:YUM) has a market cap of $30 billion and represents 4% of Valiant's holdings as of 12/31/12. It trades at $67.72 per share which is down from its 52 week high of $74. Trading with a P/E of 20, Yum Brands currently pays a 2.1% dividend.
Takeaway:
Valiant Capital and Chris Hansen continued into 2013 with the conviction that Facebook, Google and Apple would continue their winning ways. These three companies represented a combined 37% of Valiant's portfolio on 12/31/12.
Disclosure: I am long BRK.B, AAPL. I wrote this article myself, and it expresses my own opinions. I am not receiving compensation for it (other than from Seeking Alpha). I have no business relationship with any company whose stock is mentioned in this article.