The share price of International Business Machines (NYSE:IBM) has appreciated by 9.8% year to date. At $210.26, the stock is trading near its 52-week high of $211.79 achieved in October 2012 and offers a 1.6% dividend yield. Given the company's recent corporate development and valuation trend, I believe IBM is a strong buy at this price level. There are 4 compelling reasons backing my view:
1. From a relative valuation standpoint, the stock is priced at an inexpensive level based on the company's solid financials relative to its peers' (see chart below). Consensus estimates predict IBM's revenue, EBITDA, and EPS to grow at 2-year CAGRs of 2.1%, 6.4%, and 10.3%, respectively. Those figures are notably below the averages of 6.1%, 10.7%, and 13.3%, respectively, for a group consisting of IBM's primary industry peers. However, the company's long-term EPS growth rate is forecast to be 10.8%, very in line with the group average.
On the profit side, IBM demonstrates a superior performance as the firm's various profitability and capital return metrics are markedly above per. The firm carries a relatively higher level of debt as reflected by its above-average leverage ratios. But due to IBM's higher profitability margin and lower interest paid on the debt load, the company was able to maintain a healthy interest coverage ratio. In terms of liquidity, IBM has a fairly comparable free cash flow margin. Both the company's current and quick ratios are below par, reflecting a mediocre balance sheet condition.

To summarize, IBM's relatively weaker near-term growth potential should be the primary drag on the stock valuation. However, given the firm's in-line long-term growth prospect, robust profitability, as well as its significant market share and global presence in the IT consulting sector, I believe the stock's fair value should reasonably command a modest premium over the peer-average valuation level. The current valuations at 12.5x forward P/E and 1.16x forward PEG are just slightly above the peer-average multiples at 12.2x and 1.10x, respectively, suggesting an inexpensive valuation (see chart above).
2. IBM's trailing P/E multiple is currently trading at its 3-year average level (see chart below), which suggests an attractive valuation given that: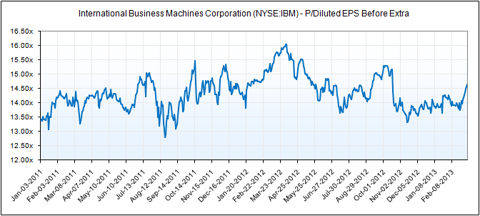 A) Over the past 3 years, IBM has been able to improve returns on investments as reflected by the rising ROE, ROA, and ROIC metrics (see chart below);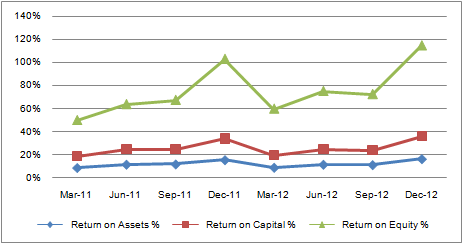 B) Throughout the same period, the company has also achieved higher profit and free cash flow margins (see chart below);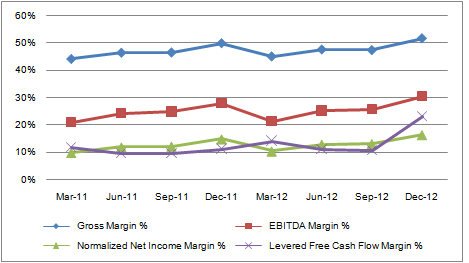 C) The current consensus revenue, EBITDA, and EPS growth estimates for fiscal 2013 and fiscal 2014 reveal a fairly steady growth trajectory from the current levels (see chart below); and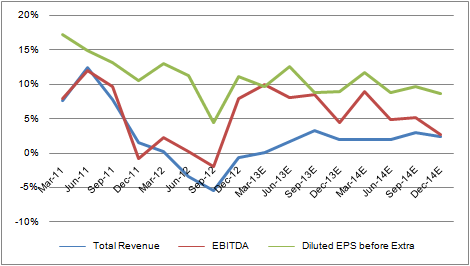 D) The consensus EPS estimate has been raised modestly over the past 12 months (see chart below).

3. Further, IBM's forward P/E multiple is trading at 14% below the same multiple of the S&P 500 Index, which stands at 14.6x now (see chart below). This discount to the market appears to be exaggerated and I believe the stock should deserve a valuation at the market level provided that a) The market discount averaged at just 6.8% in the past 12 months; b) IBM's long-term earnings growth rate at 10.8% is notably above the average estimate of 8.2% for the S&P 500 companies; c) the firm's superior capital return and free cash flow performance is considerably above the market average; d) the stock offers a 1.6% dividend yield and the company has also been continuously buying back shares.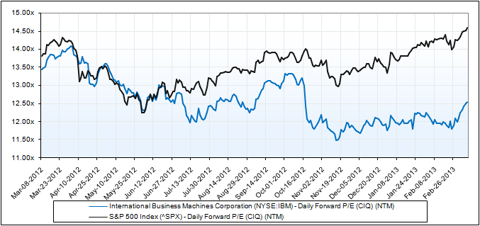 4. The company recently held an analyst conference in February and reiterated its 5-year roadmap to achieve a $20 EPS in 2015. In a research note dated February 28, 2013, Chris Whitmore at Deutsche Bank shared his key takeaways from the meeting (sourced from Thomson One, Equity Research):
We believe there are multiple areas of conservatism in IBM's $20+ EPS goal including: cost savings/productivity yield, revenue growth, particularly in high margin product areas & buybacks/liquidity. From $15.25 in FY12 Operating EPS, buybacks represent and incremental $1.35, SW profit growth of $2.70 and suggests Enterprise productivity gains of only $0.70 to meet the $20+ target (~40% dropdown rate). Above and beyond these high-level EPS drivers, we see upside potential from growth in Pure/POWER Systems, high-value Services engagements, greater productivity drop down rates and/or more efficient redeployment of capital in buybacks / acquisitions…The combination of modest revenue growth, an ongoing mix up to higher margin products (SW), further productivity gains and buybacks should drive annual double-digit EPS growth over the next few years. We believe IBM's base case will ultimately prove conservative and we maintain our above Consensus estimate for FY13.
Bottom line, given that IBM's valuation stays attractive and the current consensus growth estimates appear to be somewhat conservative relative to the company's strategic goal, investors should consider buying the shares now in the light of the favorable risk/reward.
All charts are created by the author and all financial data used in this article and the charts are sourced from Capital IQ unless otherwise specified.
Disclosure: I am long IBM. I wrote this article myself, and it expresses my own opinions. I am not receiving compensation for it (other than from Seeking Alpha). I have no business relationship with any company whose stock is mentioned in this article.