Beach Energy (OTCPK:BCHEY) is an oil and gas E & P company. It holds interests in approximately 300 oil and gas fields in Australia, the US, Egypt, Tanzania, and Papua New Guinea. It has 2P resources of 93 million Boe and 2P and 2C resources of 559 million Boe of reserves. It has an enterprise value of only $1.66B and a market cap of $1.88B. It has more than twice the cash than it has debt. Yet this small company with great resource potential has remained off most investors' radar. That may be about to change with Beach Energy's new partnership with Chevron (NYSE:CVX).
In May 2012 the US EIA estimated that Australia's technically recoverable shale resources could top 390 Tcf over only four of the commercially viable basins. The estimated gas in place is three times that at 1,381 Tcf. Further these are just early estimates. Like the Bakken, such estimates may skyrocket from here, and these estimates are already huge.
In March 2013, Beach Energy managing director Reginald Nelson said the possibility exists for 300 to 600 Tcf of natural gas from the Cooper Basin. Further data from the US suggest that 10%-20% of that figure was likely to be able to be extracted economically.
On February 25, 2013, Reuters announced that Chevron became the latest in a string of majors to invest in the Australian shale. It bought an interest in two gas blocks in the Cooper Basin from Beach Energy. Chevron said it will initially acquire a 30% working interest in block PEL 218 in South Australia, and an 18% working interest in block ATP 855 in Queensland. The deal gives Chevron the option of later increasing its interest in block PEL 218 to 60% and its interest in block ATP 855 to 36%. Beach Energy will receive up to $349 million over two stages spanning several years for Chevron's interest in the two blocks.
The price paid by Chevron implies a value on Beach Energy's shale gas properties of $905 per acre according to Macquarie's Adrian Wood. Beach's current share price implies a value of only $360 per acre. There is already huge value in Beach Energy; and this value is likely to increase as its fields become more developed. Eventual new infrastructure will add value too.
The current belief is that production from the Cooper Basin will be huge. This will allow export via LNG. Chevron is currently building two of Australia's largest LNG plants, Gorgon and Wheatstone in Western Australia, with a combined capacity of 25 million tonnes per year. Apparently Chevron wants also to be in the natural gas production business.
Beach Energy is not completely dependent on Chevron. The table below is an overview of 1H2013 results versus 1H2012 results. The Beach Energy fiscal year ends in June 2013.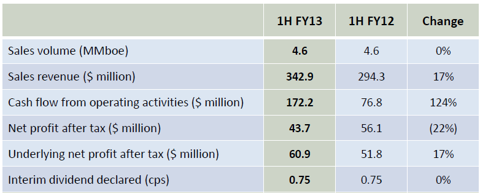 Net profit after tax was down; but that often happens in quickly developing companies. Perhaps more importantly revenues were up 17% year over year; and cash flow from operations grew 124% to 172.2 million. For those who swear by cash flow results, this is a huge positive. Further, the "underlying net profit after tax" was up 17% (or inline with revenue growth). Plus, Beach Energy is expected to pay about a 1% dividend. This all has been mostly driven by increases in oil production and sales.
Further the oil production gains seem likely to continue. On December 3, 2012 Beach Energy reported it had made a new oil field discovery at the Pennington-1 exploration well. This well is located 5.5 miles due east of the Bauer oil field in the PEL 91 block in onshore Australia. Beach Energy is the operator with a 40% interest. Drillsearch Energy Limited (OTC:DRLLF) holds a 60% interest.
The Pennington-1 well encountered a gross oil column of 16 feet in the McKinlay Sandstone, contiguous with a net oil column of 26 feet in the Namur Sandstone, and a separate 19 foot net oil column in the mid-Namur Sandstone. Oil shows in the Birkhead Formation require further evaluation, but the oil here appears to be 22 feet thick.
Bauer-1 recently flowed at 15,000 bopd on test with no water present. Expectations are that Pennington is a similar well. Plus newly acquired 2D and 3D seismic data for this area indicate that there will be many more of these discoveries in this area of the Cooper Basin.
In sum, Beach Energy is quickly turning from a speculative play into a highly productive company with excellent prospects. The natural gas JV with Chevron gives it more proven value and more credibility; but its own oil results are making it much more profitable. Australia is known for its wealth of natural resources. Beach Energy with its huge prospective lands and great recent results in both gas and oil is probably one of Australia's better value plays.
The two year chart of BCHEY.PK provides some technical direction for this trade.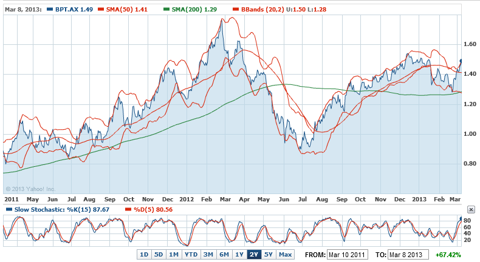 The slow stochastic sub chart shows that Beach Energy is currently at overbought levels. It has run up significantly since the Chevron JV announcement. However, it is probably not finished running up. The main chart shows that it is in a near term uptrend. With the great results it has produced recently, it is easy to believe that this uptrend will continue. I think you can start to average into this stock at any time. The company is valued as a speculative play, but it is proving itself much more than that. If a US recession drags the stock price down significantly, that may be a good time to load up the truck.
Keep in mind Beach Energy is still a risk. It has limited funds, but it has huge acreage to develop. Plus there is limited infrastructure in place. Its holdings would be great for long term player like Chevron, but they are not as sure for a smaller company. A buyout by a company like Chevron is a strong possibility.
BPT.AX has a P/E of 12.11 and an FPE of 13.55. It has a next five years average analysts' EPS growth rate of 29.80%. It has an analysts' mean recommendation of 3.0 (a hold). However, it is really a buy with all of its recent good news. It is a risk, but it is a calculated one with huge upside. Few companies present the opportunities that Beach Energy does.
If some of the Australia news also makes you want to buy Chevron , you should know that it has recently proven corruption in the Ecuadorean court process. Plus it has gotten the international court at La Hague to take on its case. This should essentially vacate the $19B Ecuadorian court ruling against Chevron. I am not convinced that Chevron will not still end up being liable to a degree greater than the amount it has so far paid to clean up the Amazon jungle. However, it now appears that such court award will be much less. Chevron pays a 3% dividend.
NOTE: Some of the fundamental financial data above is from Yahoo Finance.
Good Luck Trading.
Disclosure: I have no positions in any stocks mentioned, but may initiate a long position in OTCPK:BCHEY over the next 72 hours. I wrote this article myself, and it expresses my own opinions. I am not receiving compensation for it (other than from Seeking Alpha). I have no business relationship with any company whose stock is mentioned in this article.