By Siraj Sarwar
Warren Buffett is a celebrity and one of the richest men in the world. He is a renowned American investor, business magnate and philanthropist. He is considered one of the very most successful investors of the 20th century going forward into this century. Buffett is the chairman and CEO of Berkshire Hathaway (NYSE:BRK.A)(NYSE:BRK.B), as well as its major shareholder. The fund is known for consistently buying stakes in solid corporations that trade below their intrinsic value. Additionally, Buffett also favors long-term dividend stocks. Buffett's buying a stake in a business is considered a vote of confidence for any firm's continued success.
At the end of Q4, Berkshire Hathaway initiated positions in three stocks and made additional purchases of 10 stocks. Its portfolio was heavy on financial (37.37%), consumer goods (25.5%) and technology (19.8%) companies. In this article, I examine Warren Buffett's best dividend picks. These are ConocoPhillips (NYSE:COP), GlaxoSmithKline PLC (NYSE:GSK), General Electric Company (NYSE:GE), Coca-Cola (NYSE:KO), and Procter & Gamble Co. (NYSE:PG).
| | | | | | |
| --- | --- | --- | --- | --- | --- |
| Stock | Shares Held | Percent of Portfolio | Rank | Dividend Yield | Annual Dividend |
| COP | 24,123,911 | 1.86 | 12 | 4.42% | $2.64 |
| GSK | 1,510,500 | 0.09 | 35 | 5.26% | $2.35 |
| KO | 400,000,000 | 19.25 | 2 | 2.60% | $1.12 |
| GE | 588,900 | 0.02 | 39 | 3.03% | $0.7 |
| PG | 52,793,078 | 4.76 | 5 | 2.91% | $2.25 |
WhaleWisdom.com
ConocoPhillips is the first stock in this collection. It is an independent Exploration and Production [E&P] company focused on exploring, developing and producing crude oil and natural gas worldwide. The stock is a consistent favorite of Berkshire Hathaway over the years. It is ranked at 12 in buffets portfolio. ConocoPhillips is one the best dividend payers among the energy sector. Over the years, it has consistently been able to increase its dividend at a massive pace.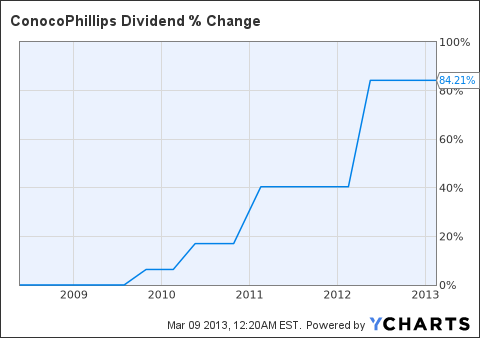 COP Dividend data by YCharts
As shown in the above chart, the company has been able to increase dividends by 84.21% over the previous five years. Recently, it announced a quarterly dividend of $0.66 cents/share. Amidst all this, it is observed that the company has not been increasing dividends over the previous few quarters.
Though, over the past few years, it has made significant acquisitions to enhance reserves and production. However, the recent fall in commodity prices created problems for the company.
Therefore, management changed its investment strategy due to the depressed economy. At present, the company is selling assets and reducing investment. Recently, it announced an agreement to sell Cedar Creek Anticline properties for $1.05 billion. Selling noncore assets and reducing investments can lead the company to enhance cash flows and dividends.
GlaxoSmithKline PLC creates, develops, and manufactures pharmaceutical products such as vaccines, over-the-counter [OTC]medicines and health-related consumer products. At the end of Q4, Berkshire Hathaway held a large stake in the company without any changes. The company is a consistent favorite of Buffett over the previous nine quarters.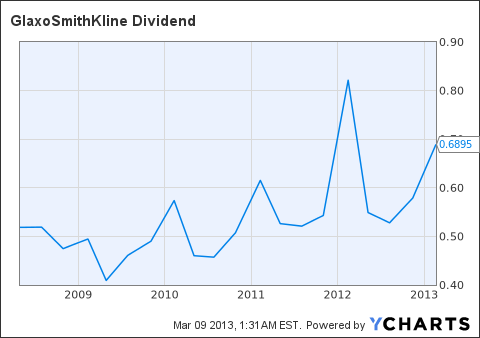 GSK Dividend data by YCharts
As shown in the above chart, GlaxoSmithKline PLC has had an attractive history of creating substantial returns. However, at the moment, the company is facing unstable times in Europe. While, its strong balance sheet and diversified product portfolio are helping it to weather economic head wind times. At present, the company is seeking to expand its products in actively growing markets.
It has a strong revenue base, and powerful product pipeline to generate strong cash flows. The company is strongly using its cash flows to create value for shareholders. At the end of 2012, GlaxoSmithKline had generated $6.2 million in operating cash flows. The company generated $4.9 million in free cash flows and paid out $3.6 million in dividends.
In addition, the firm is aggressively working on a buyback program. In 2012, it paid out $2.2 million to shareholders in a share repurchase program. Above all, the company plans to continue its dividend growth and carry out share buy-backs of $1-2 billion by the end of 2013.
The Coca-Cola Co. is a manufacturer, distributor and marketer of nonalcoholic beverage concentrates and syrups worldwide. Based on WhaleWisdom, Coca-Cola is one of the favorite stocks of Warren Buffett over the years. At present, Buffett holds 400 million shares of Coca-Cola, and it ranks at 2nd place in the portfolio.
Recently, the company announced a 51st successive annual dividend increase. It was able to raise the quarterly dividend 10% from 25.5 cents to 28 cents/share. This is equivalent to an annual dividend of $1.12 per share, up from $1.02 per share in 2012.
The company has a strong history of creating value for shareholders. The company returned $9.1 billion to shareholders in 2012, through $4.5 billion in share repurchases and $4.6 billion in dividends. Since 2010, Coca-Cola returned nearly $24.9 billion to shareholders through a combination of dividends and share repurchases. The chart below demonstrates cash trends, and its ability to create value for share holders.
| | | | | |
| --- | --- | --- | --- | --- |
| Figure in Billion | 2010 | 2011 | 2012 | TTM |
| Operating cash flow | $10 | $9 | $11 | $11 |
| Capital Expenditure | ($2) | ($3) | ($3) | ($3) |
| Free cash flows | $7 | $7 | $8 | $8 |
Morningstar.com
Furthermore, the company has strong cash flows at present. The company cash flow adequately covers the dividend payments. In the Trailing Twelve Months [TTM], it generated $8 billion in free cash flows and paid out $5 billion in dividends. With such a strong cash flow, it announced a share repurchase program that can further increase its dividends.
General Electric Company provides services ranging from aircraft engines, power generation to medical imaging, media content & industrial products, and business & consumer financing. At the end of Q4, Berkshire Hathaway did not made any changes to GE's stake in its portfolio.
| | | | |
| --- | --- | --- | --- |
| Figure in Billion | 2010 | 2011 | 2012 |
| Operating cash flow | $36 | $33 | $31 |
| Capital Expenditure | ($10) | ($13) | ($15) |
| Free cash flows | $26 | $21 | $16 |
Morningstar.com
GE is a solid dividend payer in the energy sector. In addition, the company has a strong financial position at present. The company has shown strong cash flows over the years. Its operating cash flow stands at $31 billion. In 2012, GE returned nearly $12.4 billion to share holders in the form of dividends and a buyback program. Recently, it announced an increase of 12% in quarterly dividends.
Over the past few years, GE has sought to dispose of its underperforming assets. Recently, GE announced it is selling its stake in NBC Universal to Comcast (NASDAQ:CMCSA) for about $18.1 billion. This agreement will enable it to increase its available cash. The company is seeking to return nearly $18 billion to shareholders by the end of 2013.
Procter & Gamble Co. offers branded consumer packaged goods. The company markets its products in nearly 180 countries through mass grocery stores, merchandisers, membership club stores and drug stores, etc.
Procter & Gamble offers one of the best annual dividends of $2.25 per share, yielding at 2.91%. The company has strong cash flows to support its dividend and buybacks. At the end of 2012, the company generated $14 billion in operating cash flows and $9 billion in free cash flows. The company's free cash flow adequately covers its dividend payments.
Additionally, the company has strong revenue generating capability. On average its past five-year sales growth rate is 2.93%. Below a few metrics sketch its potential both to sustain and increase dividends in the future.
Earnings Per Share [EPS] next year 7.46%
EPS next five years 8.34%
Profit margin 13.89%
Income $11.15bn
Price to free cash flow 48.32
Disclosure: I have no positions in any stocks mentioned, and no plans to initiate any positions within the next 72 hours.
Business relationship disclosure: EfsInvestment is a team of analysts. This article was written by Siraj Sarwar, one of our equity researchers. We did not receive compensation for this article (other than from Seeking Alpha), and we have no business relationship with any company whose stock is mentioned in this article.