The United States released a position paper on Friday indicating that it will abstain from voting on the World Bank's affiliate agencies' proposed $4.5 Billion loan for the expansion of the huge Mongolian mine at Oyu Tolgoi. Rio Tinto (NYSE:RIO), the world's second largest miner, is the largest corporate stakeholder in the huge and expensive undertaking in the Gobi Desert. The two-page document expresses concerns over elements lacking from the Environmental and Social Impact Assessment (ESIA) after an opening statement acknowledging the many possible benefits of the project.
"This project has the potential to transform Mongolia's economy and advance its economic transition. It is being closely watched as a barometer for the foreign investment climate in Mongolia, with strong potential to attract further investments in the country by high quality companies and to catalyze further private sector participation in the mining sector. It also has the potential to generate substantial government revenues that can be harnessed for poverty reduction country-wide, and to improve the lives of Mongolians by creating broad opportunities for skills transfer and linkages to local small- and medium-sized enterprises. In addition, with leadership from both IFC and EBRD, Oyu Tolgoi under its new ownership is expected to raise the bar substantially for environmental and social standards in Mongolia's mining sector.
The United States believes the ESIA has gaps in critically important information related to mine operations and mine closure. The ESIA does not provide an analysis of cumulative impacts, notably concerning a proposed coal-fired power plant. This plant was not in the original proposals, but was added as the expected electricity from China could not be guaranteed as a reliable source. In addition, environmental concerns are not adequately addressed. These include biodiversity, regional green development, energy reforms and ongoing monitoring programs for compliance of standards. (Reuters Photo)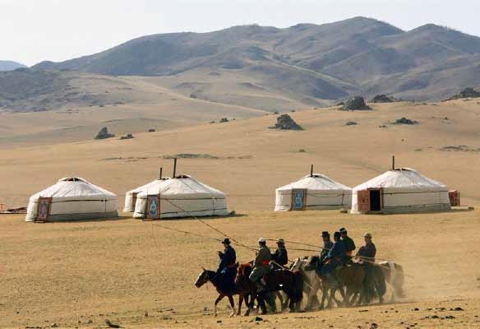 A large coalition of environmentalists has been lobbying the World Bank and its board members against approving funding at this time. Their concerns are in a letter to the President of the World Bank, Dr. Jim Yong Kim.
Delay After Delay
Mining projects, much to the chagrin of investors, have a tendency to stall after large expenditures have already been made. That has been the case most recently in the Philippines, concerning Xstrata at Tampakan and in Peru at Tia Maria involving Southern Copper (NYSE:SCCO) which was halted in 2010. Projects are at least temporarily abandoned, and only after renewed positive government involvement takes place. Sometimes progress is made only after a change in administration.
In an article on February 4, 2013, mining.com reported that the President of Mongolia said, "Time has come for Mongolia to take Oyu Tolgoi matters into its own hands." On March 1, 2013 Seeking Alpha published my article, Mongolia Revokes Licenses On Rio Tinto Mine. The operator of the mine is Turquoise Hill Resources (NYSE:TRQ). This is the former Ivanhoe Mines, which with Rio Tinto and the Government of Mongolia originally partnered to develop the mine. Rio Tinto has the controlling interest, and TRQ essentially operates as a subsidiary of Rio Tinto. The Government of Mongolia, which owns 34% of the corporation, is trying to negotiate for a bigger piece of the pie. Significant investments are at stake and more than $6 billion is already spent at this mine in the Gobi desert. Commercial production at the mine is scheduled to start in June.
A Seven-Minute Video
An overview of the project and the phased expansion.
Impact to Investors -- Actionable Alternatives
News of the tentative approval of the loan package by IFC on March 1 caused a rally in TRQ stock of 11%. This, in the minds of the supporters, was simply affirmation that the concerns about the license revocations were way overblown. However, that optimism may be dampened in trading today as the information becomes available that there is a concern regarding the funding.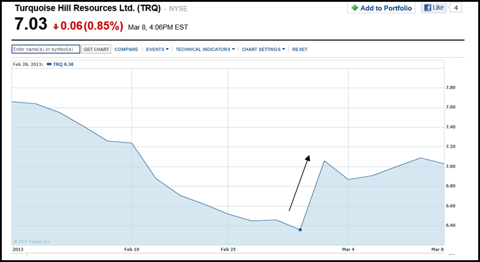 It may be prudent to limit losses on TRQ and RIO, which may occur in this sea of bad news. Alternately, it is almost inconceivable that this project will not eventually go forward, and adding to a long-term position on a price dip could have eventual gains.
Disclosure: I have no positions in any stocks mentioned, and no plans to initiate any positions within the next 72 hours. I wrote this article myself, and it expresses my own opinions. I am not receiving compensation for it (other than from Seeking Alpha). I have no business relationship with any company whose stock is mentioned in this article.