Every month, my team crunches data on 1,800 stocks to see which names have the best seasonality for the coming three month period. Screening for seasonal tailwinds is a great way to freshen watch lists and gain insight into shifting trends.
This month, we identified 5 large cap stocks having posted gains through May in each of the past 10 years. According to the seasonal investor database, BB&T Corp. (NYSE:BBT), CSX Corp (NYSE:CSX), Hershey Company (NYSE:HSY), Progressive Corp. (NYSE:PGR) and Sherwin Williams (NYSE:SHW) enjoy tailwinds into spring.
BB&T Corp
Up first on the list is BB&T Corp, a bank and trust company with nearly 1,800 offices across 12 states in south and mid Atlantic. Its largest presence is in Virginia and North Carolina, where it operates 743 branches with over $46 billion in client deposits.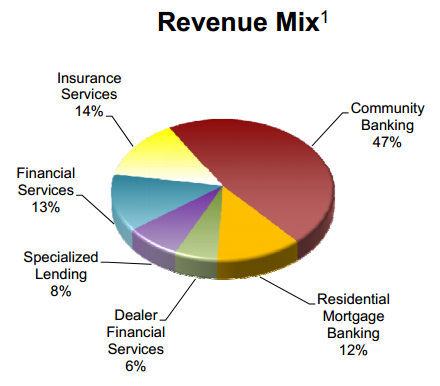 Analysts expect the company will earn $2.95 in 2013, up 5% from 2012. In 2013, they expect earnings to grow another 7% to $3.15. Shares are currently trading at 9.9x 2014 estimates and yield 2.9%.
The company's revenue has grown 31.8% since 2007, versus a 7.4% increase for its peers, thanks to improving results in community banking, which accounts for 47% of sales.
While BB&T is expanding its banking operations organically, such as in Texas, the company is also growing through bolt on acquisitions, including last July's BankAtlantic deal, which strengthened its North Carolina footprint.
As of December, BB&T held $183.9 billion in assets and loans held for investment have increased to $113.6 billion from $105.8 billion in the past year. Last year, BB&T's profits were helped by deposit costs falling to 38 basis points from 56 basis points as deposits grew to $131.8 billion from $121.9 billion.
Outside of community banking, insurance services generate 14% of sales and benefits from BB&T's April acquisition of the life and P&C divisions of Crump Group. The deal brought along $300 million in annual revenue - increasing BB&T's segment sales 30% - just as P&C pricing began firming in the wake of higher catastrophic claims losses.
As for seasonality, shares have climbed an average 7.3% higher from the start of March through the end of May.
Source: BB&T presentation at Citibanks' 2013 Financial Services Conference on March 5th.
CSX Corp
CSX operates 23,000 miles of line across 23 states.
In 2014, analysts expect CSX earnings will climb 15% to $2.05 per share, giving shares a forward PE of 11.2x. Shares currently yield 2.4%.
At CSX, rail carloads were down 2% through the first 8 weeks of this quarter versus last year due to a 17% slump in coal cars. The drop-off in coal shipped more than offset growth in intermodal and industrial volume tied to housing and autos strength.
However, although coal accounts for 20% of CSX volume - roughly the same as domestic Intermodal - CSX is still making plenty of money. The company's operating income and earnings per share have grown a compounded 8% and 12%, respectively since 2006. This profit growth has allowed CSX to boost dividends to 0.54 per share, up from $0.29 in 2009.
This suggests CSX is weathering the coal transition nicely. And, that's good news given the industry will benefit from weaker year-over-year comparisons in the second half of the year.
For the 3 months ending May 30th, CSX shares have climbed an average 15.57% over the past decade.
Source: CSX presentation at JPMorgan's conference on March 6th.
Hershey Company
The Valentine and Easter holiday shopping season provides solid tailwinds for Hershey heading into spring, accounting for roughly 25% of category spend each year. Hershey holds the number one market share for seasonal spending, at 32.1%.
In addition to being a market share leader in supermarkets, the company is also better penetrating convenience store markets, which accounts for 15% of total sales. Its market share in the convenience store channel has increased to 31.4% in 2012 from 26.2% in 2008.
Since 2008, Hershey's sales have grown a compounded 6% annually to 6.6 billion in 2012. For comparison, the broader confectionery industry has expanded 5%. During the same period, earnings per share have increased a compounded 11%.
The majority of the company's sales still come from the United States, but international is becoming increasingly important. For example, international sales of Hershey's Kisses account for 32% of total Kisses revenue. And the company believes it has substantial opportunity for additional brands to grow similarly. As a result, Hershey is targeting international sales of $1 billion in 2014 and roughly $2 billion in 2017.
The domestic strength and international growth kicked off $1.1 billion in operating cash flow last year. This allowed Hershey to return $466 million to shareholders through buybacks and dividends. These trends should continue given the company estimates 2017 sales will grow to $7 billion.
Analysts expect earnings per share to climb 12% in 2013 from 2012. And in 2013, EPS is anticipated increasing an additional 10% to $3.99, giving shares a forward PE of 21.18x.
As for seasonality, Hershey shareholders have seen shares increase an average 8.07% through May.
Source: Hershey's presentation at the Consumer Analyst Group of New York Conference.
Progressive Corp
Progressive is best known for its popular Flo commercials, which playfully connect with auto insurance shoppers. The company is expected to earn $1.64 per share in 2014, up 9% from 2013. This gives Progressive a forward PE of 15.1x.
Sales grew 9% in Q4 as net premiums written increased 9% and net income fell 3% from the prior year. Net premiums written increased 8% last year and net premiums earned climbed 7%. The gains came despite higher catastrophic claim losses of $279 million, up from $212 million in 2011.
The strength continued into January too, as net premiums written rose 5% and net income increased 79% to $134.2 million versus a year ago. Net premiums earned also increased 9% to $1.59 billion. The company's total policies in force increased 2% for auto and 4% for special lines.
Broadly, pricing strength appears to have continued for P&C insurers in February. According to MarketScout, the average P&C rate climbed 4% year-over-year last month, with commercial auto insurance premiums up 5%.
Since warmer weather supports car shopping, higher rates may serve as another reason to be long Progressive into spring. Particularly, given Progressive investors have enjoyed an average 12.34% return through May.
Source: Progressive January and December Update
Sherwin Williams
Sherwin's sales increased 7% in Q4 to $2.22 billion as earnings per share came in at $1.12, up 24% year-over-year. In 2013, the street expects EPS growth of 20% and analysts think the company will earn $9.32 per share in 2014, up another 19% from 2013.
The company's good fortune is being driven by higher sales in its paint stores. The stores, which generate 90% of sales from professional contractors, saw year-over-year net sales growth of 13.2% to $5.41 billion last year. Last quarter, sales were up 9.8% to $1.25 billion and same store sales for locations open more than twelve months improved 12.5% last year.
Higher volume and prices helped the paint stores segment profit margin improve to 15.9% in 2012 from 13.5% in 2011.
Ongoing strength in the housing market should help shares continue their winning ways through May. Over the past 10 years, shareholders have seen share prices increase an average 10.59% in the period.
Source: Sherwin Williams 2012 and Q4 EPS Report.
Of course, seasonality alone doesn't guarantee investors will make money again this year. However, seasonality does suggest these five stocks benefit from uncommon demand this time of year. And, if that's the case, each may deserve a place in portfolios.
Source: Seasonal Investor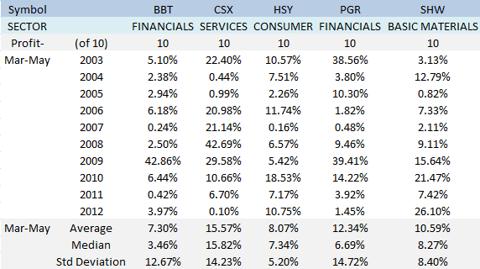 Disclosure: I have no positions in any stocks mentioned, and no plans to initiate any positions within the next 72 hours. I wrote this article myself, and it expresses my own opinions. I am not receiving compensation for it (other than from Seeking Alpha). I have no business relationship with any company whose stock is mentioned in this article.