We are in the fourth month of this latest stock market uptrend. We have seen a brief selloff in February, bringing a mild correction in the indexes, and apparently that was enough for the market to continue higher.
February was troublesome for the market in many ways. Economic data was coming in mostly below estimates. That was especially true for the housing related data, and housing was among leaders of this weak economic recovery. Intermarket trends were also favoring a risk off period, as the bonds (NYSEARCA:TLT) were outperforming the S&P 500 (NYSEARCA:SPY) and defensive sectors, like Utilities (NYSEARCA:XLU) and Consumer Staples (NYSEARCA:XLP), were the strongest, which is mainly seen in risk off periods and before the market enters a correction.
Spending cuts and a possibility of Quantitative Easing being ended prematurely were also concerns for the market, and a reason for more defensiveness. The spending cuts were not averted, and March came with the spending cuts in place, but the market went on to new highs. Federal Reserve Chairman Ben Bernanke also came out in late February and reaffirmed QE. And the markets were happy. Dow Jones Industrial Average (NYSEARCA:DIA) cleared its all time high price last week, and the S&P 500 came very close to its 2007 highs. At the same time, bonds broke down, and defensive sectors have underperformed, as they too broke down relative to the broad market indexes.
The economic data was also much better recently with jobless claims coming in lower than expected, and non-farm payrolls were significantly above expectations. As a result, the unemployment rate dropped to 7.7% from 7.9%. Better economic data, together with favorable changes in intermarket trends, give the market a chance for further upside movement.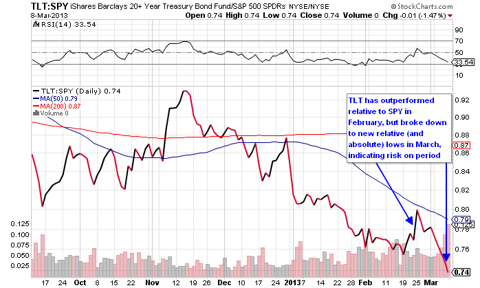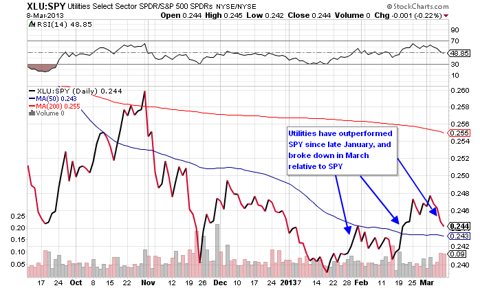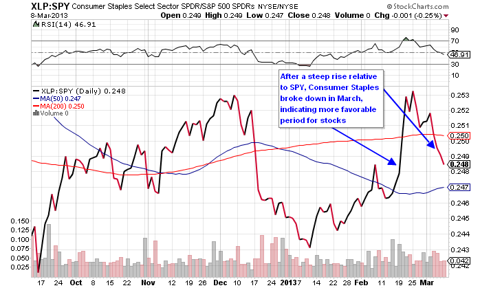 Source: Stockcharts
How to play further potential upside
There are plenty of stocks setting up in a constructive way. Breakouts to new highs, and rebounds from respective moving average lines, would provide buying opportunities if the current uptrend continues. These stocks also must have good fundamentals, like strong earnings and sales growth.
Visa Inc. (NYSE:V) and Mastercard Inc. (NYSE:MA) are in a consolidation period after their prior upside moves. They are close to their respective all time highs. These companies have enjoyed secular trends of a global consumer shift from cash to plastic payments. Visa has grown earnings on an average rate of 28% in last five years, with a revenue growth rate of 24% in the same period. Mastercard has grown earnings and sales 22% and 13%, respectively, over last five years. Earnings and sales are projected to grow in double digit levels in the future. Both stocks are setting up for a breakout from their recent consolidations. A breakout to new all time highs would present a buying opportunity and a chance for more gains.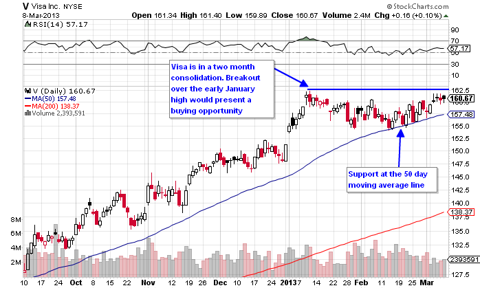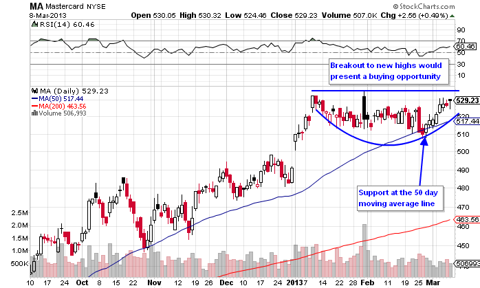 Source: Stockcharts
Jazz Pharmaceuticals Public Limited Company (NASDAQ:JAZZ) has been consolidating since early October. The consolidation comes from sizable gains in the earlier period. The company has a five-year earnings growth rate of 125%, and a projected growth rate of 27% for the next five years. It has a trailing PE of 12.20, forward PE is 8.31, and the PEG ratio is 0.37. Jazz Pharmaceuticals has announced a Secondary Public Offering on March 4th, and that capped the rise of the stock to new all time highs for the time being. If the stock can clear its 5 month consolidation in above average volume, it would present a buying opportunity.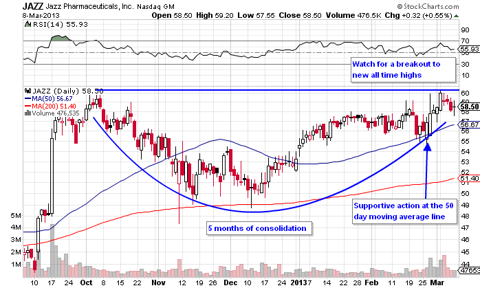 Source: Stockcharts
SodaStream International Ltd. (NASDAQ:SODA) delivered healthy growth levels, with earnings and sales rising 30% a year for the last five years. Earnings are projected to grow 30% in the next five years. The stock broke out to new 52-week highs in early January, and has consolidated since. It is now getting support at the 50 day moving average line. A bounce of those levels in above average volume might present a buying opportunity.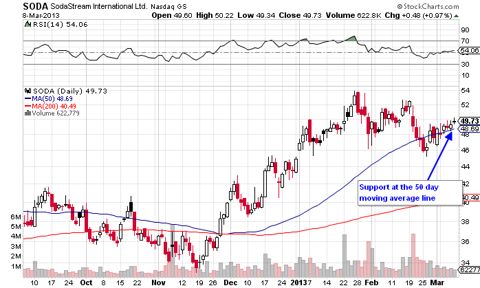 Source: Stockcharts
Piper Jaffray Companies (NYSE:PJC) has enjoyed the run of its Investment Brokerage Industry group, as the group was among leaders of this three month uptrend. Piper Jaffray has a trailing PE of 17.85, forward PE is 15.04, and the PEG ratio is 0.95. The company delivered 132% and 27% earnings surprises in the latest two quarters, and analyst estimates have gone up substantially in 90 days, from 2.33 to 2.60 for the current year, and from 2.30 to 2.62 for 2014. The stock sold off in February, and came close to its 50 day moving average line. It seems to be finding support at the 50 day moving average line, and a bounce of those levels in above average volume would present a buying opportunity. Otherwise, a breakout to new 52 week highs would also present a potential buying opportunity.
Source: Stockcharts
Conclusion
A confluence of positive economic data, relative underperformance of key defensive sectors which provide a confirmation of risk on behavior favoring stocks recently, and proper technical patterns in stocks with good fundamentals can give you a higher probability of success in the current uptrend. Breakouts to new highs from respective consolidations, and support at key moving average lines should be monitored in order to profit from this continuing uptrend. On the other hand, keep a close eye on performance of defensive assets, in order to get a clear picture of the health of the uptrend, and prepare for a possible correction if defensive assets begin to outperform again.
Disclosure: I have no positions in any stocks mentioned, but may initiate a long position in JAZZ, V over the next 72 hours. I wrote this article myself, and it expresses my own opinions. I am not receiving compensation for it (other than from Seeking Alpha). I have no business relationship with any company whose stock is mentioned in this article.
Additional disclosure: This writing represents my personal opinion, and is for informational purposes only.