This Thursday Samsung (SSNLF.PK) rolls out its latest product offering and they are making it a big event. Things have been going great for Samsung over the last year and that momentum is sure to build with the new launch this week. All eyes, literally, will be on the new technology rumored to be included in these new offerings. One way to play the Samsung success and hype of this week's event is Anadigics, Inc (NASDAQ:ANAD). ANAD is a key supplier of power amplifiers to Samsung smartphones and tablets with Samsung now accounting for 31% of ANAD's sales.
The company provides semiconductor solutions to the broadband wireless and wireline communications markets. Its products include radio frequency (NYSE:RF) power amplifiers (PAs), tuner integrated circuits, active splitters, line amplifiers, and other components. The company's RF power amplifier products enable mobile handsets, datacards, and other devices to access third and fourth generation (3G and 4G) wireless networks utilizing international standards, including long term evolution (LTE), wideband code division multiple access (WCDMA), high speed packet access (HSPA), code division multiple access (OTCPK:CDMA), evolution data optimized (EVDO), and worldwide interoperability for microwave access (WiMAX).
The reason used for the retrace in shares of ANAD over the last month was disappointment at their recent earnings report. Wall Street expected better sales and EPS but the company is still in the midst of a turnaround that they feel is successful. "We are very pleased with our overall fourth quarter financial performance, as we continue to execute to our growth strategy," said Ron Michels, president & CEO of ANADIGICS. "ANADIGICS' new cellular wireless, WiFi, and infrastructure solutions provide manufacturers with compelling performance and integration advantages, evidenced by our sequential 6.4% increase in sales and continued design win momentum. By further strengthening our relationships with leading OEMs and reference design icons, we believe that ANADIGICS is well positioned for continued success in 2013." The key takeaway from here and from the chart below is their relationship with Samsung that has tripled over the last year. As you can see ANAD has been growing its revenues with Samsung every quarter and are following the success of Samsung products. Samsung accounted for 31% of ANAD's revenue in the most recent quarter as we mentioned above. ANAD has $42m in cash and no debt and revenues over $100m with a market cap of only $90m net cash. ANAD is a pure play on the success of Samsung and Samsung right now is firing on all cylinders!

This past November ANAD saw its stock price move from $1.14 to the recent high of $2.87, a gain of over 100%, after they announced they would be powering the Galaxy Note II. We could see a similar press release from the company this week on the new Samsung S4. ANAD has not been shy in the past on releasing press releases and Samsung seems to allow them to. Over the last month the stock has retraced half of that move on what should have been considered a good earnings report. ANAD has found strong support now at its 200-day moving average at $1.74 and looks ready for a significant upside bounce to the 50 day moving average at $2.39.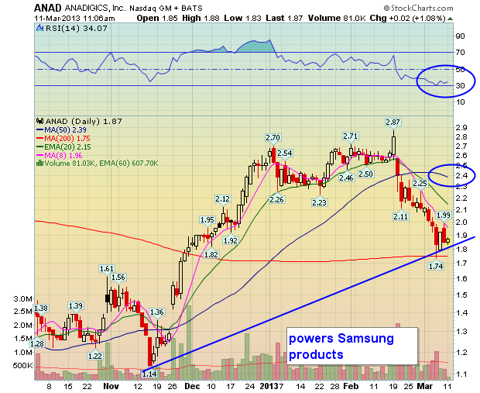 Samsung is becoming the dominant force in the smartphone and tablet market and the other players should pay close attention. One way to play this domination by Samsung is through ANAD. When Apple Inc (NASDAQ:AAPL) launches new products the suppliers to AAPL tend to see nice moves in their prices into and after the events. ANAD is one of the only plays on Samsung and that should lead to an even larger upside move this week. For investors ANAD is a very interesting play on the huge success of Samsung right now. ANAD has proven it can run big on the heels of Samsung and looks ready for a repeat here.
Disclosure: I am long ANAD. I wrote this article myself, and it expresses my own opinions. I am not receiving compensation for it (other than from Seeking Alpha). I have no business relationship with any company whose stock is mentioned in this article.