Arena (NASDAQ:ARNA) shares appear to be stuck in a narrow range between $8 and $9.50. When bears wrestle for an upper hand, Arena shares dip below $8. Short-sellers have a short interest of 55.3 million shares with 13.7 days to cover. Bearishness increased steadily in Arena since last year before shares broke-out from below $3: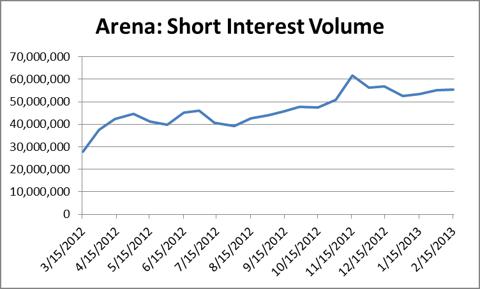 Data Source: Nasdaq.com
More recently, investors inadvertently associated weak Qsymia sales from Vivus (NASDAQ:VVUS) as a reason to be bearish on Arena. Both companies are performing poorly on the stock market: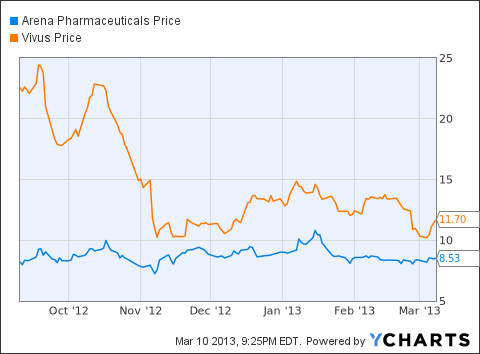 A lower price for Qsymia is viewed as posing a risk for Arena's Belviq. To forecast sales in Belviq when it is launched investors should review Arena's quarterly earnings conference call to draw their own conclusions. The most pertinent highlights from the call are discussed below.
1) Eisai Sales Force
Arena said that 200 representatives were strategically added in places where physician and patient targeting was high. To develop reimbursement schedules with insurance companies, Eisai has dedicated 50 specialists working with them. By having a specialized sales force, Arena improves the likelihood strong initial sales for Belviq.
If sales begin more slowly than anticipated, Eisai is closely-connected to physicians and patients, and could adjust its marketing and sales strategy to improve sales.
2) Product Pricing
Arena will be selling Belviq for $199.50 wholesale, or $6.65 per day. The daily dosage revenue is in-line with the $4 to $8 dosage per day forecasts when Arena was initially reviewed in July 2012. When the revenue split between Eisai and Arena is included, at between 31.5% and 36.5%, it is now possible to refine the revenue forecast for Belviq in the first year.
Assuming the most bearish case of just 0.1% and 0.2% of the obese population of 78 million treated with Belviq, Arena will have up to 156,000 patients:
| | |
| --- | --- |
| % Obesity Market (U.S.) | # Receiving Treatment |
| 100% | 78,000,000 |
| 75% | 58,500,000 |
| 50% | 39,000,000 |
| 25% | 19,500,000 |
| 10% | 7,800,000 |
| 5% | 3,900,000 |
| 4% | 3,120,000 |
| 3% | 2,340,000 |
| 2% | 1,560,000 |
| 1% | 780,000 |
| 0.50% | 390,000 |
| 0.25% | 195,000 |
| 0.10% | 78,000 |
Investors could anticipate that Arena will generate revenue at anywhere from $59.6M and $138.2M in the first year alone:
| | | | | |
| --- | --- | --- | --- | --- |
| % Obesity Market (U.S.) | # Receiving Treatment | Total Revenue ($) | Share to Arena at 31.5%, $ | Share to Arena 36.5%, $ |
| 0.20% | 156,000 | 378,651,000 | 119,275,065 | 138,207,615 |
| 0.17% | 132,600 | 321,853,350 | 101,383,805 | 117,476,473 |
| 0.15% | 117,000 | 283,988,250 | 89,456,299 | 103,655,711 |
| 0.10% | 78,000 | 189,325,500 | 59,637,533 | 69,103,808 |
3) No Share Issuance
Arena has sufficient cash flows to operate without issuing additional shares. For 2013, revenue will come from payments from Eisai. Arena will receive $65 million in milestone payments after the final DEA scheduling. An additional $6 million will come from existing collaborations, and $3 million will be revenue received for manufacturing services from Siegfried. R&D expenses will be between $70 million and $78 million.
4) Additional Products
Arena is increasing its portfolio of drug products. APD811, which is intended to treat pulmonary arterial hypertension (NYSE:PAH), is in Phase 1 clinical trial. Once the optimal dose is determined, Phase II will be initiated.
Arena is developing S1P1 receptor agonists to treat autoimmune diseases. This includes multiple sclerosis, psoriasis, and rheumatoid arthritis.
Arena has a co-development and licensing agreement with Ildong to treat thrombotic diseases. The drug Temanogrel will soon begin clinical trials.
Risks
The weak launch of Qsymia from Vivus illustrates the inherent risks to investors for novel drugs. Risks are even greater when the hope of strong initial sales is priced in the stock, but sales targets are not met.
Arena could have a better start than Vivus, because of the Arena-Eisa partnership. Eisai is a specialized sales force that will work with insurance companies and with doctors. Arena will also be open to using rebates and coupons. This may hurt margins initially, but would help Arena grow the number of initial patients receiving treatment.
Conclusion
Arena and Eisai both hoped that the 30-day waiting period after the DEA scheduling would be waived, but the DEA did not provide that yet. Beyond approvals, Arena has an established market organization through Eisai for promoting Belviq. Looking beyond Belviq, combination treatments for other indications like smoking cessation could expand the revenue channels for Arena.
Arena is still waiting for approval in the EU. If it receives approval, Arena could thrive in the region, since Vivus will not be permitted to sell Qsymia. Shares would also rally on approval. An opinion exists that Belviq will not be approved in Europe, but Arena has a risk benefit ratio that favors otherwise.
Finally, Eisai's approach in obesity treatment includes checking that patients lose at least 5% of their weight after 12 weeks. This benefits both Arena/Eisai and insurance companies, because reimbursement is given only to responders.
Disclosure: I have no positions in any stocks mentioned, but may initiate a long position in ARNA over the next 72 hours. I wrote this article myself, and it expresses my own opinions. I am not receiving compensation for it (other than from Seeking Alpha). I have no business relationship with any company whose stock is mentioned in this article.