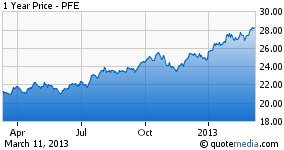 Pfizer, Inc. (NYSE:PFE) announced the findings of a study involving it's inline therapy, Inspra that could have a highly favorable impact on the drug's intermediate-term forecast. Results of the double-blind 1,012 patient trial were disclosed by the company at the 62nd Annual Scientific Session of the American College of Cardiology. The trial indicated an efficacy improvement of 42.9% in relative risk reduction while creating no variation in adverse events from existing Inspra use.
Inspra had sales of $58 million in the company's 2012 fourth quarter and $214 million for fiscal year 2012. We feel that the additional indication could serve to double sales given the broad patient population and that it appears to be most effective as an early stage therapy.
Inspra (eplerenone tablets) was acquired by Pfizer as part of the 2002 Phamacia transaction and received FDA approval in 2002 for the treatment of high blood pressure and has received a subsequent approval for the treatment of post-myocardial infarction heart failure in 2003.
In a slightly less significant note, Pfizer also indicated over the weekend that it will end development of its exploratory drug filibuvir (PF-00868544)according to the Wall Street Journal. Filibuvir was currently in Phase II studies for the treatment of hepatitis C.
PF-00868544 gained entry into Pfizer's pipeline through the 2002 Phamacia acquisition. Given the overall profile of filibuvir, we had elected to not individually model the drug and do not view the action as a detrimental event to Pfizer's current forecast.
Disclosure: I have no positions in any stocks mentioned, and no plans to initiate any positions within the next 72 hours. I wrote this article myself, and it expresses my own opinions. I am not receiving compensation for it (other than from Seeking Alpha). I have no business relationship with any company whose stock is mentioned in this article.