Gannett (NYSE:GCI) shares rocketed 14% yesterday after the company reported that online advertising revenue at USA Today, its flagship domestic paper, grew 27% year-over-year in February.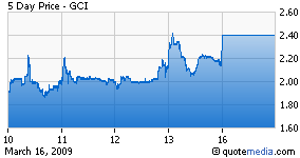 This is the largest online revenue increase among the national newspapers, and is in stark contrast to many, including The New York Times (NYSE:NYT), which began to suffer recession-induced declines in online ad revenues in 4Q08. The Tech section of USATODAY.com drove growth, doubling its unique visitors to 1.9 million.

Newspapers have scrambled to build website operations as readers and advertisers move online. Many are now suffering the consequences of an ad-only business model. Future survival will likely necessitate a fee-based system, whether in the form of subscriptions or micro-payments for mini-subscriptions (columns, blogs, sections, etc.).

Despite vigorous growth, revenue from USA Today's nascent online operations was not enough to compensate for tumbling print advertising revenue, and together they fell 18.5% in 4Q08. Revitalized print ad revenue is dependent on the economy, for which there is no visibility.

While USA Today's growing online operations underscore the long-term franchise value of the nation's largest newspaper, in the near-term, Gannett's overall revenues at its U.S. and U.K. newspaper and television broadcasting operations are falling faster than it can cut costs. In turn, we think downside risk in GCI shares outweighs upside potential.