What a difference a month makes! Last month, I thought the economy is going to dip into a recession in the face of the sequester and the double whammy tax hikes of payroll tax cut expiration that is hitting the poor and the new higher marginal tax rates on the rich. I have watched in amazement good economic numbers rolling in day after day culminating with a spectacular jobs report on Friday. While the numbers coming in are still slightly worse than they were at the same time last year, the economy is showing surprising strength in the face of government austerity. I was expecting numbers that would break hard to the downside, but that hasn't happened. Republicans would argue that austerity is what is driving growth, but austerity experiments in European countries have proven that theory to be a bit of a hoax. Companies in the S&P 500 paid out a record $281.5 billion in dividends in 2012, up 17% from 2011 for a net change of $48 billion. That roughly equals the $50 billion amount of the actual sequester cuts, which will take place after March 1. Maybe the massive dividend payments and stock buybacks in late 2012 are providing a private sector stimulus that offsets government austerity in ways that nobody saw coming.
Let's review the economic numbers in January: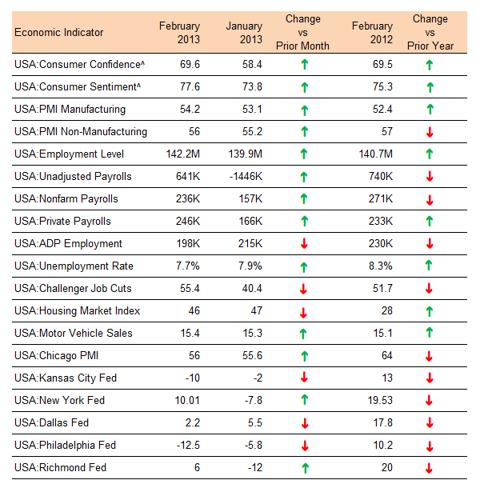 The picture looks decidedly more favorable than the one presented in January. Leading indicators Consumer Confidence and Consumer Sentiment are higher on a year-over-year and month-over-month basis. A bit surprising given sequestration and tax hikes, both absent in 2012. PMI Manufacturing numbers are better on both accounts and PMI Non-Manufacturing while less than in 2012 is still registering a very strong print of 56 (well into expansion territory).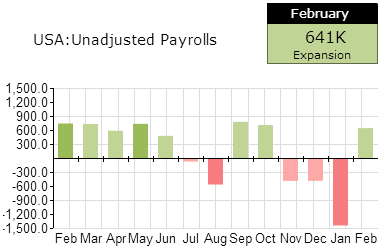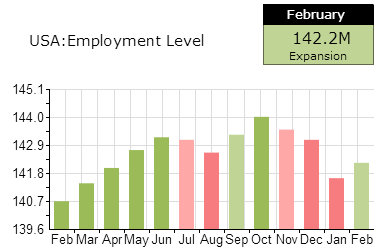 Source: Macrochart.com
Importantly, total employment level is up by a million and a half and February 2012 saw a net positive over 640 thousand unadjusted jobs only slightly less than the 740K of last year. Perhaps the most surprising is the 246K private payrolls number, easily the best print over the last 12 months. The real economy is creating jobs and a lot of them! The unemployment rate is down, the best in quite some time. Job cuts are up but that only reflects large corporations (no surprise there). Housing is off the charts compared to last year and motor vehicle sales are keeping up the pace strengthening the consumer resilience story seen in other indicators. The manufacturing picture is a bit mixed at the regional level, probably reflecting weather-related issues such as Hurricane Sandy and Winter Storm Nemo. In addition, trucking tonnage (one of my favorite eclectic indicators) is surprisingly and decidedly up on seasonally adjusted and non-adjusted basis: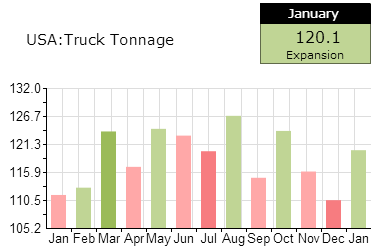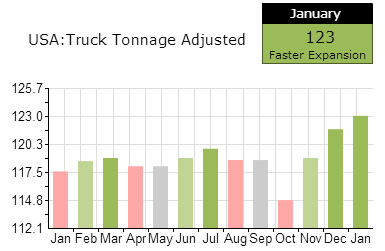 Source: Macrochart.com
The seasonally adjusted numbers are off the charts. It should not be surprising that the Dow Transports (NYSEARCA:IYT) are doing so well in light of these numbers. Overall, given the expectations, the economic picture is not bad at all. If the numbers keep up into March, we are looking at a GDP print similar to last year, roughly around 1.5%. The 2012 Q4 GDP is now revised up into positive territory, so maybe we won't fall into a recession after all!
Portfolio Adjustments
So what does this mean for my portfolio allocations? I was able to make some small profits on my SDS holdings in the middle of February during the 40-point drawdown of the S&P 500 (NYSEARCA:SPY). I was able to book some very nice profits in my volatility longs (NYSEARCA:UVXY) as well. Those two trades ironically brought my portfolio up 6-7% to roughly match the SPY's record this year. However, the strength of the resulting up move and the trucking tonnage print convinced me to get out quickly while the trades were positive. I am currently about 20% long and haven't really added to my long positions. Historically, March and April are the market's best months as the 401(k) distributions roll in and they get allocated automatically to mutual funds and ETFs that end up purchasing stocks thus inflating the market. I am thinking about adding 20% and riding the wave until mid April. However, I would not be surprised if the market decides to correct now that people like me are feeling better. In any case, the chances for a 30% correction this year are almost nil. Even the chances for 10% correction have been greatly reduced. Headline risk is lower as negotiations on any government cliffs have been postponed until September. If the private sector continues to grow at the current pace that will offset any government cuts and the market then looks fairly valued as opposed to overvalued. There are still a lot of bargains out there - technology (NYSEARCA:XLK) and banking (NYSEARCA:XLF) come to mind. The only really troubling story I can find is the erosion in corporate earnings as measured by operating earnings. You can read more on that in Lawrence Fuller's article here. However, the ongoing bloodbath in commodities may provide the padding corporate earnings need. One clear recommendation I can make here is going long the US dollar. I think adding exposure to PowerShares DB U.S. Dollar Index Bullish (NYSEARCA:UUP) or even the PowerShares DB 3X Long U.S. Dollar Index ETN (NYSEARCA:UUPT) is a good portfolio move at this point. Ben Bernanke is not planning any additional QE and as the U.S. economy grows stronger, the greenback will grow stronger. And even if the market corrects the U.S. dollar will still be a beneficiary as the alternative risk-off trades such as the yen (NYSEARCA:FXY) and treasuries (NYSEARCA:TLT) have lost their luster.
Disclosure: I am long UUPT. I wrote this article myself, and it expresses my own opinions. I am not receiving compensation for it (other than from Seeking Alpha). I have no business relationship with any company whose stock is mentioned in this article.