If you bought into MGIC Investment Corporation's (NYSE:MTG) stock in the last 6 months, then you have made quite a pretty penny. In the last month alone, the stock has risen nearly 80%. After a run like this, people should be running to take profits, but optimism is still high for the company.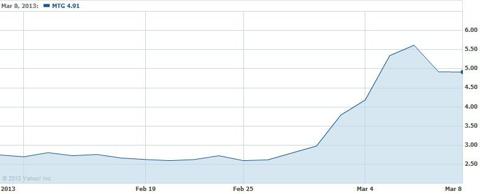 MGIC is up because the company has announced a capital raise that would allow it to get its risk-to-capital ratio to what regulators typically require. As of December 31st, MGIC had a risk-to-capital ratio of 47.8 to 1. Regulators typically require 25 to 1. Radian Group (NYSE:RDN), has a ratio closer to 20. So its pretty clear that MGIC was in need of capital to help lower their leverage.
The company has raised more than $1.1 billion. This helps a lot considering the company needed a minimum policyholder position of $1.2 billion. Initially the company was more than $600 million short of this requirement. With the new capital raise, that should ease concerns. Radian was able to close to $700 million as well.
So since MGIC is better capitalized now, does that make it a good investment? Does the stock price still have room to run?
Analysts are predicting that MGIC will not return to profitability at least until 2014. In addition to this, there is still a fair amount of litigation the company needs to clear up. The company has just settled with Freddie Mac, but still has not finished its dispute with Countrywide.
I believe long-term mortgage insurers will be a good investment especially when the housing market stabilizes and lending increases. However, the market seems to have gotten ahead of itself with MGIC. The market cap has risen more than $400 million. I think investors should not jump onto the bandwagon yet. While the capital raise is great, it still dilutes shareholders to a fare degree. Current investors still have plenty of options to hedge their risk on MGIC.
If current shareholders believe the stock has hit a bump for the short-term, then I encourage selling calls. The June 2013 $5 call has a bid of .65 cents. This is a 13% return in three months. This would allow shareholders to lock in a nice premium and hedge against a correction.
Disclosure: I have no positions in any stocks mentioned, and no plans to initiate any positions within the next 72 hours. I wrote this article myself, and it expresses my own opinions. I am not receiving compensation for it (other than from Seeking Alpha). I have no business relationship with any company whose stock is mentioned in this article.