Yet again, PepsiCo, Inc. (NYSE:PEP), a global food and beverage company, could mirror its rival, The Coca-Cola Company's (NYSE:KO) recent stock split.
Pepsi and Coke compete on many levels; in Super Bowl ads, in the grocery aisle and in sporting venues. They go up against each other to sign athletes, movie stars and even music performers for endorsement deals. So it shouldn't surprise anyone that they also compete against each other financially and for shareholders with stock prices, dividends and even stock splits.
Stock Split History
Coke made the most recent move with a 2:1 split on August 13, 2012. When you look at the table below, it's interesting how both Pepsi and Coke have made similar stock splits so closely together. Since 1977, Coke has announced 6 stock splits to Pepsi's 4 stock splits.
Pepsi and Coke Stock Split Data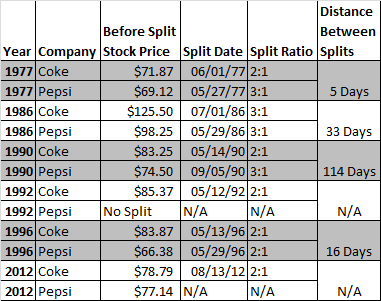 3 Key Reasons Pepsi Could Split Its Stock
1. By looking at the chart above, you will notice that Pepsi's stock price is in the price range just before previous stock splits were made; $69.12 in 1977, $98.25 in 1986, $74.50 in 1990 and $66.38 in 1996.
2. Pepsi, like many other companies, likes to keep its stock price in a range for the majority of investors. This way, it doesn't become too highly priced and too rich for some investors to buy, like Google Inc.'s (NASDAQ:GOOG) recent close price of $831.52.
3. Returning capital to shareholders. The Q4 2012 earnings press release mentioned the following in its 2013 outlook section: Reflecting its commitment to return capital to shareholders, the company announced a new share repurchase program providing for the repurchase of up to $10 billion of PepsiCo common stock from July 1, 2013 through June 20, 2016, which will succeed the current repurchase program that expires on June 30, 2013. The company also announced a 5.6 percent increase to its annualized dividend to $2.27 per share from $2.15 per share, to take effect with the June 2013 payment. Under these programs, the company expects to return a total of $6.4 billion to shareholders in 2013 through dividends of approximately $3.4 billion, and share repurchases of approximately $3.0 billion.
Pepsi Dividends 2004-Present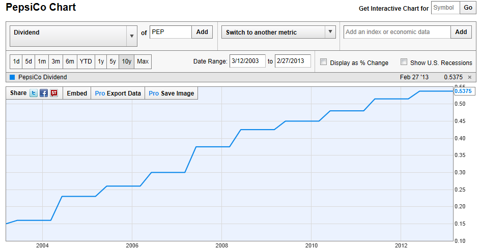 Conclusion
I believe Pepsi is a great growth stock that should continue to see dividend increases for years to come (see dividend chart above). I also believe that given the data in this article, a stock split could be announced at any time. This may be a reason that the stock is currently trading near a 52-week high of $77.20.
With Pepsi, an investor gets international exposure, since Pepsi sells its products globally. I consider the current price a safe entry point for the long-term investor. You are guaranteed a stable growing dividend for your portfolio, and as a bonus, the possibility of a stock split in the near future. But as always, you are welcome to buy in dips, which I anticipate could be in the $72-$75 per share range on occasion, depending on the economic environment.
Disclosure: I have no positions in any stocks mentioned, and no plans to initiate any positions within the next 72 hours. I wrote this article myself, and it expresses my own opinions. I am not receiving compensation for it (other than from Seeking Alpha). I have no business relationship with any company whose stock is mentioned in this article.