First Solar Inc. (NASDAQ:FSLR) designs and manufactures solar modules using a proprietary thin film semiconductor technology that has one of the lowest cost in the world. It also designs, constructs, and sells photovoltaic [PV] solar power systems. The company uses CdTe as a semiconductor to produce panels, which are less expensive than competitors using crystalline silicon.
The company announced its 4Q12 results February 26, and since then has been trading lower by ~20% at $26 (at the lower end of its 52-week range $11.43 - $36.98.
4Q12 results:
4Q12 sales increased 63% y-o-y to $1.1 billion and increased 28% vs. 3Q12. The strong performance was driven by an increase in revenue recognition of the Topaz project, as well as an increase in third-party module sales.
Gross Profit Margins increased 640bps to 27.3% y-o-y due to 11% decline in module manufacturing cost. However, vs. 3Q12 gross profit margins declined 110bps. Management has guided that even though it has reported margins in higher 20s, it expects the margins to stabilize in teens over the long term.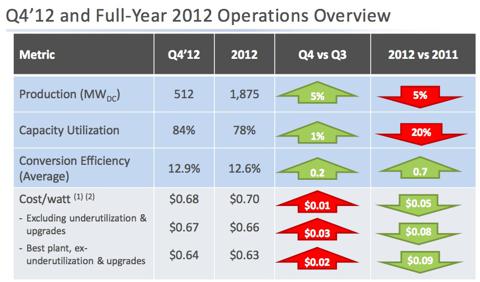 Despite Gross margin erosion, it still posted an operating profit of $196.8 million and operating profit margin of 18.3%. This is vs. 4Q12 operating loss of $31.5 million. This was mainly due to strict cost control as well as sales leverage. The company managed to cut its Selling, General and Administrative expenses by half and surprisingly also reduced its Research and Development expenses by 17%.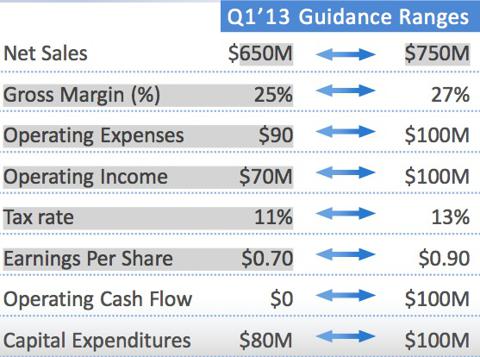 During the earnings call, management mentioned that it has been able to meet its module and balance-of-systems cost reduction targets for 2012 (as announced in December 2011) and has also been able to further increase its module efficiency and field performance. Its capacity utilization has increased to 84% vs. 3Q12 and increased its efficiency of CdTe Solar Cell to 18.7%. Please refer to adjacent chart for key metrics. (Source: Company Presentation).
Note, the company incurred restructuring charges of $25 million in 4Q12 and $454 million pre-tax goodwill impairment and restructuring charges. Above numbers have been adjusted to exclude these items.
The company has a strong balance sheet with cash of $901 million and debt of $565 million.
For 1Q13, the company provided weak outlook for sales and EPS, below consensus estimates, of $894 million and $0.94 per share, respectively. The company also guided toward a lower 2H as its two major projects will be finished leading to lower cash flows. Please look at adjacent chart for details.
Downside: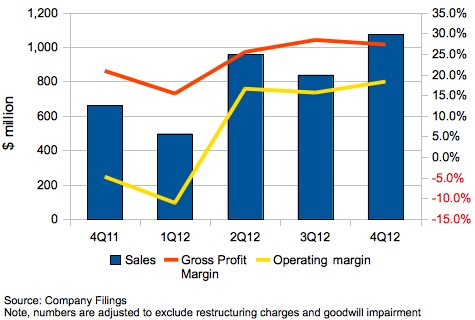 Between 2009 and 2012, First Solar managed to grow its revenues by ~60% to $3.4 billion in 2012. The company reported large profits in 2009 and 2010, followed by modest losses in 2011 and 2012 on asset impairments and restructuring charges. Further the company's Gross Profit margins have declined to 20% vs. 40% historically. And the Management has confirmed that its margins will decline to teens in the longer run.
First Solar's Cd-Te thin film panels compete with polycrystalline panels, which have better efficiencies. As a result, First Solar's price per watt has declined requiring the Company to improve its conversion efficiency and making its panels more competitive with silicon based panels.
Most of the existing First Solar's projects were signed at higher prices when the solar business was strong. However, given the current weak solar market, there may be a possibility of lower pricing leading to lower profitability.
Strengths:

Let's assess the strength of the business vs. its competitors. First Solar's key competitors include SunPower Corporation (NASDAQ:SPWR) and Suntech Power Holdings Co. (NYSE:STP).
SunPower Corporation is a vertically integrated solar products and services company that designs, manufactures and delivers high-performance solar electric systems worldwide.
Suntech Power Holdings is a solar energy company that designs, develops, manufactures and markets a number of PV cells and modules, including a range of value-added building-integrated photovoltaics products.
Fundamentally, First Solar is the strongest with cash of $900 million and low debt levels of $565 million. Its revenue growth is in line with its peers but it posts strong operating margins.
Conclusion:
In my opinion, the recent decline in First Solar's share price is an investment opportunity.
Vs. its peers, First Solar is a better option given its strong balance sheet, positive operating margins and increased efficiency. Further, it continues to strengthen its balance sheet by lowering its costs and aims to reach a book-to-bill ratio of 1:1. Key concerns that continue to remain - declining gross margins, backlog continues to shrink and increased competition.
Further, the company's move toward high growth regions is risky but important as it cannot solely rely on countries providing subsidies. The company's recent acquisition of a Chilean solar development company in Jan 2012, is an indication that the company may follow this route to gain a foothold in new markets.
Disclosure: I have no positions in any stocks mentioned, and no plans to initiate any positions within the next 72 hours. I wrote this article myself, and it expresses my own opinions. I am not receiving compensation for it (other than from Seeking Alpha). I have no business relationship with any company whose stock is mentioned in this article.