Horace Mann Educators Corporation (NYSE:HMN) is not your average insurer. Recall, for a moment, the article 21 year old Buffett wrote about GEICO in 1951. In it he describes the benefits of owning an insurance business ("lack of inventory, [no] collection, [or] labor and raw material problems… [no problem of] product obsolescence [or] related equipment obsolescence"), and he also describes why GEICO is great: it selects from a very specific class of individuals whom are considered low risks -- government employees. Further, it lacks agent commission expenses by skipping agents altogether - you know the old story.
One of the groups GEICO targeted was faculty members of schools -- a similarity shared with Horace Mann Educators. In addition to the fact that the company insures an advantageous class of individuals, keep in mind that we are looking at this company for the following reasons:
It is selling at 18% below tangible book (not counting deferred policy acquisition costs)
Over the last 8 years, the company has averaged a combined ratio of 97.6. Last year, the combined ratio was 98.3. The highest combined ratio in that period was 2011, at 106.6% (this was due to the largest catastrophe costs in the last ten years).
Client base of educators
Dividend yield of 3.09%
It currently is selling with a high earnings yield, compared to the past -- meaning that the company is selling at lower valuations than it has in the past.
Why Are Educators Good Risks?
To answer this question, and to avoid reinventing the wheel, I'll quote what SA Author ValueArtifex said in his January 30th article on HMN:
"I believe that teachers are a naturally advantageous group to insure for several reasons.

1. In the United States, teachers engaged in public education must obtain a teaching credential in addition to a degree from a university or college. Teaching credentials can be revoked for numerous criminal offenses and it would be a sensible assumption to assume that a majority of the pool of insured educators are aware of such a fact and make a conscious effort to abide by laws and regulations in a manner similar to the early clients of GEICO, who were more likely to abide by laws by virtue of their employment.

2. Teachers in many states must also be fingerprinted and have criminal background checks before they are allowed to work with children. Both of these measures help to mitigate the inclusion of individuals predisposed to bad behavior, reducing the aggregate risk of the population covered by the insurance company.

3. Job Security and Tenure - In many parts of the United States, teachers have strong union representation, tenure and benefits. The presence of job security and benefits spread throughout a profession reduces insurance risk in my mind, which compared against a conventional pool of insured persons in a specific geographic area. I believe that if a pool of insured individuals is relatively similar in regards to occupation, income and healthcare standards, insurance risk is more easily quantified, translating into more competitive premiums and profits."
Well said. The author also mentions the geographic diversification of the company, which is worthy of note. I'll use my words for this part however.
Geographic Diversification
If we take a look at the top states in which HMN does business geographically, we see that in property and casualty the company is spread well over the continent (keep in mind that the large position in California is small relative to population):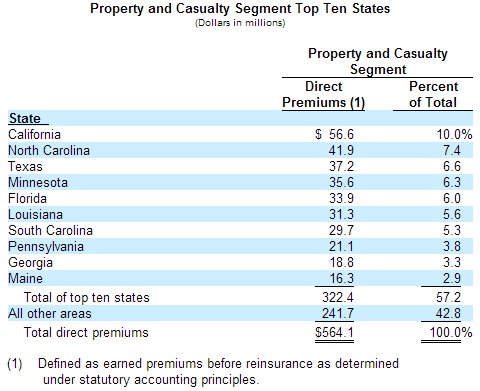 (Source: Horace Mann Educators Corp. December 2012 10-K, p. 6)
The same is true in its Combined Life and Annuity segment: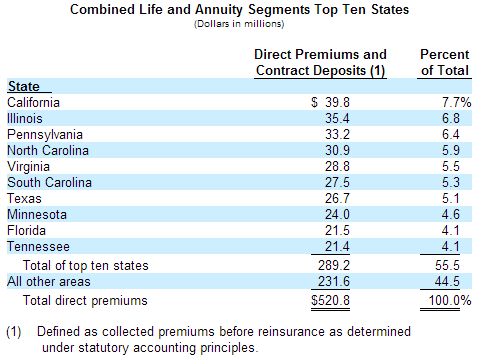 (Source: Horace Mann Educators Corp. December 2012 10-K, p. 6)
This is what we want to see when it comes to geographic spread. This is not a, say, Florida only insurer.
Interest Rate Risk Mitigation
To really indulge the reader with Buffett quotes, in the Berkshire Hathaway (NYSE:BRK.A) shareholder letter published March 1st, 2013, Buffett wrote:
"A further unpleasant reality adds to the [insurance] industry's dim prospects: Insurance earnings are now benefiting from "legacy" bond portfolios that deliver much higher yields than will be available when funds are reinvested during the next few years - and perhaps for many years beyond that. Today's bond portfolios are, in effect, wasting assets. Earnings of insurers will be hurt in a significant way as bonds mature and are rolled over."
This is precisely what we must talk about. While the company has been successful when we look at the combined ratio, we must be cognizant of the future of investment income, which presently makes up about 30% of Horace Mann's total revenues (and a substantially larger part of net income). Because the company has the substantial amount of investments in fixed maturities (about 95%), we can talk about the portfolio yield, which is about 5.1% [1]. Given the massive manipulation of the interest rates currently in effect, it is surprising to note that this figure is only down about 10 basis points from 2007, when it stood at about 5.2%.
Of their current portfolio, 35% of their securities will need to be rolled over in the next 5 years (due to maturity). With Bernanke's promise to hold interest rates down until employment gets above 6.5%, it is hard to know when the era of artificial interest rates will end. If we assume that in five years time interest rates will have normalized, then we can assume, by rough estimation that at least 35% of today's investment income is at risk for reduction as the portfolio is rolled over.
This is not immaterial given that 35% of the current investment income works out to about $100m or about equal to 2012 consolidated GAAP net income. Of course, all $100m will not be affected -- in fact, it would more likely be some quite small fraction of that -- but this will certainly put pressure on HMN's profits going forward. This, of course, assumes that HMN holds it bonds to maturity. Should it roll over the portfolio faster, a decline in portfolio yield could be greater. But besides the portfolio yield, when interest rates rise the entire portfolio will be written down according to GAAP [2] -- if the company does not change the current classification of its fixed-maturity securities. This will make insurer's income numbers look weaker over the next few years.
Valuation
Given no changes to the interest environment, this company is selling 18% below what its assets are arguably worth -- and, remember, we are talking about assets made up of cash and investments. This discount might make sense if the company were to experience future losses or slimmer profits (the latter might be possible given future interest rates).
In the course of operations, the company normally achieves a small underwriting profit. Also, while a loss of portfolio yield is likely going forward for a few years, it is hard to establish the true sensitivity to this problem. For instance, the fair-value of the bonds held by HMN will decline by a large amount. But if the company holds those bonds to maturity, it not only will not have to write them down [3] but it will also maintain its portfolio yield to a substantial degree.
If, instead, the company continues to classify its bonds as "available-for-sale" it will have to write down the fair-value of the bonds -- which will lower "other comprehensive income." In my opinion, the portfolio yield will decline over the next few years but the absolute yield of the portfolio ought to only decrease slightly. Therefore, this is a problem but one which can be mitigated to a large degree by prudent management, low turn-over and, as always, by the investor purchasing the shares at a significant discount to their intrinsic value.
In sum, I am not so sure this business deserves to sell below tangible book. At about 8 times earnings, one would be getting an earnings yield of about 12%. Compared to historical multiples, which the company has sold at, it is undervalued: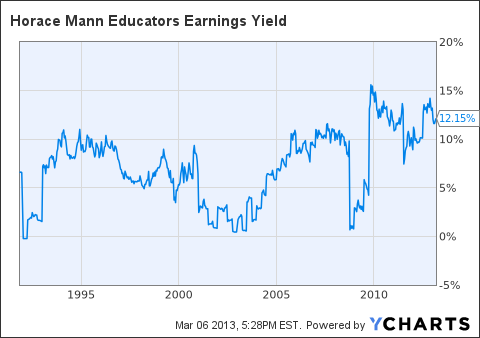 Further, if one looks at the historical relationship between tangible book value and market capitalization, we see that, should the old relationship reassert itself, there would be a tidy profit. Unfortunately, I do not think it will reassert itself completely while interest rates are so manipulated. Take a look at market capitalization to tangible book over the last ten years: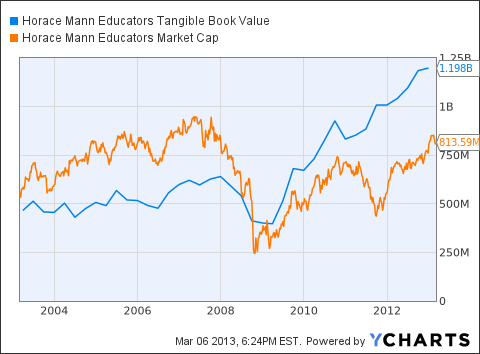 Therefore, an investor would be better to focus on net income rather than the prospect of a closure of this gap. Such a gap will probably close (for the industry generally) at some point -- but it may be too distant to be counted upon for the present.
A solid 12% earnings yield is not a shocker. But for a long-term holder who is willing to wait it out for the book-to-market capitalization patterns to reassert themselves, one is at least assured a safe insurer paying a 3% dividend and insuring a very attractive client base.
Conclusion
The self-selection of customers, as is the case here with Educators, is an intelligent policy and would be advised to any corporation, which can afford to be picky (and, of course, an insurer is absolutely obligated to be picky). This alone is an outstanding feature of this insurer. At a 12% earnings yield, combined with the 18% discount to book value and the 3% dividend this company is undervalued.
But investors who believe that future insurance earnings, due to lower investment income, will be lower than they are at present might want to wait for those facts to assert themselves. By the time that situation is obvious -- the time will likely be ripe for a change. The company, and many other financials for that matter, has sold at a discount to book for some time -- who knows how long this trend will continue.
For myself, I have put Horace Mann Educators on my main watchlist. Insurance is a very good business if one can find an insurer with the right characteristics. Horace Mann has a superb client base, a track record of underwriting profit (except for 2011) and is already at a discount. If the current discount grows, the opportunity grows.
Notes:
The math is as follows: take the investment income on the Dec 31st 2012 income statement ($306m) and divide that by the average investment balance between 2011 and 2012 (or $306m / ( ( $6292m + $5677m ) / 2) = 5.1%).
Assume the securities are classified as "available for sale" or "trading."
Bonds classified as "held-to-maturity" do not need to be marked-to-mark.
Disclosure: I have no positions in any stocks mentioned, and no plans to initiate any positions within the next 72 hours. I wrote this article myself, and it expresses my own opinions. I am not receiving compensation for it (other than from Seeking Alpha). I have no business relationship with any company whose stock is mentioned in this article.