Apache Corp. (NYSE:APA) has dropped by over 40% in the last two years, since April 2011. After the recovery, the price seems to have been heading toward the recession levels again.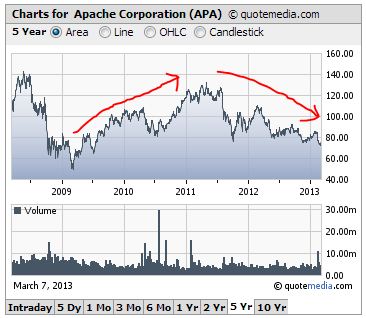 In fact, the stock has fallen by 12.78% since Apache released the FY2012 financial results on February 14, 2013. Apparently, the investors are not satisfied with the decreasing return on equity [ROE]. Net income fell to $668 million in 2012, compared to $1.2 billion in 2011 and $689 in 2010.
That is probably the primary thing that must be bothering the investors, since dividend payout is pretty strong in case of Apache.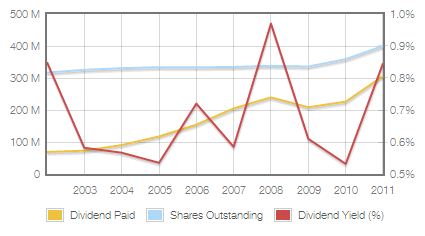 Apart from that, the energy sector is expected to show volatility with the shift of energy balance in the coming few years. That will also affect the bottom-line and the ROE strongly, as expected.
One more thing to be noted is that Apache is not selling assets as of yet, contrary to what many financial analysts believe. On the other hand, Apache recently announced a public offering comprising $1.2 billion principal amount of 2.625% notes due in 2023, and $800 million principal amount of 4.25% notes due in 2044. This will probably increase the leverage ratio of the company. Needless to say, with higher debt, the company will increase the ROE of the investors. Or, in order to rebalance the debt-to-equity ratio, it can issue more shares, which is likely, keeping in mind the huge capital expenditure pending ahead.
So now the question is, if you are intent on investing in energy stocks, should Apache be one of them?
Financial Analysis
In terms of profitability, the company seems pretty robust to me.

Comparing the above data to the Anadarko Petroleum's (NYSE:APC) gross profit (TTM) % of 71.1 and EOG Resources' (NYSE:EOG) gross profit % of 83.7, the company seems to be doing pretty well in the sourcing and extracting the raw materials. It must be noted, though, that the net margin has suffered in the last few years, against 26.69% in 2011 and 24.81% in 2010. It is also quite below Anadarko Petroleum's near 18%.
In terms of financial strength, the company's increasing capital expenditures seem to have taken a toll on the balance sheet. With lower returns from old worn-out assets and newer acquisitions, the company will have to start re-utilizing its resources to bring in revenue growth.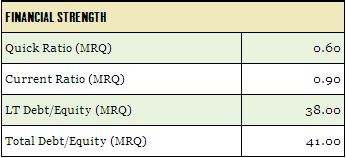 It must be noted that the LT debt-to-equity ratio of 38 is still lower than the other competitors, except 27.25 of Marathon Oil (NYSE:MRO). In short, the company is still in a good position to take on further debt, provided it knows how to utilize the inflow of new capital.
In terms of management effectiveness, the company seems to be doing better than the big-time arch rivals, Chesapeake Energy (NYSE:CHK) and Devon Energy (NYSE:DVN).

It must be noted though that Chesapeake's and Devon's returns are currently running on the negative, which is far worse than Apache's. (Read my complete analysis on Chesapeake Energy)
In terms of valuation, one thing surprises me is that the price is currently trading below its book value of $76.87 per share. That means the investors think that the book value is going to fall below that. Interestingly, that seems to be unlikely to me, with the recent acquisitions and future acquisitions (already in the pipeline). The US energy sector is going through an overhauling process, and through 2025, we will see extensive amount of infrastructure replacement. That will definitely take money, but that will also increase in revenue, since overhauling means disposition of worn-out assets and acquisition of new potential assets. With the right balance of acquisitions and dispositions, the bottom-line should show improvement in the next couple of years. Additionally, what if the energy companies focus some of their money into the new alternative fuels as well? That will result in massive revenue growth through exports, provided the dollar strengthens a bit.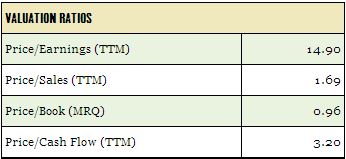 Compared to the Concho Resources' (NYSE:CXO) P/E ratio of 34 and BHP Billiton's (NYSE:BHP) P/E ratio of 21, the company seems to be undervalued, even when you take the diminishing bottom line. Yes, the net margin might shrink a bit further for another quarter, but by the end of 2013 or the first half of 2014, net margin should start showing improvement. That is when the P/E ratio will rise.
You see, the graph below is what is affecting the company.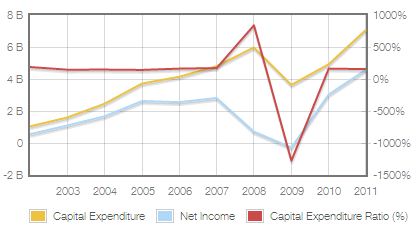 It has shown stability since 2010. This is my supreme belief that it will go down in years to come.
Conclusion
Apache Corp. is currently going through an overhaul process, which is taking a toll on the company's bottom line and thus, the share price as well. Revenue has gone on a standby yet capex has increased, which has led to diminishing net margin.
With increasing acquisitions and smart management of resources, we can expect the company to turn around in the next couple of years. Whether you will buy it or not, that depends on the first half of 2013. But if you already own the stock, it is wise to still hold on to it. The energy market is ruled by high global demand. More production and higher contribution margins are all you need from Apache Corp.
Disclosure: I have no positions in any stocks mentioned, and no plans to initiate any positions within the next 72 hours. I wrote this article myself, and it expresses my own opinions. I am not receiving compensation for it (other than from Seeking Alpha). I have no business relationship with any company whose stock is mentioned in this article.
Additional disclosure: All numbers should be used as comparison metrics and not as exact measurement. Numerical data vary according to financial sources at times.