This article focuses on TCP Capital (NASDAQ:TCPC) and compares it to the 16 BDCs covered in my previous articles. Please visit bdcbuzz.blogspot.com for updated info or see the list of previous BDCs covered below.
Updates
March 8 - Main Street Capital (NYSE:MAIN) reported results and beat EPS estimates as well as raising dividends, so I adjusted the profit and payout categories higher.
March 8 - Prospect Capital (NASDAQ:PSEC) announced that it has priced a public offering of $250 million in aggregate principal amount of 5.875% senior unsecured notes due 2023.
March 8 - Fidus Investment (NASDAQ:FDUS) reported results and beat EPS estimates.
March 7 - New Mountain Finance (NYSE:NMFC) reported results and beat EPS estimates, so I adjusted the profit and valuation categories higher.
March 7 - NGP Capital Resources (NGPC) reported results and missed EPS estimates.
March 7 - BlackRock Kelso Capital (NASDAQ:BKCC) reported annual EPS of $1.00 falling short of covering $1.04 of dividends paid and an annual growth of 0%, so I adjusted the profit category lower.
March 5 - TICC Capital (TICC) announced that it will hold a conference call to discuss year end 2012 earnings on March 12.
March 4 - Horizon Technology Finance (NASDAQ:HRZN) provided a $5 million venture loan facility to Decisyon, Inc., a provider of collaborative enterprise software solutions.
Business Development Companies [BDCS] lend to small and mid-sized businesses, with limited financial leverage, paying out most of their income to investors and paying little to no corporate tax.
These are the five general criteria I use to evaluate BDCs:
Profitability (EPS to cover dividends, growth)
Risk (diversification, volatility, leverage)
Payout (sustainable, consistent, growing)
Analyst Opinions
Valuation (P/E, PEG, NAV)
For more information about BDCs, how I evaluate them, and my BDC investment philosophy, please see this article.
Below is an oversimplified table evaluating the companies I have reviewed among a universe of 30 BDCs giving them a relative score between 0 and 10 (10 being the best). In reality, I use different weightings for almost 100 data points on each company, and my personal rankings (based on my risk/return comfort) are close to these, but far from exact. In future articles, I will add the new companies to this table as well as update info.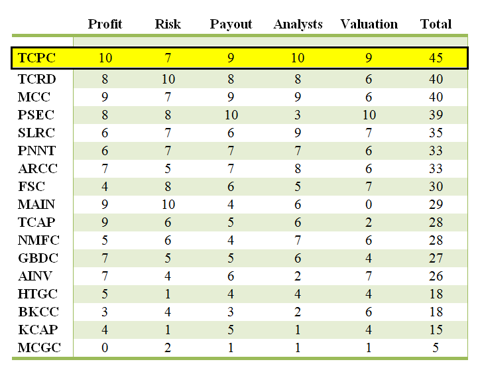 TCP Capital
Market Cap: $337 million
Div Yield: 8.9%
Div/EPS: 68%
P/E: 8.3
Price/NAV: 1.07
Debt/Equity: 0.66
Recent Developments
March 7 - reported financial results beating EPS by $0.13.
March 7 - declared a first quarter dividend of $0.35 per share and a special dividend of $0.05 per share.
Profit
TCPC is one of the newest BDCs and recently reported quarterly EPS of $0.59 beating analyst expectations by 28%. Howard Levkowitz, the CEO, said:
We are pleased with our results for both the fourth quarter and full year 2012. Our strong net investment income more than covers our first quarter and special dividends and clearly demonstrates the earnings power of our portfolio. With net leverage of 0.65x, and approximately $46 million in liquidity at year end, we have capacity to grow the TCPC portfolio. We believe our portfolio is well positioned to deliver strong risk adjusted returns in 2013 and we will continue to take a highly selective approach to making investments.
Below is a table showing the quarterly growth in net investment income, portfolio value and dividends paid: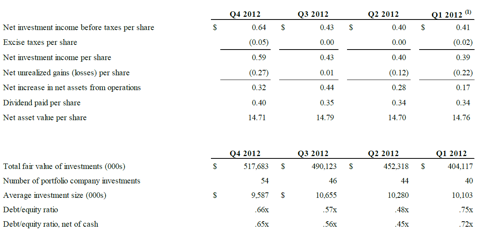 Since TCPC is one of the newer BDCs, there is less coverage by analysts and projections vary widely. Portfolio investments and net investment income are likely to grow in the coming quarters due to the significant deal activity at year end and record levels of quarterly originations.
Risk
As of December 31, 2012, its investment portfolio consisted of debt and equity positions in 54 portfolio companies with a total fair value of $518 million. Debt positions represented 93% of the portfolio, 96% of which were senior secured debt. Approximately 64% of the debt portfolio had floating interest rates, over 95% of which had interest rate floors, and no investments on non-accrual status.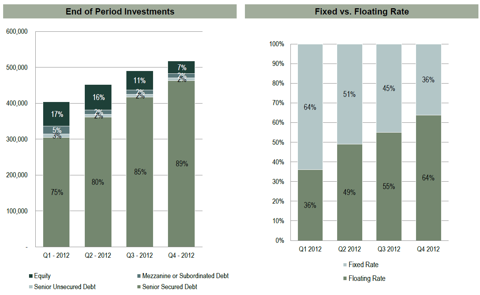 TCPC has better than average industry diversification (see chart below) but with little exposure to healthcare, energy, and financials.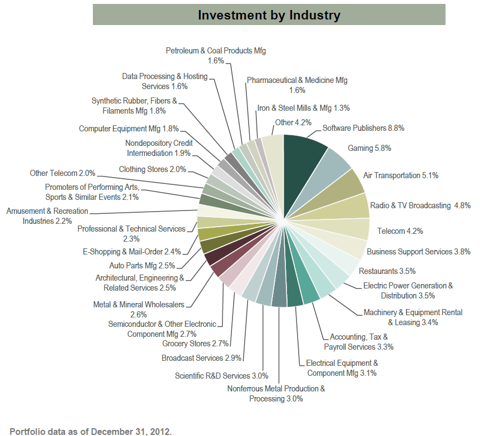 The debt to equity ratio of 0.66 is near the average for BDCs and consists of a $74 million credit facility payable and $134 million in preferred equity.
Payout
Dividends have increased each quarter and the current yield is 8.9%, not including the special dividends, which is likely to continue growing with net investment income.
Analysts
Most analysts rate TCPC between a 'Buy' and a 'Strong Buy' with an average target price of $17.
Valuation
Currently TCPC is trading 7% over NAV and a P/E of 8.3 which are both well below average. The PEG is still to be determined.
Summary
TCPC is currently one of the more profitable BDCs with a short history of growing portfolio value, net investment income, EPS and dividends. It has average leverage ratios but better than average industry diversification with a majority of investments in senior secured debt and floating rates. It also has attractive valuation multiples and special dividends that bring the current yield to over 10%. I consider TCPC one of 'The Good' BDC's along with THL Credit (NASDAQ:TCRD), Medley Capital (NYSE:MCC), Prospect Capital (PSEC), Solar Capital (NASDAQ:SLRC) and PennantPark Investment (NASDAQ:PNNT).
Previous articles:
Disclosure: I am long MCC, MAIN, ARCC, SLRC, PSEC, PNNT, TCRD, TCAP, TCPC. I wrote this article myself, and it expresses my own opinions. I am not receiving compensation for it (other than from Seeking Alpha). I have no business relationship with any company whose stock is mentioned in this article.