I think that everybody is missing the point of why BlackBerry (NASDAQ:BBRY) was up 14% today. The rumors that Lenovo wants to buy the company are an excuse for the rally and not the real reason.
Please note that speculation of Lenovo buying BlackBerry has already been played down a while ago. I wrote about it back in February, that there were few chances of this (please consider: Yet Another Positive Catalyst For BlackBerry - Licensing).
While Lenovo does indeed have the financial muscle to buy BlackBerry outright, regulatory hurdles and the Canadian government will not allow such a move. In fact, it is not the first time that the Canadian government has blocked the purchase of a Canadian company by foreign bidders.
However, this does not mean that Lenovo can't make some kind of a deal with BlackBerry to license the operating system and make lower priced devices for China.
And the main reason why Lenovo would want to do this is Samsung (OTC:SSNLF). See Samsung is taking markets by storm because they have some very good devices for all budgets. And while Lenovo also makes Google (NASDAQ:GOOG) android devices, there is not much it can do to set itself apart from the Android herd and Samsung.
So while Lenovo will continue to make Android phones, the question is, why not make BlackBerry phones also? In fact, why not offer to make changes in the BB10 OS to be able to sell the Z10 in Japan? Remember that BlackBerry has decided not to offer the device in Japan, saying it can't justify the cost.
So if the real reason for today's rally is not Lenovo, what might be the catalyst?
Renewed speculation of a BlackBerry - Lenovo licensing deal I would say is at the top of the list.
Short covering might be another reason. Just today Nasdaq announced that as of 2/28/2013, the number of BlackBerry shares shorted has reached a new record of 147 million. I don't know what these guys are thinking, but this is a crazy number that has no justification as far as I'm concerned.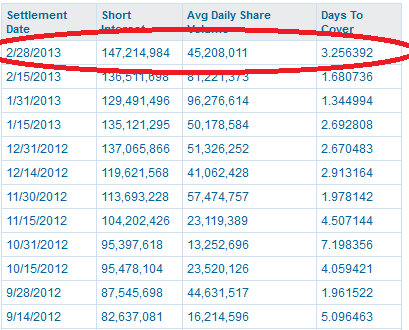 Data by Nasdaq
The U.S. launch is approaching. New launches are always a good catalyst for a rally, especially when BlackBerry is expected to sell most of its high-end Z10 units in the U.S.
Finally, I think that everyone by now seems to understand that while BlackBerry might not become Apple (NASDAQ:AAPL), it will survive as a company and will not go out of business, as was the general perception several months ago. And depending on how the Z10 does, not only will BlackBerry survive, it will also thrive. And when Goldman Sachs has a $19 price target, why would anyone believe that this stock is going to $5 again?
Finally, where there is fire there is smoke. So far we only see the smoke and not the fire. We know there is a fire somewhere but we can't see it at the moment.
I think we will see the BlackBerry wildfire very soon, when short sellers capitulate and throw in the towel. And when that happens, you will see a fireworks spectacle like you have never seen before.
Disclosure: I have no positions in any stocks mentioned, and no plans to initiate any positions within the next 72 hours. I wrote this article myself, and it expresses my own opinions. I am not receiving compensation for it (other than from Seeking Alpha). I have no business relationship with any company whose stock is mentioned in this article.