I have been scanning for and writing about companies that fit what I call Balance Sheet Bargains. These are companies with strong cash positions (quick ratios >1), high volume (avg. daily volume >1 million) and are trading near their 52-week lows (within 10% of their bottom). With this article, I am also adding a filter to look for stocks that have an analyst rating of 'buy' or better. While analyst ratings can actually be a lagging signal, there is still some value in selecting those stocks with only the highest rankings.
In my most recent run of the screen, three names appeared that I never imagined would fit the criteria - Apple (NASDAQ:AAPL), EMC Corporation (EMC) and Whole Foods (NASDAQ:WFM). These were formerly high flying momentum plays. With recent price action in all three, they appear to be very out of favor at the moment and perhaps coming into a value investing world. So, depending on your view, these may also be short sale candidates given they are bouncing around their 52-week lows and may continue downwards, or if they are finding key support levels and are just out of favor, they may be presenting good entry points for either swing trades or long positions.
Here is the full list of 10. Garmin (NASDAQ:GRMN), MICROS Systems (NASDAQ:MCRS) and Microsoft (NASDAQ:MSFT) were on last week's screen so rather than repeat that information, please take a look at the earlier article.

Let's take a look at the three surprises on this week's screen.
Apple has been covered by many authors and analysts -- there is plenty of good material for debate and discussion about its ups and downs. For the balance sheet investor, the question is - when to get in? As this weekly chart shows, the price is bouncing around a key support level at $420 or so. At this point, Apple is either going to move higher or fall to the next support level around $355.
Apple does have a very strong balance sheet with a 10% of the current price in cash and a 1.5 quick ratio. The dividend yield of 2.5% will also contribute to the price support. Apple's P/E is a small 9.8 compared to rival Microsoft's 15.4. Similarly, Apple's PEG is 0.5 compared to Microsoft at 1.2.
Apple carries no long-term debt and has grown retained earnings by 275% in the last three years. Retained earnings per share represents about 30% of the share price. With a balance sheet this strong, Apple has plenty of room to either make large strategic plays to continue its industry leadership or return significant value back to shareholders.
So despite the headlines, it is still a very healthy company and worth considering as a balance sheet play.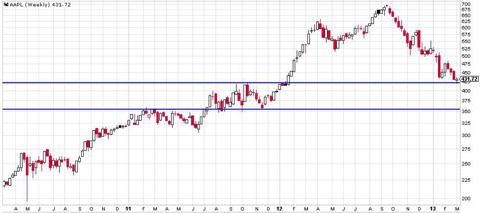 EMC Corporation and its subsidiaries focus on the data storage market. It has enjoyed some recent success with the emergence of 'big data' - large disk farms to hold and manage the exponentially increasing amount of data created every day. The big data trend will continue, and the company is a leading player. However, its ability to keep this lead will depend on its continued ability to create leading edge technology.
More in the short term, however, its January earnings release, while just above analyst expectations, included concerns about future growth. This downbeat guidance has contributed to its continued price slide.
EMC still has a solid balance sheet with 12% of the share price in cash and a 1.1 quick ratio. However, EMC does not pay a dividend and so there is no yield support. EMC has been growing its retained earnings by 38%. EMC has also been working hard to reduce its long-term debt from $235 million to $58 million. So, like Apple, EMC has plenty of room for delivering more value to shareholders.
The weekly chart shows the downward trend since April 2012. EMC is probably not a long-term play, rather a swing trade given the pattern on the charts. Support is around $23. If this is broken, EMC is clearly a short candidate, if there is another bounce it could give a nice 5-10% pop-up.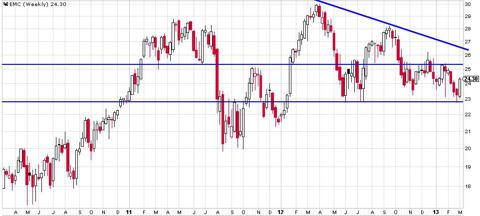 Finally, Whole Foods exceeded expectations on earnings and revenue last quarter, but showed softness on revenue growth from both new locations and same store sales. It also lowered full-year guidance. As the 2% FICA tax increase bites into everyone's paycheck, Whole Foods could feel some of the household belt tightening. The next quarterly release scheduled for April 29th will give better insight.
Whole Foods sports a healthy 1.4 quick ratio and it pays a small dividend (0.9%). Whole Foods has about 6% of the share price in cash and a fairly small long-term debt position of just $24 million. On an annual basis, retained earnings have more than doubled in the last 3 years, however, the most recent quarter saw retained earnings drop by 21%.
Looking at the charts, the long-term trend is still very positive and the recent pullback could be offering a nice entry point.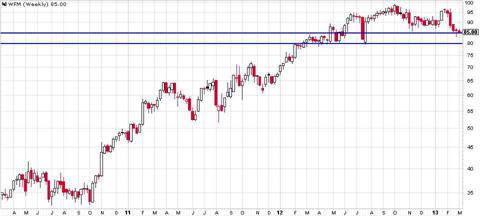 On the six month daily chart, the big downward gap is clearly a concern on the market's reaction to the earnings release. This could be signaling that Whole Foods is no longer considered a momentum stock and so there will be a rotation out by these fund managers. On the other hand, the business still has a good, albeit slower, growth trajectory and technically, gaps are often filled in by prices. So, the recent daily price action could be also signaling a nice long entry point.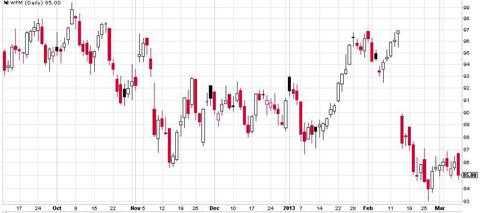 The next step from here is to do your own research. This list is intended only as a starting point. You may decide to either go long or short. Given that these are playing near 52 week lows and that each is a former momentum play that could be shifting to a value play, be careful and set stop losses. For tight money management, set them close, or if you prefer to manage using mental stops, at least set a wide catastrophic stop.
Disclosure: I am long LO. I may initiate a long position in EMC in the next 72 hours. I wrote this article myself, and it expresses my own opinions. I am not receiving compensation for it (other than from Seeking Alpha). I have no business relationship with any company whose stock is mentioned in this article.
Disclaimer: I have no business relationship with any company whose stock is mentioned in this article. I am not a registered investment advisor and do not provide specific investment advice. The information contained herein is only my opinion based on personal research and offered for informational purposes. Nothing in this article should be taken as a solicitation to purchase or sell securities. Before buying or selling any equity, do your own research and reach your own conclusion. Investing includes risks, including loss of principal.