In the battle for streaming content supremacy, Netflix (NASDAQ:NFLX) remains at the top. However, competition is increasing by the day, and Netflix management sometimes does not see the entire picture. Last week, the content wars increased as Coinstar (NASDAQ:CSTR) raised $350 million in a debt offering. Like Netflix did earlier this year, the amount raised in the end was more than originally offered. Today, I'll explain why this latest competitive move is a bad sign for Netflix, and I'll also update you on the progress Amazon (NASDAQ:AMZN) is making as well.
Coinstar and its debt:
Coinstar raised $350 million through senior unsecured notes, which was up from the $300 million original offer. When Netflix raised money in January, they offered $400 million but got $500 million in the end. Coinstar's 6-year notes (due 2019) will have an interest rate of 6.00%. Netflix floated 8-year notes and had an interest rate of 5.375%. There are a few reasons why Coinstar paid more, despite a smaller dollar amount and a shorter time period. First, Coinstar is a smaller company, with a market cap roughly 15% that of Netflix. Second, Coinstar's revenues are smaller, expected to be about 57% of what Netflix is expected to do in 2013. You can see how a price to sales valuation is out of whack there, but I'll get back to that later.
As most companies do, Coinstar said that the debt will be used for "general corporate purposes, which may include but is not limited to maintenance or repayment of outstanding debt, acquisitions or other investments, and payment of other corporate expenses." Almost every debt or equity offering has a statement close to that one. Looking at Coinstar's recent 10-K filing, the company does not have any debt maturing in 2013, but some of that matures late in 2014. So why would the company raise $350 million? The first reason is to buy back stock. Coinstar, unlike Netflix, is buying back stock, and according to the 10-K, the board approved another $250 million in buybacks in January (Page 67).
But another reason to raise money is to beef up your content library. As you probably already know, especially if you read my articles, Coinstar has partnered with Verizon (NYSE:VZ) on a service called Redbox Instant. The service is a combination streaming / disc plan. For $8 a month, customers get unlimited streaming plus four DVD rental credits to be used at a Redbox kiosk. For $9 a month, they would get four Blu-ray credits. This plan is much cheaper than Netflix (which charges $8 a month for streaming, $8 for DVDs separately), but will start with a much smaller selection. Some argue that it won't be competitive to Netflix, because Netflix delivers their DVDs right to your address. However, there are roughly 43,700 Redbox machines right now. There's one at my local supermarket and one at my local gas station, so it's not really out of my way if I were to use Redbox Instant (full disclosure - I do not subscribe to any of these services).
The article linked above states that Coinstar may be hitting a saturation point with its Redbox machines. In a sense, that could be a good thing. Once they have all their machines in place, the money saved on the installation of new machines can go to purchasing content. Think of it as getting all the hardware in place, and now you can spend on the software.
Redbox Instant will obviously start out with a limited selection, but I'm sure that Netflix didn't have a huge amount to start with either. Redbox Instant will build its content library over time, the same thing Amazon has done with Prime. Additionally, Verizon CFO Fran Shammo recently stated that this service could be profitable in 2014. Netflix took several years to become profitable, so if this statement is accurate, it could level the playing field.
The launch of Redbox Instant:
Verizon has said that the service will officially launch early in the second quarter, and it has been in beta mode for several months now. The launch has been widely expected for some time now, and the delays have kept piling up. Original expectations called for this service to launch in the third quarter of 2012, but that didn't happen.
The delay in Redbox Instant has been one reason why Netflix has done so well recently. I've stated in the past that I thought the delay of Redbox Instant probably saved Netflix from losing an additional 0.25 to 0.5 million DVD customers in the fourth quarter. I also believe Netflix gained an extra amount (use similar numbers for now) of streaming customers due to the delay. That doesn't seem like much for a company with more than 8 million DVD customers and 30 million streaming subscribers.
However, the impact is more than you might realize. At $8 a month (we'll round for simplicity), you're talking about a $12 million to $24 million revenue boost over a quarter, if you total up the 0.5 to 1.0 million subs I was talking about. Those numbers might be extreme, as some of those potentially lost DVD subs could have shifted to streaming. So for argument's sake, let's assume a revenue hit of $5 million, about a third of the midpoint from above. Take out that $5 million, and the company's $11 million revenue beat from Q4 is nearly halved. Additionally, because DVD subs are higher margin, Netflix probably loses a penny, maybe two, in terms of earnings per share. When your quarterly profit is just 13 cents, a penny or two makes a difference, even if analysts were calling for a loss of 13 cents.
But the bigger issue would have been Q1 guidance. With a lower starting count in both sub categories, Q1 guidance might not have been as impressive. You could probably lessen the revenue figure by that $5 million from Q4, as well as not increase it by as much as Netflix did, as Redbox Instant would have been in full operational mode. Had Netflix's Q1 revenue guidance been in a range of $990 million to $1.02 billion instead of $1.004 billion to $1.031 billion, we are looking at a different story. You probably also would have seen the bottom end of Netflix's earnings per share range be a loss. In my opinion, one of the reasons the stock jumped so much was that the bottom of the range was break-even, so Netflix was saying that a profit would occur.
That's why Redbox Instant is so important. Adding another sizable competitor, even though it might take a few years to fully blossom, is another chunk out of Netflix's castle. I'm not saying that Redbox Instant would have or will kill Netflix at any time. However, I do think the delay in Redbox Instant has really helped Netflix, which is why you have a stock at $180 now instead of $150. For Netflix bears, the sooner Redbox Instant launches fully, the better.
Here comes Amazon:
When I discussed Amazon in my last Netflix article, I referenced the Netflix Top 200 in terms of content. Here's the excerpt:
In its fourth quarter investor letter, Netflix included a comparison between its service, Prime, Hulu Plus, and Redbox Instant. Netflix looked at its top 200 titles - the 100 most popular movies and 100 most popular television shows. Netflix bragged that they had the most content, because Prime only had 73 of those 200 titles and the other two services had much less. The three services combined only represented 87 of those 200 titles, with significant overlap. Netflix provided the following comment on this matter:

In other words, when it comes to the most popular content with members on Netflix, none of these services are good substitutes to Netflix.

In addition to this being pure arrogance in my opinion, Netflix doesn't provide any historical data on this! That's right, this was only during Q4 of 2012. Does Netflix state what these numbers were like 6 months ago? No. Do they say what these numbers were like a year ago? No. Do they mention that just about two years ago, Prime Instant Video did not even exist. No.
I mentioned that Amazon Prime's Library has been growing rather quickly, and you can see that in the chart below. Just over two years ago, Prime launched with just 5,000 titles. Just 6 months ago in September of 2012, Prime was up to 25,000. About two weeks ago, Amazon announced a new content deal that brings the total up to 38,000. Netflix may still hold to their claim of having the most content, but you can't argue that Prime isn't coming quickly.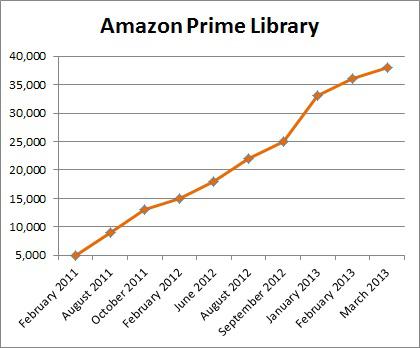 Costly original programming:
Netflix might have been the first to launch its own shows, but it certainly isn't the only one doing so. I mentioned a few months ago that Amazon would be launching its own originals. While Netflix launches its shows all in one shot, Amazon will run some pilot episodes for free online, and those that are favored will be available on Prime. We now have reports out that Coinstar and Verizon will also be looking towards original programming, and the article mentions that Amazon is looking at lower priced comedies that will cost only about $1 million per episode.
The shocking part of that article is in regards to Netflix. Early estimates stated that Netflix's "House of Cards" would cost roughly $100 million, or $50 million per each 13 episode season. That works out to approximately $3.85 million per episode. However, the original programming article above states that the budget for "House of Cards" was $4.5 million per episode, and executive producer David Fincher took it way above that. If that statement is true, Netflix could end up spending most of that $500 million they raised between "House of Cards" and the repayment of their other debt. Also, the article states that two other new shows Netflix is working on are coming in around $4 million per episode.
Everyone is jumping into original programming now, and the cost of these shows may be the key to who succeeds and who fails. Amazon's $1 million per episode shows might not attract as many viewers, but at that cost they don't have to. At $4 million an episode or more, Netflix is placing big bets. They better be able to bring in some new subs, because Netflix doesn't have the financial flexibility for one of these shows to strike out, not at a cost of $50, $100, or even $150 million.
Still a ridiculous valuation:
No matter how you look at Netflix, this stock is overpriced. I put together a table showing some valuation metrics, as well as projected revenue growth for these names, including Apple (NASDAQ:AAPL) to prove a point. I haven't put in earnings per share growth, because Amazon had a loss in 2012. Also, Netflix had a small profit in 2012, so its growth numbers would look tremendous. Of course, anything will look tremendous after a 93% or so plunge the year before.

*Fiscal year. Apple's current fiscal year ends in September 2013.
Any way you slice it, Netflix is expensive. Even if I give the company a tremendous year, $4.35 billion in revenues (current expectations call for $4.26 billion), the premium is outrageous. At $4.35 billion, and a price to sales multiple that averages Apple's and Amazon's, the stock would fall by about 16.5%. That means $150. Give Netflix the same price to sales as Amazon currently, still using the $4.35 billion, and you're talking about a $127 valuation. That's about where the median analyst price target is now on Netflix, and the average is around $137, meaning about average of the two values I just calculated. Don't forget, those numbers I calculated above are with Netflix about 10% off its recent high. Put the stock back at $197, and the comparisons get even worse.
Final Thoughts:
Coinstar's debt raise, although it will primarily be used for buybacks, poses a threat to Netflix. Coinstar and Verizon will be looking to acquire content for Redbox Instant, which should finally launch in the next month or two. Another player in the streaming space is worrisome for Netflix, and Redbox will also throw some punches on the DVD side. Additionally, Amazon has continued to increase the Prime library, now at almost 40,000 titles. Not bad when you consider Prime started with just 5,000 two years ago. Netflix also appears to be running over budget with its original content, something that should not be taken lightly. If Amazon and Redbox can produce quality content for a fraction of the price, Netflix is in trouble. Netflix shares also trade at a ridiculous valuation, and if Carl Icahn takes his profits, this stock will collapse. I was the first to admit that Netflix's Q4 results and Q1 guidance were a pleasant surprise, but I just don't see how this stock stays elevated if outside pressures continue at their current pace.
Disclosure: I have no positions in any stocks mentioned, and no plans to initiate any positions within the next 72 hours. I wrote this article myself, and it expresses my own opinions. I am not receiving compensation for it (other than from Seeking Alpha). I have no business relationship with any company whose stock is mentioned in this article.
Additional disclosure: Investors are always reminded that before making any investment, you should do your own proper due diligence on any name directly or indirectly mentioned in this article. Investors should also consider seeking advice from a broker or financial adviser before making any investment decisions. Any material in this article should be considered general information, and not relied on as a formal investment recommendation.