"Her face is cracked from smiling, all the fears that she's been hiding,
And it seems pretty soon everybody's gonna know.
And her voice is sore from shouting, cheering winners who are losing,
And she worries if their days are few and soon they'll have to go."
--Led Zeppelin, Celebration Day, The Song Remains The Same
It seems we must have much to celebrate given the way the stock market (NYSEARCA:SPY) has been climbing higher nearly every trading day. For if the stock market is a predictive measure of the economy, clearly much brighter days must be right around the corner. Happy days will soon be here again!
Unfortunately, the stock market vacated its role as a bellwether for the economy long ago, as its predictive powers have been completely polluted by endless money printing from global central banks. And its seemingly boundless rise is only masking the distressing fact that the underlying economy not only remains fragile but is also deteriorating in many respects. At some point, this truth will finally shake the stock market back into reality. Of course, the stock market may continue to soar to unthinkable heights - the NASDAQ, after all, reached a wildly frothy peak at over 5000 thirteen years ago in March 2000 before crashing back to earth - so anything is possible in a market that has now become completely disconnected from any semblance of reality. But if history is any guide, this inflection point for stocks may soon be drawing near, perhaps as early as next week.
"Been Dazed and Confused for so long it's not true."
--Led Zeppelin, Dazed and Confused, The Song Remains The Same
The fact that stocks have rallied so strongly to this point is remarkable. That is until one quickly recognizes the fact that the only reason that stocks are going higher is due to the fact that the U.S. Federal Reserve along with its global central bank counterparts are printing oceans of liquidity that seems to almost simultaneously leak its way into the stock market on a daily basis. This relentless action has left stock markets and its investors so completely dazed and confused that any sense of equilibrium and true fair value for stock prices has been completely lost long ago. One shudders to think where stock prices might actually be without the undying support of its central banks.
But what is the economic reality underneath this stock market? What exactly has the increase of the Fed's balance sheet to over $3 trillion and counting actually garnered us. Disturbingly, it has given us very little other than asset markets that present ever-increasing risks to its still willing participants. In short, so much risk has been added to the system for so little reward thus far.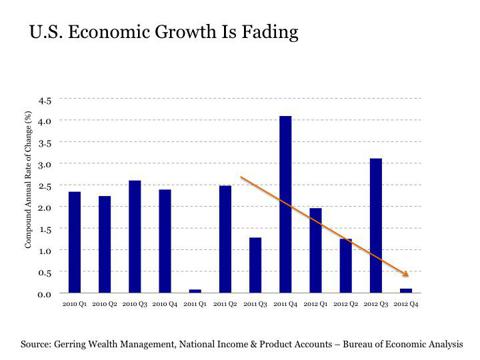 A quick tour of some of the key fundamental data continues to highlight this point. The first is the fading U.S. economy. After consistently posting +2% growth throughout 2010, output readings have fallen into an increasingly choppy downward trend. And the latest alarming reading was from the fourth quarter of 2012. I have been bearish on the U.S. economic outlook for some time, but even I expected a Q4 GDP print that was north of +2% for no other reason than businesses were likely to bring forward demand into the end of last year in order to capitalize on government stimulus programs that were scheduled to end, such as the 50% bonus depreciation on capital investment (this program was surprisingly extended when the 13th hour fiscal cliff deal was reached after the New Year on January 3). And even after the initial reading came out as a negative -0.1%, I still assumed that revisions would bring this number reasonably into positive territory.
Yet the second estimate only brought the number barely across the line to +0.1%. This lack of growth is a troubling sign if this is all that the economy could muster before heading into a year such as 2013 marked by the end of various fiscal stimulus programs, higher taxes, a reduction in the rate of increase in government spending and a focus on extracting actual government spending cuts. In short, the economy is already languishing, and the formula of higher taxes and government spending cuts are the exact opposite strategy from the Keynesian expansionary fiscal policy playbook, as these actions instead represent restrictive fiscal policy. Throw in some ongoing widespread regulatory uncertainty and we quickly have the recipe for a potential recession in the coming quarters. Such is not the backdrop for rising stock prices.
Expectations for economic weakness have been reflected in the corporate earnings data for some time. Heading into last year, consensus analysts' expectations were for S&P 500 operating earnings to come in at $107.60 per share for 2012. This represented a +11.57% increase from the 2011 reading of $96.44 per share. Yet by the time 2012 was completed, earnings fell woefully short of its target. In fact, earnings hardly budged at all, coming in at $96.81 per share that represented an increase of just +0.38%. But despite virtually no earnings growth last year, the S&P 500 Index soared by +16.41%.
Of course, one might defend these market results by pointing out that the stock market typically does not live in the past but is instead in normal times a predictor of the future economy. Perhaps the stock market looked past the stagnant earnings in 2012 with an eye toward a potentially robust outlook in 2013? But this thinking also does not hold up under scrutiny.
Forward earnings expectations have been fading for some time. And yet they still remain lofty. Throughout much of the early part of last year, 2013 earnings per share on the S&P 500 were projected as high as $119 per share. But once we entered into the third quarter of 2012, these earnings projections were steadily revised lower. Roughly a year later, 2013 earnings per share are at least for now projected to come in over -6% below previous estimates at $111.20 per share. Yet stocks consistently increased over this same time period. In other words, investors that owned the S&P 500 last summer at 1362 with expectations for 2013 earnings of $117.75 per share are now eagerly buying into the same S&P 500 today at 1556 that is now offering still projected 2013 earnings of $111.27 per share. Put simply, investors are paying much more for something that is now worth considerably less. This is notable behavior indeed.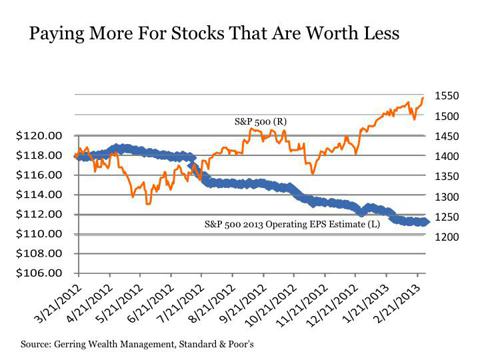 But the earnings story warrants even further scrutiny. The current 2013 earnings per share estimate of $111.27 on the S&P 500 still represents a +14.94% increase over the $96.81 per share reading from 2012. Despite the steady downward revisions, this still remains a wildly optimistic projection for earnings growth this year, particularly given the underlying trends in economic growth we are currently witnessing not only in the U.S. but also across the globe. What if 2013 earnings per share growth falls well short of this current target? What if it comes in flat again in 2013 just as it did in 2012? What if earnings per share growth actually falls in 2013? Two years of gains based purely on multiple expansion is hardly the formula for a healthy and sustainable rise in the stock market over time. Instead, they are the making of asset bubbles. Of course, this is the road down which we have been headed for some time.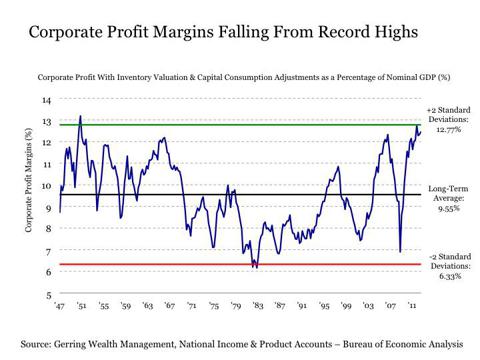 But taking the earnings story one step further, perhaps corporations can maintain profitability not through economic growth but instead through cost cutting. The answer to this thought, of course, is a well documented "no", as corporate profit margins are already fading from record peaks at over +2 standard deviations above the mean. Supporting this point further, operation profit margins on the S&P 500 Index have fallen considerably from peak levels at 9.49% last summer to 8.03% for the most recently completed quarter. Margins are already heading in the wrong direction.
Yet despite all of these forces, the stock market continues to rise day after day after day, all thanks to the actions of the U.S. Federal Reserve. It's not doing much good today for the economy, and it is almost certainly to end badly once these policies are concluded, either voluntarily of forcefully.
"These are the seasons of emotion and like the winds they rise and fall
This is the wonder of devotion - I see the torch we all must hold.
This is the mystery of the quotient - Upon us all a little rain must fall."
--Led Zeppelin, Rain Song, The Song Remains The Same
Even the endless flow of liquidity does not necessarily guarantee that stock prices are going to go up forever. Institutions that are the direct or indirect recipients of this additional liquidity being injected into the system still have a choice to make in determining how to allocate this capital. And past rounds of Fed stimulus have shown that preferences in how to allocate this liquidity in markets has been subject to change over time.
The behavior of the stock market under QE2 and QE3 has been strikingly similar in many respects. Under both sequences, once the stimulus rally induced by Fed Treasury purchases got fully underway, the subsequent stock market paths have been virtually identical with stocks gaining over +11% through the first 48 trading days and with gains of nearly 70% on all trading days during this time period. And these patterns also bear strong similarities to what was experienced under QE1 starting in March 2009 as well as the LTRO stimulus program from the European Central Bank launched back in December 2011.
Suppose that the stock market continued to follow the same path as QE2 by peaking in the near-term. This idea is not completely outlandish, as stocks were also similarly overbought on a number of technical readings with fading momentum and relative strength readings for an extended period of time just as they are today. And at least during the QE2 scenario the stock market had a more steadily growing economy and corporate earnings that were still expanding at a double-digit rate versus today's stalled readings on these same measures. If a similar outcome came to pass once again under QE3, this would imply the stock market peaking sometime next week in the 1575 to 1580 range on the S&P 500 Index. This only adds to the interest in this scenario, as this exact range marks the previous peak in the S&P 500 back in October 2007 and a similar top first reached in March 2000.
These are just a few of the many reasons why I am increasingly looking to potentially dial back stock exposures in the coming days. I was bullish on stocks back in November as they were bottoming and setting out on their current short-term bull market, but I am turning increasingly bearish with each passing day at this point. Fundamentals are woefully insufficient to support this rally, and we are now overdue for some heavy rain to descend on this otherwise sunny stock market. While I expect to continue holding positions such as the S&P 500 Low Volatility ETF (NYSE:SPLV), the Utilities SPDR (NYSEARCA:XLU) and McDonald's (NYSE:MCD) for continued equity exposure, I will be closely evaluating higher beta allocations that would likely sustain greater damage on any sustained pullback. I have already exited related positions such as High Yield Bonds (NYSEARCA:HYG) for these reasons as well as increasing concerns about the sustainability of valuations in this asset class. In terms of reallocating, while the precious metals market including gold (NYSEARCA:GLD) and silver (NYSEARCA:SLV) offers appeal in that it appears to finally be entering into a bottoming phase and may be poised to rally, I am already fully allocated to the category via positions in the Central GoldTrust (NYSEMKT:GTU), the Central Fund of Canada (NYSEARCA:CEF), the Sprott Physical Silver Trust (NYSEARCA:PSLV) and Silver Wheaton (SLW).
The song remains the same in investment markets. And for stocks, it is still all about stimulus. But at some point, even stocks have shown the potential to fail under these forces, particularly if better opportunities to allocate capital are increasingly presenting themselves elsewhere. Whether the rains indeed soon fall on the stock market in the coming weeks remains to be seen. But all that is needed at this point in any given day and a reason to spark the sell off. In an upcoming installment, I will be exploring in greater detail exactly where this liquidity might flow instead if it begins to shy away from the stock market.

Disclosure: I am long MCD, CEF, GTU, SPLV, SLW, PSLV, XLU. I wrote this article myself, and it expresses my own opinions. I am not receiving compensation for it (other than from Seeking Alpha). I have no business relationship with any company whose stock is mentioned in this article.
Disclaimer: This post is for information purposes only. There are risks involved with investing including loss of principal. Gerring Wealth Management (GWM) makes no explicit or implicit guarantee with respect to performance or the outcome of any investment or projections made by GWM. There is no guarantee that the goals of the strategies discussed by GWM will be met.