General Electric Company (NYSE:GE) is one of the largest and most diversified companies in the world and its financial and market performance has been commendable in recent times. General Electric serves customers in more than 100 countries and operates numerous business segments. Some of the major segments are: aviation, healthcare, energy infrastructure, and home & business solutions.
The company's strength lies in the diversity of its business portfolio. Following the economic development prevailing globally, demand for the company's products has risen and this has led toward increased revenues and profits.
General Electric's Financial Performance
For the fourth quarter of 2012, General Electric reported very positive results. The company's earnings were 39 cents per share, which increased from 36 cents per share in the same quarter last year. The earnings were also higher than analysts' estimates which stood at 38 cents per share.
The revenue for the quarter was $38.5 billion, up from $37.7 billion in the same quarter last year. Although the revenue increased on year-on-year basis, the increase was not in accordance with analysts' estimates which stood at $40 billion. The following chart represents the company's financial performance over the past five quarters: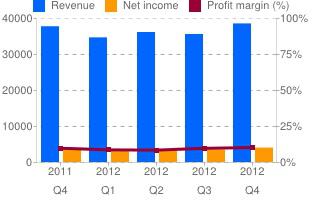 The chairman and CEO of GE, Jeff Immelt, said, "GE's portfolio demonstrated strength and resilience, delivering earnings growth for the seventh consecutive quarter while also generating substantial operating cash flow to support investment in our business and dividend growth."
Thus, GE's senior officials are highly optimistic regarding the company's prospective performance. Considering the financial performance, their optimism is quite valid.
General Electric's Competitors
The direct competitors of the company are: Koninklijke Philips Electronics NV (NYSE:PHG) and Siemens AG (SI). Since General Electric's business is highly diversified, both these competitors overlap some of its business segments.
Philips competes with GE in healthcare and consumer products business sectors. Although the financial performance of Philips is improving at a rapid pace, it is still not as promising as that of GE. For the fourth quarter of 2012, Philips had a profit margin of -2.19%, while GE held an impressive profit margin of 11.32%. Thus, it can be said that GE is not threatened by the presence of Philips in the market.
Siemens is comparatively more diversified than Philips; however, it is still not as diversified as GE. Siemens competes with GE in the following business segments: industry, energy, and healthcare. Siemens holds a significantly stronger financial performance when compared to Philips but in comparison with GE, its financial performance falls short. For the fourth quarter of 2012, Siemens held a profit margin of 7.14% which is significantly higher than that of Philips, but still lower than that of GE.
General Electric's Market Performance
General Electric's market performance is at its best in a long time. The share price of the company is at its 52 week high. At the time of this edition, the shares are being traded within the range of $23.68 and $23.90, while the 52 week range is between $18.02 and $23.90. The following chart represents the company's market performance over the past year: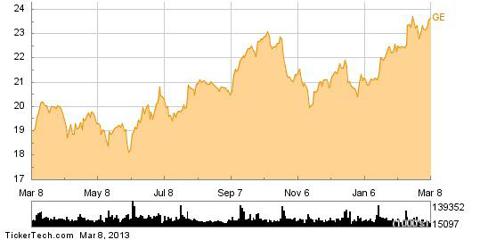 The chart indicates that the average trend of GE's share price has been upwards. It can be seen that the upward trend started in January and it has continued so far. This positive trend adds substance to the idea that GE is growing and it may be a safe venue for investment.
After analysis of General Electric Company's financial performance, its position against the competitors, and its market performance, in my opinion, investors should buy the company's shares. I believe that the trend of share price is upward, and considering the strong financial performance, it can be expected that the positive trend will continue. Therefore, it may be a favorable decision to buy GE's shares at this time.
Disclosure: I have no positions in any stocks mentioned, and no plans to initiate any positions within the next 72 hours. I wrote this article myself, and it expresses my own opinions. I am not receiving compensation for it (other than from Seeking Alpha). I have no business relationship with any company whose stock is mentioned in this article.