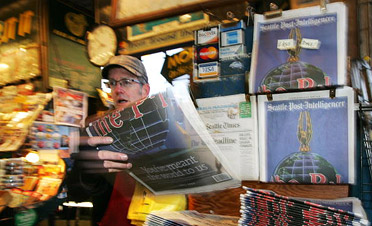 The printed edition of the Seattle Post-Intelligencer lasted 146 years. Anyone care to wager that the web-only version will be around that long?
I didn't think so.
In relaunching the P-I as a fully-digital proposition, Hearst is engaging in a bold experiment, one whose lessons may benefit the whole industry. But those lessons are likely to be the product of failure, not success.
It's an issue of math. Those who have run the numbers tend to agree that the advertising revenue just isn't there yet to make a general-interest, journalism-intensive website pay for itself. The Project for Excellence in Journalism came to this conclusion in its magisterial State of the News Media report for 2009:
In the current calculus, it does not make sense for newspapers to kill their print versions and go online-only. .... Papers still make roughly 90% of their revenue from print and, although the numbers vary by paper, the cost of printing and delivering the printed newspaper averages 40% of costs. For now, it doesn't add up to sacrifice potentially 90% of revenues to save 40% of costs.
Working with a slightly different set of numbers, John Duncan of Garcia Interactive came to the same conclusion:
If we assume that about 15% of newspaper revenue comes from online and that 50% of costs are tied up in printing and distribution then that leaves an 85% revenue reduction to pay for a 50% cost reduction. Who believes that this adds up to a successful future? Most businesses are simply not able to economically switch to an internet-only model as their newsprint products become cashflow negative. They have to choose between print and death.
Of course, Hearst will save more than the costs of printing and distribution because, in addition to ditching the physical paper, it's also eliminating nearly 150 journalists, relying on an editorial staff of about 20 people to produce the site. Supplementing their work will be content from Hearst's magazine division and unpaid contributions from bloggers, some of them local personages.
"We're going to break a lot of rules that newspaper Web sites stick to, and we are looking everywhere for efficiencies," says Michelle Nicolosi, the site's executive producer, noting that in its current form, seattlepi.com attracts disproportionately heavy traffic for a medium-sized newspaper.
Fair enough. The problem is what happens when, bloggers or no bloggers, the number of people responsible for generating original content falls by 88 percent. In what universe will many if not most of seattlepi.com's readers not migrate over to the website of the still more or less fully-staffed Seattle Times? That's what Slate's Jack Shafer thinks:
Seriously, does anybody in Hearst's New York headquarters think that 20 paid editorial employees are going to be enough to maintain and build traffic? Come on, Hearst. Are you investing, or are you finding another slow way to kill the P-I?
A staff of 20 is "pretty small to try to cover a major metropolitan area," agrees newspaper analyst John Morton, although he adds that fiddling with the size may not matter much. "I don't think any online newspaper that relies on the paper's internet advertising revenue alone will get enough to support a serious journalistic effort."
Naturally, there are dissenters. Mike Vorhaus, managing director of Frank N. Magid Associates, believes the math could work out modestly in Hearst's favor, yielding a profit of perhaps $1 million to $4 million a year. "I don't doubt for a minute that they'll be able to get advertisers," he says. "Quite frankly, if they don't do it, other people will."
Maybe those other people will be more patient than Hearst, which already seems resigned to failure, reports The Wall Street Journal's Shira Ovide. The publisher "will be quick to pull the plug if the online P-I falters, according to people familiar with the company's thinking."
In other words, just to survive, the first major digital-only newspaper has to be an overnight success. What are the chances of that happening?

------
Photo by Robert Giroux/Getty Images