The Hershey Company (NYSE:HSY) experienced a great 4Q'12 with sales growth of 11.73% YoY coupled with rising market share in each category. I am bullish on HSY as it provides an excellent combination of growth and stable dividends, as will be discussed further in the article. Moreover, the company's management is exploring developing markets which can allow for significant growth opportunities. Also, HSY will maintain its keen focus on North American and Canadian markets where it already has a large footprint.
HSY is one of the largest manufacturers and distributors of its confection and grocery products. With revenues of more than $6.5 billion, the company operates in around 90 countries all over the globe but its primary markets are North America, Canada, Mexico and China. Some of the famous brands are Hershey's Kisses, Hershey's Bliss, Twizzlers and Ice Breakers, etc.
Financial Performance
HSY reported 4Q'12 earnings per share of $0.74; slightly lower than analysts' expectations of $0.76 per share but it was understandable as advertising expenses were higher than analysts' assumptions. The significant growth in advertising expense is shown below as the percentage of net sales.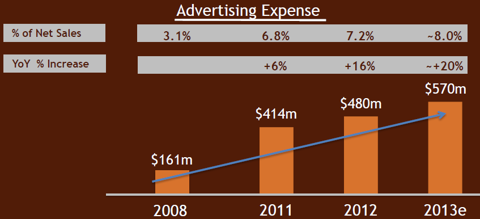 Source: Hershey's CAGNY Conference
In 2012, total increase in revenues was 9.3%, 5.7% of which was due to the increase in prices whereas volume contributed roughly 2.2%. Acquisition of Brookside also played its role and contributed approximately 1.9%. However, HSY was adversely affected by the foreign currency losses which reduced net revenues by 0.5%. Organic sales for the last four years have been constantly increasing with a decent mix of price and volume.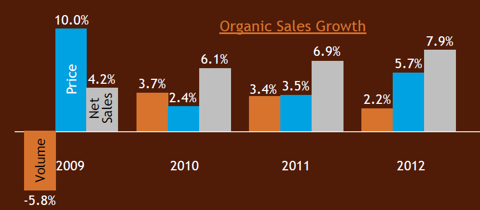 Source: Hershey's CAGNY Conference
The company also managed to considerably increase its operating income from $587.9 million in 2011 to $1,095 million in 2012. HSY continued to show its cash flow strength with $817 million increase in free cash flow from the previous year which validates its dividend paying ability. As shown in the table below, gross profit margin improved because of increased price levels coupled with cost savings brought about by enhanced productivity in supply chain. EBIT margins fell mainly because of higher selling, marketing and administrative expenses.
| | | |
| --- | --- | --- |
| Year | Gross Margin | EBIT Margin |
| 2011 | 41.6% | 17.4% |
| 2012 | 43.0% | 16.7% |
Source: Company Data
HSY has the largest market share of 43.1% in chocolate and its US chocolate retail sales experienced a cumulative average growth rate of 6.1% in the last four years. Hershey's US candy, mint & gum (CMG) business also outperformed and experienced a growth rate of 5.7% in 2012.
Future Outlook
HSY expects a revenue growth of 5%-7% in 2013, mainly driven by expected decrease in input cost and enhanced productivity. Advertising expenses will continue to rise with an expected increase of 20% in 2013. Brookside acquisition is also expected to contribute more in the company's top line through its operations across the U.S. and other key markets.
The company is also focused on capitalizing GDP growth and rising per capita consumption level in the developing economies. HSY is planning to consolidate the products offered in developing economies and increase their geographical footprint. In the last year, HSY US business slightly underperformed the non-US business; if we exclude the impact of Brookside contribution to the revenues.
Risks
HSY is exposed to a few risks, such as input cost inflation which cannot be immediately translated into higher prices in a given competitive environment. Also, obesity concerns can cause consumers to shift to more healthier products which can hamper HSY growth prospects.
Conclusion
Analysts' are expecting high earnings forecasts as shown in the table below which means that we should also expect stable and growing dividends as the company is targeting 50% payout policy.
| | | | |
| --- | --- | --- | --- |
| Years | 2013 | 2014 | 2015 |
| EPS Forecast | $3.62 | $3.99 | $4.26 |
Source: Nasdaq.com
As you can see from the table below, HSY has the highest growth estimate for the next 5 years among its peers and it has one of the lowest PEG ratios. Strong volume growth coupled with expanding gross profit margins paint a very encouraging outlook. HSY is also on its way to develop a significant footprint in developing markets.
| | | |
| --- | --- | --- |
| Companies | Growth Estimate of Next 5 yr (per annum) | PEG (5yr expected) |
| Kraft Food Group, Inc.(KRFT) | 3.35% | 5.26 |
| Kellogg Company (NYSE:K) | 7.04% | 2.18 |
| General Mills, Inc. (NYSE:GIS) | 7.93% | 2.14 |
| HSY | 9.40% | 2.35 |
Source: Yahoo Finance
Disclosure: I have no positions in any stocks mentioned, and no plans to initiate any positions within the next 72 hours. I wrote this article myself, and it expresses my own opinions. I am not receiving compensation for it (other than from Seeking Alpha). I have no business relationship with any company whose stock is mentioned in this article.