Vale's Gold Stream:
Silver Wheaton's (SLW) recent multi-billion dollar deal with Vale (NYSE:VALE) is a ground breaking deal for SLW, the world's largest silver streamer. The contract will allow SLW to receive 25% of produced gold from the Brazilian Salobo Mine for the entire life of the mine, and 70% of gold production from the Canada's Sudbury mines for the next 20 years. The end result of this gold stream will be transformative, as the primarily silver-focused company will obtain much needed diversification into gold, which will increase to 24% of overall production over the next 5 years to be precise, once the 10+% bonus from the two Vale mines are accounted for.
Details of the Streaming Contract:
VALE will accept a cash payment of $1.9 B upfront from SLW; $1.33 B for Salobo, and $570 M for Sudbury, or over 17% of SLW's current market cap of $10.9 B.
In connection with this transaction, Silver Wheaton has secured two new credit facilities including a $1 B 5-year revolving credit facility, and a $1.5 B bridge financing facility having a 1-year term. These facilities replace the existing $400 million revolving credit facility, therefore more than doubling current credit capacity.
With existing cash on hand and these new credit facilities, Silver Wheaton has plenty of capital to fund the $1.9B upfront payment, as well as extra capacity to complete future deals.
Before I put you to sleep, let's uncover more interesting details of the transaction. In addition to the $1.9 B, VALE will receive 10 M SLW warrants with a 10-year term and a strike price of $65/share. This struck me as a payment worthy of consideration. First off, 10 years is a very long time, a positive attribute in the warrants. Second, 10 M shares @ $65/share is $650 M worth of stock, that is if SLW can double to that level and then some by 2023. But what specifically are these warrants doing for the transaction? In a way, the warrants are aligning VALE's interests with SLW's, and will compensate for some pitfalls in the contract.
Warrants Compensate for Unknowns:
Despite the agreement defining the specific percentage of gold streamed to SLW, as well as the length in years and some other minor clauses to protect SLW, we cannot be sure how much gold in terms of ounces or dollars will be extracted. This is a wildcard for both parties, as the gold found could exceed or undercut expectations.
I would imagine SLW believes the $1.9B is well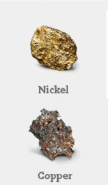 spent, however, there is always risk in the mining business. Production could be hampered by government intervention, labor strikes, as well as steered by economic sensitivity in VALE's primary targeted minerals. What do I mean by steered by economic sensitivity? VALE is primarily after copper and nickel in these mines, not gold. I believe VALE will focus on producing these industrial minerals, then whatever gold happens to be found as a byproduct, that's where SLW will make out great, or not so great. Thus, in a roundabout way, SLW's degree of success is inherently dependent on VALE's success mining copper and nickel as well as the market for these minerals.
This is where the warrants come in. The warrants should motivate VALE to better consider SLW's interests when operating the mine, and should eliminate the kind of situation where VALE takes the $1.9B and simply leaves SLW out to dry. More importantly, I believe the warrants dramatically improve the possibility for additional streaming deals between these companies, as partnering with SLW over a competitor would only benefit VALE's $650 M worth of warrants. Meanwhile, SLW will greatly benefit as well considering VALE's huge industry position and rich bankroll.
Summary:
The streaming deal with VALE is attractive to SLW due to the long life of the streaming contracts, and because the deal is for gold; which will help diversify SLW away from silver. However, what makes the deal ground breaking is the $650 M in warrants, which will likely provoke VALE into additional deals with SLW over the next 10 years, in which to ensure the profitability of these pieces of paper. I like SLW's choice of using these warrants instead of sacrificing other aspects of the agreement, as they will prove more beneficial to SLW than meets the eye, despite possible dilution if the warrants are exercised.
I expect SLW to gain additional streaming contracts in the future with VALE, the world's largest mining company. If Silver Wheaton can gain additional streams from Vale between now and 2023, $65 a share is very much on the table.
Disclosure: I have no positions in any stocks mentioned, but may initiate a long position in SLW over the next 72 hours. I wrote this article myself, and it expresses my own opinions. I am not receiving compensation for it (other than from Seeking Alpha). I have no business relationship with any company whose stock is mentioned in this article.