The stock price for IAMGOLD (NYSE:IAG) has been cut in half over the past 12 months and is currently trading near a 4-year low. The last time the stock was at this level was in January 2009 when the financial system was still on the brink of the abyss. Since that time, the financial system has mended and both the S&P 500 and the price of gold have increased by +85%, yet IAMGOLD's stock remains at the same level.
How can this be?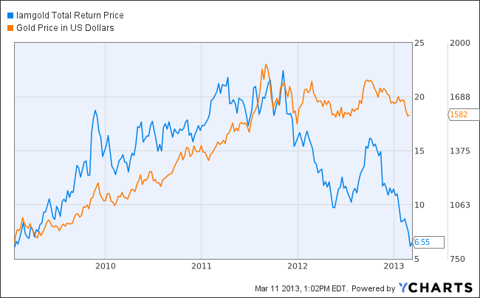 To put it bluntly, not much has been golden at IAMGOLD lately. IAMGOLD has released negative news for just about every possible variable that impacts a mining company. The company's list of woe includes an employee fatality, higher cash costs, lower production guidance, and geopolitical unrest. I won't go into all of the gory details that have plagued IAMGOLD over the past 6 months but a simple scan of the company's headlines can bring you up to speed. Despite all of the deserved pessimism, I see a disconnect between the stock price for IAMGOLD and the intrinsic value of the company. Given the ridiculously strong balance sheet, I think an LBO would be a great way for someone to unlock this value.
Let's take a look at how this magic could happen. The stock price for IAMGOLD is $6.62 as I write this, with 376.9m shares outstanding it has a market cap of $2.49 B. However, IAMGOLD has $1.026 B in cash and gold bullion holdings (the company elects to hold some of its "cash" in physical gold). If we net out the cash and bullion, the net equity of the company could be purchased for $1.47 B (for the sake of this analysis, let's assume the senior notes issued in September are simply refinanced upon change of control).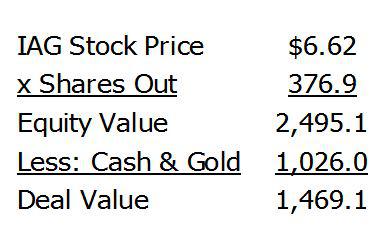 IAMGOLD currently has $750m of available capacity on its credit facility. Assuming the purchaser is able to use this availability to purchase shares, the funding gap narrows to $719m. Let's assume that the LBO purchaser can raise $500m in mezzanine debt at 10% interest and puts $219m of cash into the deal. Lots of assumptions here, but all of them are within the realm of possibility.
If we take a step back, we see that IAMGOLD could be bought for $719m of external capital. Keep in mind that IAMGOLD has generated over $700m in EBITDA in each of the past two years. The resulting company would obviously be levered but not to a prohibitively high degree. Debt/equity would be 51% which is in-line with other gold companies such as Barrick Gold (NYSE:ABX) and Anglogold Ashanti (NYSE:AU).
To illustrate the potential return for an LBO, I took the most recent reserves update (February 20, 2013) and assumed that IAMGOLD suspends further exploration activities and just produces the existing reserves (~23 years worth). Let's use $1,500 per ounce as the long-term price of gold and assume cash costs of $950 per ounce. Under this scenario, the LBO purchaser could pay off all of the LBO debt by the end of 2019.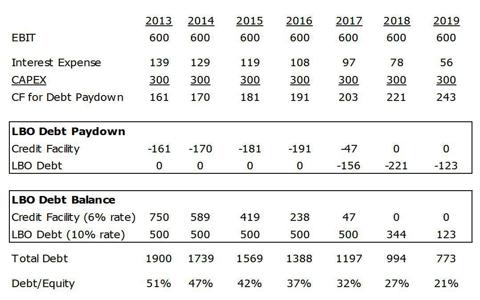 At the end of 2019, the owner of IAMGOLD would still have 13 years left of reserves in the mines. The owner could then harvest the remaining cash flows or sell the company. I estimate IAMGOLD will still have ~$2B worth of gold (NPV of reserves less cash costs) remaining in the ground at the start of 2020. If we assume the owner can sell (or IPO) the company at 1.0x NAV and pays off all the senior notes, they would earn a return of +335% or +19% annual IRR.
The beauty of this potential deal is that the LBO owner could hedge away the commodity risk and sell future production to lock in the guaranteed return. Unfortunately, I don't have $219m to put this deal together but the potential remains for someone to make a lot of money here. The management team at IAMGOLD could certainly put together a deal like this and take the company private. Individual investors can participate by owning IAMGOLD and waiting for someone with deep pockets to do this math. Being patient here is not a bad proposition considering the stock pays a 3.75% dividend yield.
Disclosure: I am long IAG. I wrote this article myself, and it expresses my own opinions. I am not receiving compensation for it (other than from Seeking Alpha). I have no business relationship with any company whose stock is mentioned in this article.
Additional disclosure: The author and/or employer may buy or sell shares in any company mentioned, at any time, without notice. The information contained herein is believed to be accurate as of the posting date. Readers should conduct their own verification of any information or analyses contained in this report. The author undertakes no obligation to update this report based on any future events or information. This article represents best efforts to convey a fact-based opinion. My conclusions may be incorrect. This is not a recommendation to buy or sell any securities. I am long IAG and may change my position at any time without notice.