The Outlook
Despite the fact that the market is looking somewhat toppy on technical levels, stocks continue to be pushed higher by the fact that they are the only asset class with expanding value. Bonds have low yields, commodities are heavily influenced by a strong dollar, and international stocks have a black eye. As long as fresh liquidity continues to come into the market from QE, stocks will continue to be very attractive.
Today, we have found four stocks that we believe fit into this current market makeup. Two stocks are very attractive while two can hedge the longs. These stocks were found by looking for fundamental strengths such as low future PE, expanding margins, expanding earnings/revenue, and near-term catalysts. Additionally, we believe that each shows key points of resistance that if broken could signal buys.
The Stocks
Corning (NYSE:GLW)
Fundamentally, we believe that GLW looks very weak fundamentally and has more potential for downside. The company has been held in check as of late from weakness in Apple (NASDAQ:AAPL) shares. GLW has a strong parallel relationship with Apple due to the fact that its gorilla glass is used in Apple products. Yet, we believe that the correlation is unfair to GLW. The company only receives 15% of revenue from Gorilla Glass as a whole for the entire company. We believe GLW is wrongly attached to success and failure of Apple. When we strip away Apple, the stock actually appears even weaker. The main issue for GLW that will continue to be an issue is that pricing power for displays has really dropped. Vince Martin does a great job of explaining this here:
Corning has a very simple problem that is exceedingly difficult to combat: its legacy business sees prices decline every quarter, while its struggling customers are reducing orders and attempting to improve yield (the amount of Corning glass that actually makes it into the product, rather than being discarded during the manufacturing process). CFO James Flaws told investors on the third quarter conference call that the company had entered into arrangements with its customers to stabilize market share, but this does little to arrest price declines. Indeed, following Corning's fourth quarter earnings release in January, Flaws noted on that call that the agreements had actually increased price declines in Q4, though that rate was expected to moderate in the first quarter of 2013. Corning's glass business is selling marginally more product at moderately lower prices, and making substantially less money. Net income in the Display Technologies segment fell from $3 billion in 2010 to $1.6 billion in 2012, with revenues falling 3.3 percent over that period. And there is no evidence of a rebound coming any time soon.
The company has potential in Gorilla Glass. They have mentioned that it could double in size in revenue in the next three years, but declining margins are very apparent. The company's operating margin has declined from 27% to just over 16% in the past two years. Net margin went from 53.7% to 21.6% in that same period. Obviously, markets are cyclical, but the phone market has only gotten stronger in the past two years. Why is GLW seeing such strong declines in pricing? The company has been being hit actually from its solar ventures on the Dow Corning side of its business. The solar industry's collapse in pricing power has dismantled GLW, and its phone business has not been able to make up for it. While we see potential in Gorilla Glass, the company has lost pricing power in silicon displays. From a recent Corning note to investors:
He will also acknowledge that Dow Corning's Hemlock Semiconductor Group, will negatively impact Corning's equity earnings in the near future, as it addresses the tumultuous market conditions in the global solar industry.
For now, GLW is going to continue to see margin compression or flat growth, which will not attract investors. We believe GLW is weak and should be shorted on a break of support at 12.50.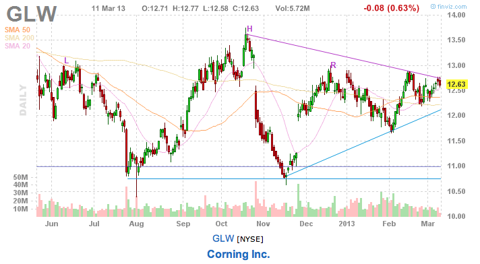 Another stock looking weak right now is Merck (NYSE:MRK). The pharmaceutical company has had some issues to start the year that we believe will have a more lasting impact that can dent upside. Currently, shares are trading at a 19.8 price/earnings ratio as well as 2.75 price/sales ratio. Both ratios are fair valued and show neither under nor over valuation. That means that potential upside could come into shares if earnings growth is solid. Expectations for the year are that EPS will decline 5-6% however. In 2014, the company will only reverse back to its 2012 level as well. Yet, what will be the catalyst to downside for Merck? We believe that the company looks weak due to recent results from TREDAPTIVE, delay of odanacatib, and recent earnings results. Without much of a catalyst, shares look fundamentally overvalued and could see some correcting.
Tredaptive was a drug in trial that was expected to help reduce risk of heart attacks and strokes by raising "good" cholesterol. In December, however, the drug's trial did not go well. The results were not positive, and the company announced that they would forgo getting the drug approved in the USA. The issue is that it was expected to be a big drug. The company enrolled 25,000 people in trial. This weekend, more news came out about the drug that was not good. Studies actually showed that there were high amounts of adverse non-fatal effects from the drug that were not expected. The company is shutting down the drug altogether. Further, in the company's latest quarterly results, MRK said they would delay Odanacatib, a highly anticipated osteoporosis drug, for US approval until 2014, as they needed more results. Taking Tredaptive and Odanacatib off the potential earnings for MRK hurts future potential. Further, those earnings highlighted that MRK suffered declining sales/earnings from Singulair as generic drugs have started to compete with it. Losing a big earnings cash cow like Singulair and then not having two expected drugs for some time now is not a good sign for MRK. We believe these issues are not priced into shares currently and should keep a lid on MRK.
We like shorting the stock below 42.75.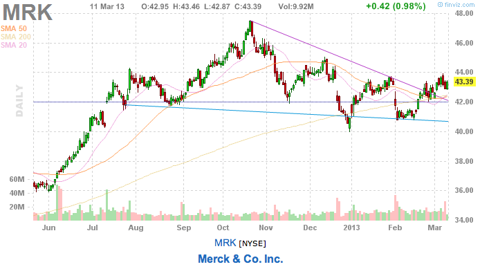 CVS Caremark is a company with opportunity as it showcases good value with strong future growth potential and some near-term catalysts. CVS is currently being priced very cheaply with a price/sales ratio at 0.52 (under one shows strong value) and future PE at 11.8. These valuations we do not believe properly represent CVS' potential. The company is expected to see 16-18% earnings growth in 2013 along with 1-2% revenue growth. Margins have declined as of late, but 2013 should be the year we start to see a turnaround for CVS. The company will be benefiting from an influx of generic drugs. They hurt top-line growth, but the cheaper drugs come at a wider margin as the price that CVS pays for them and their selling point. That margin expansion will help operating margins and net margins grow much more rapidly than revenue over the next couple years.
Further, we believe that the company will benefit from Walgreens (WAG) splitting with Express Scripts (NASDAQ:ESRX) for some time in 2012. CVS believes it gained 5M subscriptions from the split, and that customers that did not previously shop at CVS came there to get prescriptions filled. Some of those customers will go back to WAG but many will stay with CVS. The company expects to keep 60% of those customers. Another hit to margins in 2011 and 2012 was the company's remodeling initiative that focused on dividing pharmacy and grocery shoppers to help traffic flow and store layout. These initiatives will help grocery shoppers find everything they need in one place and vice versa for pharmacy. We believe this initiative will help the company in the long run to benefit as doubling as both a convenience and pharmacy store.
Overall, we like the path of CVS right now and like it long over 53.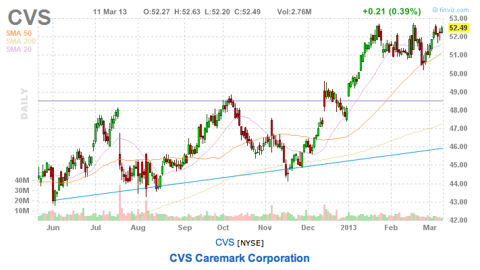 Another long we like right now is Eaton (NYSE:ETN). The stock looks very solid due to good value, strong growth potential, and near-term catalysts from its recent analyst meeting and a new powertrain initiative with Cummins (NYSE:CMI). Right now, ETN is pricing with a future PE at 12, which shows decent value as well as a 1.8 price/sales ratio (under 2 shows value). Shares have been strong as of late, gaining 18% YTD. Can shares continue higher? We believe that growth potential is high moving forward and that margin growth potential is also attractive. Earnings are expected to grow 10-12% this year and over 20% next year. Sales are expected to rocket 40% this year and 5-6% next year. A large amount of those gains are coming from buying Cooper Industries, but the purchase does create a lot more value in the company. Shares are starting to reflect that value, but we believe more gains should be on the way.
Shares can continue higher as we believe the automotive marketplace is very strong, margin expansion looks attractive, and recent developments should provide an upward catalyst. At the company's recent analyst meeting, the company highlighted some definite strength that does look attractive. The company announced good health in Electricals and solid margin growth in Industrials. Further, the company's announced over the weekend a new powertrain for heavy-duty trucks that will reduce fuel consumption by 3-6%. These products are very attractive as truck makers continue to try to increase fuel efficiency while not losing power and performance. While the results on this product are not known, we believe that this product is representative of a positive move by ETN. Overall, things are looking very solid for ETN with new products, its acquisition of Cooper, growth, and potential for margin expansion. Lots to like here.
We like going long over $64.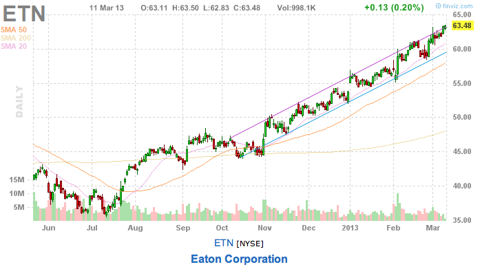 Disclosure: I have no positions in any stocks mentioned, and no plans to initiate any positions within the next 72 hours.
Business relationship disclosure: The Oxen Group is a team of analysts. This article was written by David Ristau, one of our writers. We did not receive compensation for this article (other than from Seeking Alpha), and we have no business relationship with any company whose stock is mentioned in this article.