So far, the medical technology industry appears to be weathering a period of slower global economic growth. However, for an industry that was accustomed to double-digit revenue growth, considerable margins and a predictable regulatory environment, the long-term future can be challenging. The industry's financial performance will likely continue to be challenged by low economic growth in developed markets, the prospect of austerity measures in many countries, a looming Eurozone debt crisis and an 2.3% medical device tax in the US.
On the other side, the burgeoning middle class in developing countries such as Brazil, Russia, India and China will help to offset losses in the established markets to some degree in the short term, and the long-term view for these markets remains remarkably robust. Nowadays, medical device companies have a golden opportunity in the tremendous amounts of patient data that their technologies collect. Understanding how to transform disparate data sources into meaningful tools to both improve patient care, patient safety, improve security and ultimately profit from it is the next great challenge of the medtech industry.
Some global medtech companies have addressed internal structural cost issues and will likely have a renewed focus outward, which could result in continued mergers and acquisitions (M&A) activity in 2013. Medtech executives are evaluating strategic targets that will provide new product opportunities in core and adjacent markets to drive profitable top-line growth. And many industry executives are realizing that the supply of truly innovative opportunities has been dwindling and are moving to identify and acquire innovations at earlier stages of the life cycle. In recent years, traditional venture capitalists (VCs) have suffered longer holding periods than anticipated in their investments and have faced higher research and development costs in medtech compared to other industries. This has caused many VCs to pull back from this sector and has left several early-stage companies scrambling to identify other funding avenues. If VCs are no longer helping emerging companies commercialize their ideas in a meaningful way, large medical device and technology companies will need to step in and develop their own programs that foster innovation.
Some of medtech companies follow this route. One of them - Jude Medical (NYSE:STJ) - announced a new trial of Aplatzer Cardiac Plug, a device for the prevention of stroke. The trial is designed to determine if the first patient implant is safe and effective in preventing migration of thrombus in patients with non-valvular atrial fibrillation. According to the American Heart Association's website, an estimated 2.7 million Americans have non-valvular atrial fibrillation [NVAF], a common heart arrhythmia, affecting one in 20 people over the age of 65 and one in ten over the age of 75. NVAF is a significant risk factor for fatal and disabling ischemic stroke and is implicated in about 15% of all ischemic strokes. If the device can prove to be safe and effective, it will become a very significant breakthrough. As a result of this and other breakthroughs, shares of STJ are trading 5.84% above its 50-day moving average, and 10.09% above its 200-day simple moving average at $42.20 with market cap of $11.95 billion.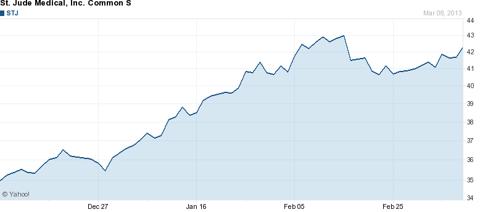 One of the best performers in the industry is Becton, Dickinson and Company (NYSE:BDX) - a medical technology company that sells medical devices, instrument systems and reagents. New product revenue will continue to be a key driver for the company and is expected to be as much as 18% of sales by fiscal year 2014 (almost double fiscal 2011 levels). In the last 6 months its stock grew from $78 to $88. For Becton, Dickinson's 3-year historical return on invested capital (without goodwill) is 23.4% whereas its cost of capital is 9.7%. It was named a Top 25 Socially Responsible Dividend Stock by Dividend Channel, signifying a stock with above-average "DividendRank" statistics including a strong 2.2% yield, as well as being recognized by prominent asset managers as being a socially responsible investment, through analysis of social and environmental criteria.
For Johnson & Johnson,(NYSE:JNJ) the picture is different. Medical Devices and Diagnostics are the most important segment for the company (and the largest producer of medical devices in the industry), which includes products used to treat cardiovascular disease, by orthopedic and neurological departments, disposable contact lenses, energy products and infection prevention products. Approximately 40% of the company's revenue is generated from this segment. But the company has been battling with patent cliffs for its pharmaceutical segment (38%) of revenues: its patent protection on Concerta and Levaquin expired in 2011, while Invega lost patent exclusivity in 2012 that put nearly $1.5 billion of revenues at risk. These development together with a number of lawsuits for its consumer segment could be the reason behind the decision of Warren Buffet to sell the stock from 2011. Even though it has strong growth (stock price rose from $65 to $78 per share year-on-year) that led to market cap of $218 billion and high dividend of $2.44 (3.10%), its price/earnings ratio is uncomfortably high at 20.17

On the other side, some small companies look promising. Thus, PLC Systems Inc. (OTCPK:PLCSF) a medical device company focused on innovative technologies for the cardiac and vascular markets, recently raised $4,040,000 in gross proceeds through the sale of 27 million shares of common stock at a price of $0.15 per share and five-year warrants to purchase 27 million shares of common stock at an exercise price of $0.20 per share. PLC Systems plans to use the proceeds from this financing to fund ongoing U.S. pivotal trials with RenalGuard® to prevent or reduce the onset of contrast-induced nephropathy [CIN] - a serious and sometimes deadly problem for patients undergoing certain imaging procedures, particularly for those with compromised kidneys, typically elderly and diabetic patients. In the third quarter 2012 gross margin was strong at 60.4% and revenue of $212,000 was up from $27,000 (+685% year-on-year) in the third quarter 2011.
Disclosure: I have no positions in any stocks mentioned, and no plans to initiate any positions within the next 72 hours. I wrote this article myself, and it expresses my own opinions. I am not receiving compensation for it. I have no business relationship with any company whose stock is mentioned in this article.